By now, many of us have been working from home for weeks. For those familiar with WFH, you may already have a workstation setup. You have desk space to fit your computer, monitors, notes and papers. Your focus and productivity aren't compromised, because everything is where it should be.
For those of you who didn't expect the shift to remote work, setting up a workstation may not have been as easy. Your desk space is a half-cleared out dining table, an upside-down cardboard box or a lap desk on your bed. Your office is your bedroom or your living room – after you kick your family out of the way to take a Zoom meeting.
You look around and see clutter, and what does clutter do? It slows you down, and you lose focus on your goals.
In the first few months of 2020, we've seen the economy and the job market take huge hits. In an article by Josh Bersin, he calls the current crisis a time for people and businesses to hit "a big reset." Similar to how we're noticing flaws and tidying up how we live at home, companies are being called upon to rethink their practices.
Hiring freezes have begun. Companies are pausing to rethink their talent needs. They're creating new business goals. But that doesn't mean the wheels should stop turning for recruiters. If business goals are hitting a big reset, then hiring has to as well.
What's the first step to a successful reset? Cleaning up the biggest pile of clutter.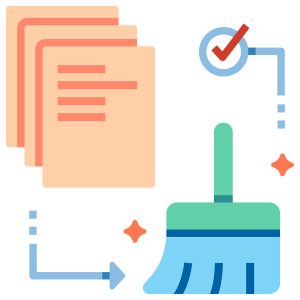 In many hiring processes, that pile of clutter's going to be in your Applicant Tracking System (ATS). Here are 7 reasons why you should clean your ATS data during an economic downturn:
1. It's time to build bigger pipelines
Hiring isn't dead, it's changing. Many companies are still actively looking for people to cater to current consumer demands. For companies that aren't, it's necessary to prepare for how today's demands will spill over to form a new norm when this is all over.
As businesses transform to serve even more digitally-driven consumers across all demographics, hiring the right talent will be essential to survival in the near future. However, most companies won't be allocating as much money and time into the search for the perfect candidate. The rise in job applicants will also play a role in a longer candidate screening period.
To find suitable candidates quickly, it will be even more critical to be a modern recruiter who creatively mines different sources of talent. You'll need to prepare to engage with different talent pools found online and more importantly, in your own database and resume files. Use your ATS as a vessel to identify and compare candidate data coming in from different sources – actively sourced candidates, current employees, job applicants and existing candidates in your ATS that you've previously engaged with.  Your ATS will serve as a goldmine made up of candidates who are already familiar with your company's mission. You won't be able to navigate your database to find these candidates if all your information is scattered and outdated.
2. Remove inefficiencies while you have the time
When your business model changes, the way you source and attract talent changes. Your hiring workflow might change to support this shift. The way data flows in and out of your ATS will determine how effectively you analyze your candidate sources.
To clean your data flow up, you need to understand the strengths and weaknesses of your current process. Ask yourself these important questions:
Are there any inefficiencies in how this ATS supports my current workflow?
Can I adapt my ATS structure to support a new workflow that reflects my short-term and long-term hiring needs?
Does my ATS show me enough visibility of who my best candidates are and the sources they're coming from?
With cost-saving measures taking a front seat, am I using my ATS to its greatest potential without wasting money?
If you're not operating a fast-paced hiring cycle, use this time to address those weaknesses.  Identify stages that need to be added or omitted to maximize recruiter productivity without burning them out with manual tasks. If you're using other tools and applications to mine these databases, ensure that your ATS cooperates smoothly with them.
Adopt tools with customizable connection points that you can mold into your intended workflow. Hiretual's ATS integrations let you construct workflows that enrich candidate data while simultaneously syncing that information between the platform and your ATS. This can prevent a build-up of unwanted or incorrect data contaminating your tracking process.
3. Many in the workforce are changing their employment status
As more and more people start filing for unemployment, many potential candidates have changed their job status – some of them might be in your ATS.
It's the perfect time to update candidate profiles in your database. Your ATS is only as good as the information you put into it. Having outdated candidate data will add no insight to your hiring process.
You might expect hundreds or thousands of changes happening in your candidate database during this time. Manually updating this information is too time consuming, and that's where the modern recruiter can leverage technology. Through ATS integration, tools like Hiretual enrich your candidate profiles with the latest information found on the open web. Without this data cleaning process, you'll miss out on candidates who have become more qualified and available since your last interaction with them.
4. Those who stay in touch, stay on top
Employer branding has become even more of a priority – people want employers who care. Companies that win are those who treat their employees and candidates like their humans. You need to use your ATS to build meaningful connections right now. Recruiters who maintain these connections will leave a lasting impact on candidates when COVID-19 blows over.
Nurture those candidates who are still in the consideration stage or who were recently rejected. Stop automatic emails scheduled before COVID-19 and update that messaging to be more reflective of how a candidate might feel in this current situation.
Why does it matter for you to have the right data in the right place? Genuine outreach is personalized outreach, and your candidates know that. You need up-to-date data to do your candidate research. You need to have your notes and tags on hand from your past engagements to understand their strengths and weaknesses. You also need to know what your past candidates have been doing since your last interaction with them. With this information, you can build and maintain communication throughout this period of time.
5. Recruiting teams are being downsized
It's a harsh reality, but it is happening now. Recruiting teams are being cut in most industries. Your ATS needs to be a well-oiled machine that will support a recruiting team of any size.
Keep in mind that despite the hiring pause, there are a growing number of people looking for a new job. It's likely that a smaller number of recruiters will have to handle an increasing volume of applicants. As hiring teams have less bandwidth to deal with applicants alone, addressing data process inefficiencies will end up being put on the backburner. The build-up of unwanted data will clog the joints of your well-oiled hiring machine. Address errors in your data entry and management process to avoid mishaps in your automatic workflows. This will significantly lengthen time spent sourcing, researching and engaging candidates.
6. Better collaboration will yield better results
Your ATS is a system that requires total buy-in. Your team collectively needs to know how to manage and navigate all tracked data points. Any information added to the system is meant to benefit the hiring process of recruiting teams as a whole.
It can be difficult to reinforce ATS housekeeping rules when everyone on your team is actively prospecting candidates and funneling data into the system. If there's less noise coming into your ATS at the moment, use this time to train recruiters again about how and where to store your data. The effectiveness of your pipelining efforts will be compromised if recruiters on your team are not documenting progress correctly. This will also be crucial in distinguishing and separating data collected before COVID-19 and after COVID-19.
7. The end goal? Always be prepared
After spring cleaning your house, don't you feel peace of mind? There's a sense of relief knowing everything is where it should be, and you now know where to access your most important items when you need them.
Spring cleaning your ATS works the same way. As we thread through these turbulent times, a good strategy includes gathering as much data as possible to make sense of future steps. Hiring teams need to access resources found in their ATS to make informed hiring decisions that will not slow a company down.
Clearing out that system is an essential step in optimizing how data is collected, shared and implemented. Only then will you be prepared to adapt your pipelines to rain or shine, and keep people connected to jobs when they need it the most.