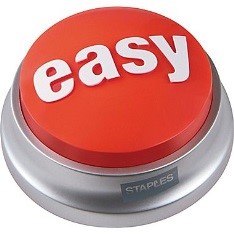 What if I told you that there was a button in LinkedIn Recruiter, which could help change you into a Talent Advisor?  Would you push it?  Of course, you would!
In a war for talent, intelligence and data-driven strategies can make the difference. Imagine if I told you that LinkedIn Recruiter had visual charts and graphs available to you at the push of a button? Would you like the ability to help make decisions by looking at analytics to help predict or focus your search? To be a consultative partner to your hiring managers and business partners, you must be able to deliver solid data. This article will help set you up as a Talent Advisor equipped with data about a Talent Pool via the LinkedIn Search Insights Tool.
What is the LinkedIn Search Insights Tool?
I'm sure many of you are aware that LinkedIn launched a Search Insights tool last year. If not, you are in for an awakening. This slick graphical interface for visualizing search results has been my go to insights tool since it came out. It is simply a report that can be generated upon completing a search within LinkedIn Recruiter. This simple tool has been one of my favorite editions to LinkedIn Recruiter in the past few years. Prior to its launch, if you wanted to share data, intelligence or analytics about a talent pool within LinkedIn, you would have to copy down numbers into an Excel spreadsheet or count manually. Not fun. Below is a screen capture of Search Insights results for profiles in LinkedIn with the "Function" of "Accounting."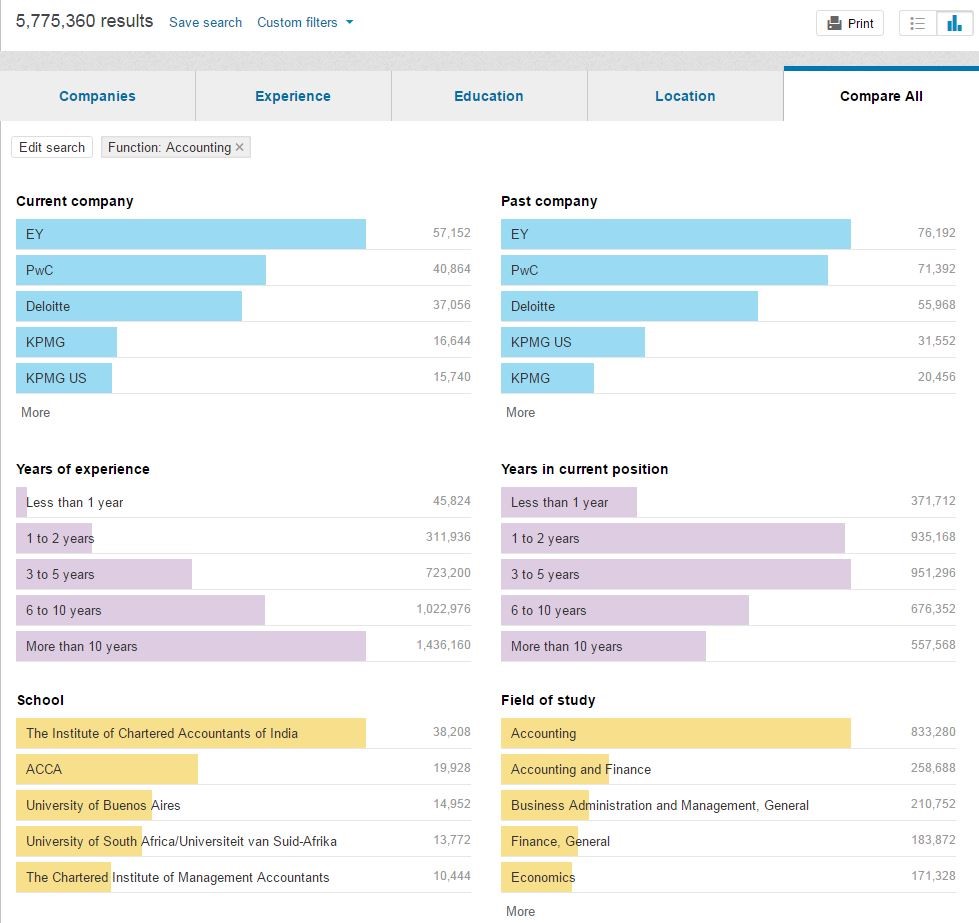 How do I access LinkedIn Search Insights Tools?
When using LinkedIn Recruiter, after performing a search, simply look in the upper right-hand corner to see a special icon.

Or locate it here if you have shifted to the new version of LinkedIn Recruiter.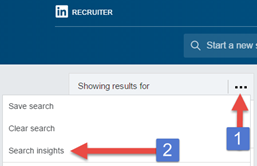 When you launch "Search Insights," you have the ability to see your results laid out by various categories – results are the top five locations, plus the top five to ten current companies, past companies, years of experience and educational intuitions. This graphical report  displays the top 5 – 10 results per category, so it is not an exhaustive list, but it gives you the ability to not only visualize but to also analyze and interpret the bulk of your search results.
Why should I use LinkedIn Recruiter Search Insights Tool?
Why is this important to you as a leader or individual contributor in Talent Acquisition, Human Resources, Insights, Analytics, Researcher or Competitive Intelligence? Three major reasons are:
Gathering additional insights to help in your search
Reverse engineering
Competitive Intelligence
Gathering additional insights to help in your search
Do a little up-front work!! Prior to your new requisition intake meeting, do an initial LinkedIn search and print out the search insights. By having these insights with you at an initial requisition intake meeting, you set yourself up as an advisor or consultant to your hiring manager/partner because you walk in the door to the intake meeting with a good idea of where you might need to target your search for candidates or focus your strategic sourcing.
While I am also a user of Wanted Analytics and Talent Neuron, I have found LinkedIn Recruiter Search Insights information to be just as powerful. The reason? The numbers seem more solid because there are specific names and faces behind the data/numbers that the hiring manager can look at and see when you take them through the specifics. Having the data to share with a hiring manager is also powerful in setting and curbing their expectations. When you can show a hiring manager a snapshot of the talent pool, it can assist in making them realize they may need to broaden their search parameters (or salary, level or title) based on the marketplace.
I also try to find new groups and additional items that may not be standard for the requisition. In the requisition intake meeting, I also challenge the hiring manager to see if there are specific search terms or items I can use to tighten my search to where I find 100 versus 1000 people that match my search. You will find that when you trim your search results to where you have a smaller target group, say less than 250, that you will have a candidate pool that has not only required but also the preferred skills. You are leveraging insights and strategic knowledge versus just using the job description and hoping (also praying) that the hiring manager is listing everything you need to conduct your search. This technique of using initial insights to gather additional requisition data then enables you to do a strategic outreach campaign via LinkedIn because you have enhanced your search parameters.
Reverse engineering
This one is simple. Once you have a new requisition or receive an alert that you are needing to fill an opening, all you have to do is enter the individual's name you are replacing and look for insights about their profile. By using the "show more like this" feature or just typing the individual's name into the search bar of the new version of LinkedIn Recruiter, you have the capability of finding others that are similar to this individual's skill set.
From there you can quickly hit the search insights tool to find out where individuals are and what they do. Imagine walking into a requisition intake meeting equipped with knowledge of the market and the potential candidates that might be available. Think of the possibility of having a list of  prospects or targets if you have never done a search like this before – all by just having a single name – the person you are replacing.
Competitive Intelligence
Imagine if a senior executive asks you for the number of people that work in a specific function at your largest competitor. Could you get this quickly? If you turned to some analytics or insights tools, it is not likely that you would be able to gather this information, at least down to the name and profile. The quick method for doing this is to run a query on LinkedIn of "Current Company" and use some filters to trim down the pool to get your competition's overall numbers. Now launch "search insights" and voila! Competitive Intelligence based on your search results – data on the top ten colleges, years of experience, where people are located, and their past companies. It is so easy and really cool when you can share graphics and specific profiles. A Talent Advisor armed with competitive intelligence too? Pretty cool!
At the end of the day, regardless of how your search goes, the fact that you are coming to the table to meet with your hiring manager with specific insights and intelligence, sets you up as being a far superior recruiter then someone showing up empty handed. In my opinion, too many recruiters go into conversations armed with just a job req description and are hoping that the hiring manager will give them all the insights, tools, keywords and information that they need to be successful in their search.
Think of the hours and headaches that you could save in advance by just doing a little bit of search insights tool work and share it with your hiring manager. Happy hunting and I hope that you found this information beneficial in your journey towards becoming a better Talent Advisor.