Forbes said that recruiting will never be the same. I said in July that a Facebook-driven job board has potential. And after several false starts this summer and fall, they finally released it into the wild this week. Now, millions of people are flocking to it to get a job, right?
Paying homage to the folks at Monday Night Countdown, there's only two words I have for you: "C'mon Man!"
The entire platform is stalled before it even got started. In many ways, it doesn't function properly at all. There is bad targeting either for the job itself or for the location parameters (or, in some tragic cases, both). When it works, the results are underwhelming. That's putting it kindly.
If I were Facebook, I would quietly remove the server that hosts the application, toss it into San Francisco Bay and start over, never to speak a word of it again.
The cold, hard truth
Facebook social jobs partnership was doomed from the start. Both Indeed and SimplyHired have been doing job aggregation for seven years and they've spent a ton of money, time and resources on getting aggregation and filtering down to a science. If you search for a job (I chose human resources jobs for my testing since I am most familiar with those), you'll get pages and pages of mostly human resources jobs that are within your search radius. That's not easy on its own.
Facebook thought they could jump past that hurdle by using a partner. And instead of just choosing one partner, they chose five (Monster, Work4Labs, Jobvite, DirectEmployers and BranchOut). Nice in theory. But let's compare what's important: results.
When doing a search for HR jobs in the Seattle area, I started by looking at what I might look at typically: the two biggest job aggregators and a job board. I chose Monster since they are also a partner with the social jobs initiative.
Here's what my results look like: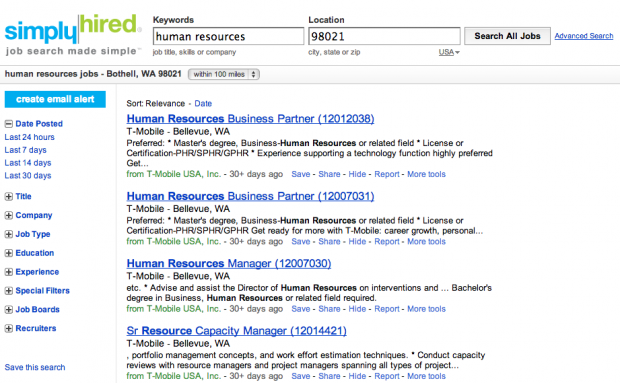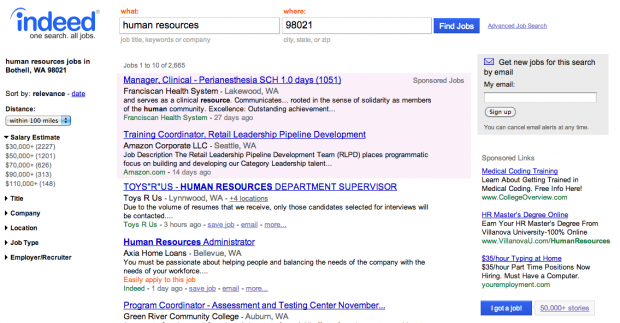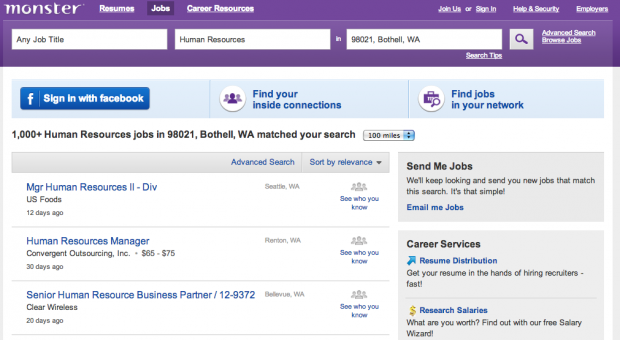 Good matching with over 1,000 jobs on each site. For a search as broad as that, that's not unexpected and you could drill down from that and get a good number of jobs that matched. The closely matched pages go back quite a ways.
Do the same broad search on the social jobs partnership app on Facebook?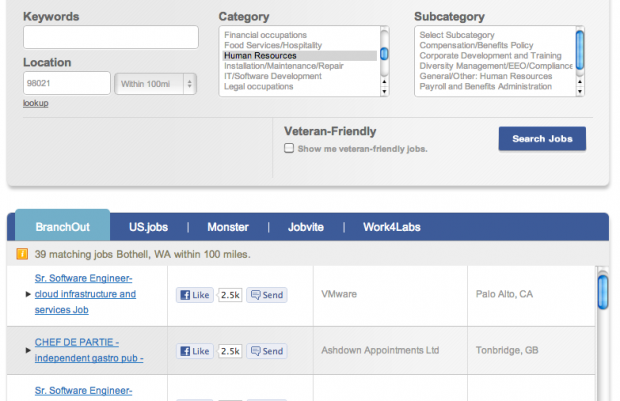 Well, you'll see a couple of problems here first. HR isn't a senior software engineer or a chef. Nor was I looking for a job in Tonbridge, Great Britain or Palo Alto, CA. Not only that but there are only 39 "matching" jobs for all of HR in the greater Seattle area? Not a good start. Let's go over to the next tab.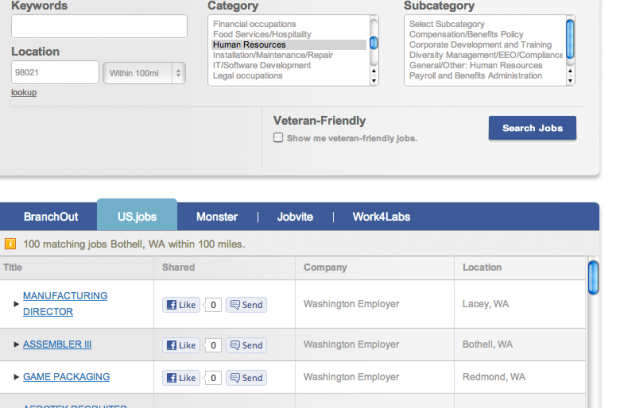 Manufacturing director? Assembler? Game packaging? Plus no name of the employer? The DirectEmployers driven tab was off as well. On the plus side though, I do have jobs that are within my search radius. We're getting closer! Let's check the Monster tab, the one we already know should have thousands of jobs.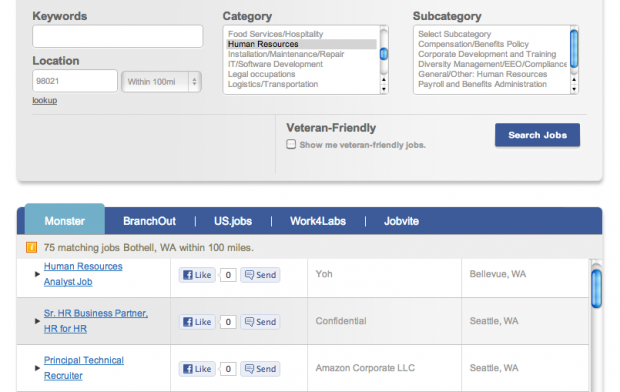 Good news! We got actual human resources jobs in my selected radius. Now, Monster says there's only 75 jobs and when I try to use a subcategory, I don't get any results but this is actually somewhat close to how it should operate. I'll assume the 75 matching jobs is some sort of artificial cap. Let's look at the other two.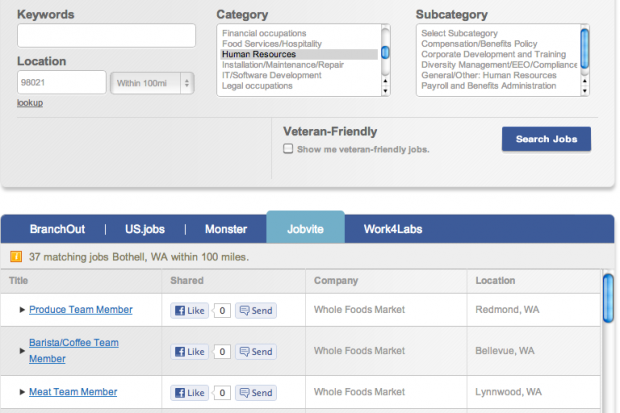 Again, only 37 "matching" jobs but they don't match. The good news is that they are correctly geolocated though. And I'm sort of interested in being a meat team member. Let's check the last one, just in case.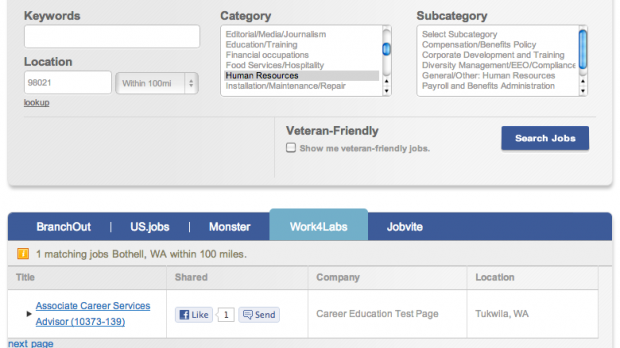 One result though it looks both somewhat matched and in my radius search.
This isn't good. If anybody but Facebook had launched this, they would have been laughed at. It doesn't even have basic functionality across all tabs (a problematic function in its own right). And when it does what it is supposed to, it's ability to slice and dice is lacking and the number of jobs the site features is underwhelming.
If I were a job board, an aggregator or LinkedIn, I'd breathe a sigh of relief. This has no legs to stand on as a functional product.
A glimmer of hope
If you had your hopes up about a Facebook job board, there could be a silver lining to all of this.
Facebook is obviously thinking about their member's careers. They want to be involved in some way and they can be.
This half-attempt will surely fail. If they want to continue in the game of serving up career and job listings, they will have to figure out another way. It will have to be better.
They'll probably drop this partnership route. Or they'll pick one that actually works.
If you like those partner applications, they aren't going away tomorrow though it looks like this doesn't add any particular functionality or traffic potential to them.
Maybe they'll work on improving their internal search functionality like they've hinted at. I'm crossing my fingers for that.
In any case, I hope that whatever they develop or roll out actually uses Facebook's greatest asset: user social graphs.
At the very least, perhaps this changes the perception of Facebook for the average user? Former SourceCon editor Amybeth Hale wrote on Facebook, "I think the 'success' story from this may never come from a technical or innovative position. I think the success will be shifting the way people choose to view and/or use Facebook for themselves, so it almost becomes more of a PR move. The winners here would be the partner apps."
All of that may still be optimistic. First impressions count and this isn't a good one. They can improve the functionality significantly (to where it actually works) and it still wouldn't be a game-changer. At least it would be a bit more viable, though.
If Facebook wants to get serious though (and they can, in case anyone doubts them), this is just a placeholder for something bigger. And I still think a Facebook-driven job app has some serious, serious potential.
This is not it, though.