Picture this. Your account team gets a brand-new client onboarded or you are starting a new division. Life in the fast lane, as Eagles say. The sourcing team furiously pores over the Web and tries to find viable competitors to make an introductory pitch to the most desirable employees in those firms.
Some of the typical things they would do are:
Sheepishly type in Google "Top 10 competitors of X". This may bring up some useful results but like the Top professionals in competitive intelligence say, that kind of information needs to be validated from a minimum of 2 sources to be actioned upon.
Call upon their friends to ferret out some lists to be utilized.
A reliable method is to look up Quadrant-based reports from Gartner, detailing a whole host of competitors (Tech for the most part) or likewise similar research firm's work effort of Forrester, IDC, Everest Group. Why re-invent the wheel?
Research-driven activities
Competitive intelligence (CI) can be useful to map current and emerging competitors' organization structures, compensation and benefits trends, competitor team structures, career growth parameters, etc. For CI information to be put into action, an excellent relationship with stakeholders needs to be maintained. Competitive intelligence can take the shape of many ways.
A competitor website is the number one source of competitor research.
Competitor websites are a veritable treasure of information to understand their operations, priorities, growth avenues, growth levers, partnerships, expansion strategies, and product or service portfolio changes.
You may also track their Press releases, event attendance, and event sponsorships to get a better understanding of how they are promoting their brand.
Pay attention to what content of theirs gets the most engagement on social media.
Also, review the profiles of your competitor's key employees on Linkedin and other media in terms of their background i.e. qualifications, skills, certifications, previous jobs, current role and responsibilities etc.
Closely track Talent Acquisition team additions or deletions. Some TA teams get very creative and end up giving some key information that you can exploit.
If it's a public listed company, also check the "Investor relations" section of the website. You will find their quarterly, annual financial statements, analyst briefings along with corporate governance, and Social responsibility statements in some cases.
Their quarterly and annual reports give precise information about the risks, revenue, margins, C&B of the top-level management, financial health, subsidiaries, partnerships, growth areas, etc.
Scraping their career section job postings can provide an advanced view of the current and future projects, technology investment areas, skills they are looking to hire for, new location manufacturing/service delivery center intelligence among others.
Some companies like Intel, SAP, Google, Facebook, Microsoft, Verizon, Amazon, Accenture, Qualcomm, IBM, Nike, Lowes, Wells Fargo, Mastercard, UHG, HBC, Deloitte already have an in-house talent intelligence team that can help their internal employees with some location and skill trends intelligence research. 
Startups
Startups give a view of the emerging competitors that could disrupt your business models and may rewrite the rules of the game. Following are some of the available tools that you could deploy to develop competitive intelligence reports.
Growjo – They track the fastest growing companies and startups in the world
Pitchbook – You can obtain information related to employee count, office locations, contact information, financing history, financials, top executive names and board members
Tracxn – You can obtain basic competitor lists (free version), investor lists of the companies, invested amounts etc.
Patent database search
A search of a competitor's publicly available patent portfolio databases can give an insight into the products development strategy, their depth and breadth of commitment to R&D. This will help in predicting the market orientation and plug gaps in a company's IP portfolio, and be adequately prepared for market disruption.
Alerts
Google alerts is an excellent avenue to monitor what your competitors are doing.
All one has to do is type in a company name or any topic of interest and enter the email address of where the alert should be sent to. There are several options like Language, frequency, type of alerts (blog, news etc.)
A CI comparison matrix from an HR perspective (Quarter ending)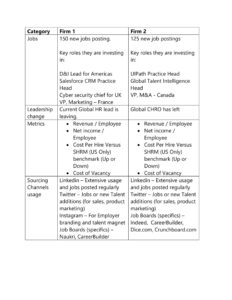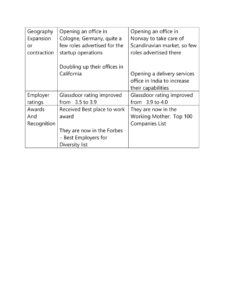 Competitor Intelligence Tools
Following are some of the tools that can be used to review competitor or client websites:
If you are looking to review website statistics in terms of the traffic sources, traffic by country, keywords used, pages per visit, average visit duration, which social media is driving traffic, you can utilize SimilarWeb for this purpose.
You can compare one competitor against you or one other competitor as well. The "free" version gives a good source of information.
This tool can monitor online mentions of your brand in real-time and will let you know about every article, hashtag or comment mentioning your business. You also can compare with competitors, track current industry topics, find social media influencers, identify engaging posts and analyze brand sentiment.
This tool can monitor a webpage when it changes thru an email alert. You can drag the cursor to the section of the page or a full to see if any changes have come about.
Craft is an interesting tool to track the past, present, and future of companies. Example analysis of Snowflake company is illustrated below:
Builtwith is an excellent tool to find the technology changes on a competitor's website in terms of the framework used, widgets, CMS used, email and web hosting providers, advertising networks, languages supported.
Bulitwith scans websites and also provides lead generation, competitive analysis, and business intelligence tools providing technology adoption, eCommerce data, and usage analytics for the internet.
If you are a B2B software provider, and you wanted to target competitor's customers, you would first need a list of the clients. Builtwith can provide the list upon demand for a price.
In the analytics section, one can get a list of the company's competitors as well. Salesforce example is illustrated below:
Organization charts
Organization charts are pure gold from a competitive research perspective. It depicts a reporting or relationship hierarchy and structure and gives a good understanding of how decisions are made and the internal dynamics.
Twitter
Twitter is a great channel to track your competitor's key personnel or general company progress and update.
Example illustration of following Zscaler Twitter handle is as below:
Conclusion
CI gathering cannot be a one-time exercise and it needs to be in action every week. You will never know when you need the information at the drop of a hat. Hopefully, this exercise will get you up to speed to venture out confidently on the CI highway.