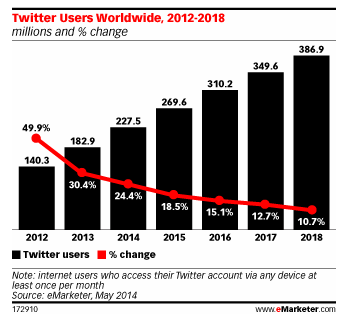 A recent report from eMarketer predicts that the Twitter user growth rate will continue to fall in coming years. User growth percentage in 2012 was 49% while growth in 2013 was only in the 30% range. By 2018, eMarketer predicts the new user growth rate to be at around 10%.
Other interesting findings:
– In 2014, the Asia-Pacific region will account for 32.8% of all Twitter users, compared with 23.7% in North America.
– New user growth will be heavily focused on emerging markets in the coming years.
– eMarketer predicts Twitter will have close to 400 million users by 2018.
Read more about the report here.
Does this information surprise you at all?