Even as the number of tech jobs in the U.S. was steadily climbing in 2012, hitting an all-time high last month, workers were feeling just a bit less confident in their ability to find a new job.
In the last few days, several reports and forecasts have come online, all of them showing that tech workers, despite their own confidence issues, will be hard to recruit.
TechServe Alliance declared that the number of tech workers in the U.S. grew in 2012 by 4.14% to an estimated 4,339,800 workers. That's more than two-and-a-half times the national rate of job growth (1.52%) exceeds even the growth in the health sector, which increased by 2.26% between January 2012 and last month.
Yet a Randstad Technologies poll conducted in the fourth quarter of last year found 44% of the participating IT workers confident of their ability to find a new job. In the third quarter, 55% were confident. Workers' confidence could have been shaken by the showdown over the fiscal cliff issues. Another possibility is that with only 275 IT workers in the survey, a few real worriers could have skewed the results.
In any case, employers aren't buying into that fear. CareerBuilder's 2013 job forecast says 27% of hiring managers plan to hire permanent, full-time IT workers this year. That's also what TechServe Alliance expects.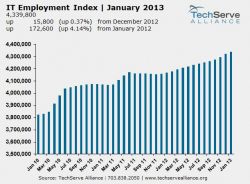 Noting IT employment got off to a "strong start" last month adding 15,800 jobs, TechServe CEO Mark Roberts said, "Despite the lingering uncertainty with the U.S. and global economies, I anticipate demand for IT professionals will remain robust throughout 2013."
With unemployment in the sector below 4%, the hunt for IT talent is only going to get harder this year.
Rona Borre, CEO of Chicago's recruiting and tech-staffing firm Instant Technology LLC., told Crain's Chicago Business, that the market for tech talent is "the tightest I've seen it since the tech boom in the late 1990s."
That view is shared by executives of startups in sectors from software to life sciences. Nine out of 10 companies are hiring, but facing difficulty in finding and keeping the talent they need.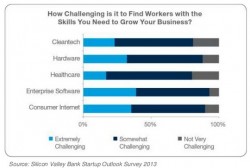 Silicon Valley Bank surveyed 750 company leaders, learning that 87% of them find recruiting talent with the skills they need to be "somewhat" or "extremely challenging." Two-thirds of them say the biggest challenge they have to retaining talent is "finding and competing for the people with the right skills." The cost of salaries and benefits, though a concern, came in a distant second. Most critical are the STEM skills, the executives said.