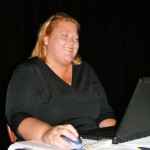 With the conference just a few short days away, I am reminded of my first experience at SourceCon. I am excited to be able to attend this year and preparing for my presentation has reminded me what things I love most about the event.
My introduction to SourceCon came after listening to a Recruiting Animal show where he interviewed Josh Kahn, one of the Challenge winners. After some exploration, I won the last Challenge less than a few months before the 2008 event. I was a little nervous about the Grandmaster Challenge, but the first evening I arrived I knew right away this conference was going to be different. Gone were the business suits and the masses of people. I was met with Amybeth's infectious smile and a big hug from Jim Stroud before I could even catch his name. Though many people knew each other already, everyone was welcoming and interested in meeting and talking with as many people as they could. Everyone was there to learn and share. Whether they were a full cycle recruiter, brand new to the industry, or a veteran sourcer, no question in a conversation or presentation was left unanswered no matter how simple or complex. Breaks and evening gatherings were about sharing, not competition. Whatever level your experience in the field, it was impossible not to leave without a wealth of new knowledge and inspiration to get back to your desk. I went into the conference not even knowing what a sourcer really was and came out with a notebook full of notes that I still use to this day.
As I put the finishing touches on my slides, I've realized that what I like most is that SourceCon has become a community. My presentation includes some of my favorite tools, but most are influenced or learned from the recruiters and sourcers I follow, read about, or have been lucky enough to consider my colleagues. Many sourcers and recruiters were more than willing to take the time to share some of their favorite tools and techniques. While I'm looking forward to seeing some familiar faces, I can't wait to meet new people, to learn, and to share; I just can't wait to take it all in!