The site that "aims to do a bit of everything" is doing a bit more. And it's an interesting something more that takes its cue from direct hire recruiting.
Launched yesterday, and only in metro New York, was GetHired's Job Seeker Spotlight. Five lucky, handpicked job seekers will get profiled in an email being sent to recruiters and hiring managers for their review. If they like what they see, they can reach out to the candidates and invite them to become applicants.
"The Job Seeker Spotlight is a conduit for job seekers to stand out and have hundreds of hiring managers learn about them in just a few hours, at no cost," says Suki Shah, co-founder and CEO at GetHired.com.
It's more of a macro match-up than anything really granular. Candidates are selected because of the thoroughness of their GetHired profiles, their locale, and their varied industries. Up to five a day will be featured, and, says GetHired's Allison VanNest, all are quality candidates.
Employers opt-in to the program, getting a daily email with candidates in their industry. Right now, those industries are limited to customer service reps, administrative professionals, healthcare, sales and business development, and tech.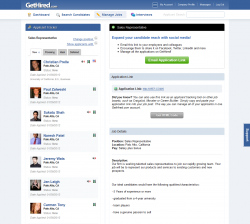 The Job Seeker Spotlight is similar to what contingent recruiters (and some retained firms) do when they have a hot prospect but no job order. They'll shop the candidate to their best clients (first, at least).
Recruiters who do that have vetted the candidate and are vouching for them. GetHired is making no such representation, but since the candidates are handpicked, there's some judgment going into the process. It's more than a Pet of the Week pick, and less than an eHarmony match.
If you're a job seeker, it's like being Angelyne, only it's free. For employers, we'll have to see how it works. VanNest says GetHired intends to spread the program to some 20 metro areas by the end of year, finessing the matching process as it gains experience.
GetHired itself is a startup, launched only six months ago. The company won't share any numbers, so there's no way of telling whether the candidate database has 1,000 profiles or 100,000. Ditto for the number of recruiters and employers who are signed up.
However, don't be dissuaded by the site's newness. Even if you're not turned on by the Job Seeker Spotlight program, you should go check out what else GetHired has to offer. And, I hasten to add, everything is free, at least for now.
The site's market is the small and mid-sized firms — and individual recruiters — who handle many recruiting tasks manually. Just sign up and you get an ATS with a surprising number of features, including calendaring, email, job posting, and candidate databasing. Use the site to create job postings and submit them automatically to multiple free listing sites, such as Indeed, CraigsList, and others, including GetHired itself.
What sets GetHired apart from some of the other free sites is its emphasis on video. For instance, if you choose to implement pre-screening questions, you can decide whether to have the candidates respond by text, video, or audio. Since job seekers are encouraged to create profiles that go well beyond just a resume, recruiters can get a feel for a prospect without having to contact them.
Video conferencing with a candidate is yet another feature of the GetHired service, and something not even many paid services offer.
http://youtu.be/_3tqC8WYK-g