It's eminent that recruiters make the best networkers. Being the face of a company and telling its story to potential prospects is part of our vocation. Attending job fairs, networking events, and mixers allow us to mingle with passive candidates and offers exposure to the community.
With Recruitment 3.0, social networking allows us to have access to millions of people and lets us easily grow our talent pipeline. Today, we spend the majority of our day searching for candidates on the most popular social media sites. LinkedIn has become our playground and building our network is an absolute necessity.
Without a doubt, recruiters should be the most connected users on LinkedIn or any other social media site. I actually feel bad for my non-recruiting friends as their LinkedIn, Facebook, and Twitter feeds have become over-saturated with my latest connections, job announcements, and recruiting news articles.
The words "sourcing" and "hiring" have become part of my friend's vocabulary. I love reading their responses to my social media updates:
Obviously, my status updates and constant jabber about sourcing has become a little obnoxious to others. As a result, I stumbled upon a new site that makes it easy to reach out to your entire social network without status updates or blasting a tweet.
Knod.es, product of SnapGoods, is a new site that searches your LinkedIn, Twitter, and Facebook connections that are most likely to have an answer to your question or topic.
What is Knod.es?
According to Ron Williams, President and CEO of SnapGoods, "Knod.es was born as we were trying to figure out a way to more effectively match people's needs (when wanting to rent stuff) with the people who could help. We realized that posting to the Facebook wall or Twitter stream was not a super effective way to connect with the people who could and would help you. What if instead, we could give you a way find the 5 folks who know MongoDB or the 12 people in designer positions and then give you a simple interface to reach out? All based on the data and connections you already have in your network but don't think to utilize."
Instead of posting an open-ended question on your social feed, Knod.es helps find the people in your network that would be best to ask. It does this by searching public activity on those three popular social media sites.
Williams adds, "The average social network connected person has never engaged 95% of their network. 97% if you exclude birthday wishes and 'Likes.' This means you barely know who's in your network, let alone what they might be able to help you with. Knod.es will make your network actually work for you."
When you search for "sourcing," for instance, the web application looks for connections that have mentioned sourcing. It's also simple to search for people who live in a precise location, have worked at a specific company, or went to a particular college. Once you've leveraged the suitable connections, you can message them with a simple click of a button. Just click on each connection (up to five), and compose. Your messages will be delivered to each person through your closest connection over direct email, Twitter direct message, Facebook wall post, or even a Twitter mention.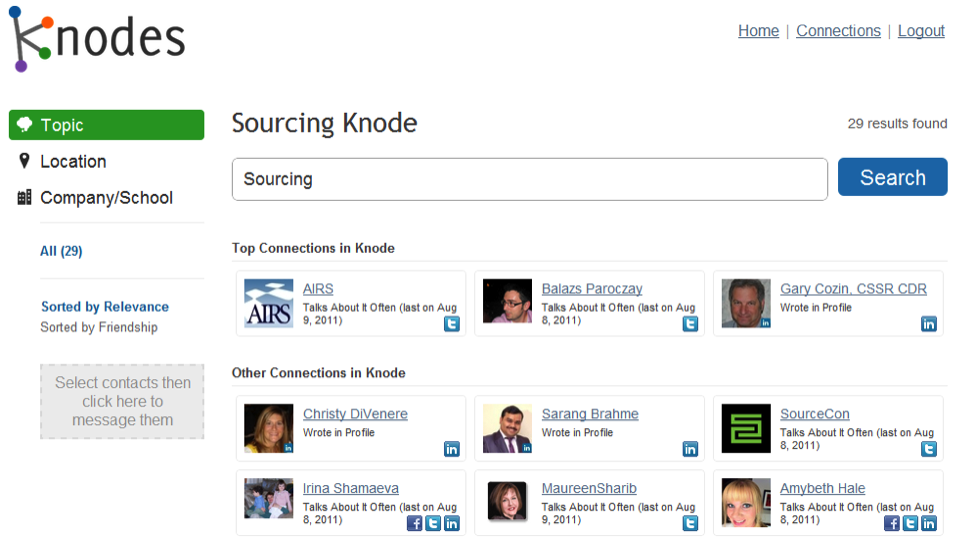 So how can Knod.es be used for recruiting?
Since Knod.es scrolls your contacts for specific topics, you can do a quick search for the topic, location, company or college from which you are trying to recruit. The results should allow for you to reach out to those contacts that might be most knowledgeable on that particular area.
Williams states, "Recruiters are in the business of finding awesome people and connecting them to awesome opportunities. This happens the fastest and best when they are dealing with warm introductions and trusted sources. Knod.es will help recruiters make more connections more efficiently within their existing networks without having to resort to spam. Targeted queries, targeted outreach."
The beta version of the web application was cut off at approximately 400 users, and it has yet to be determined when this site will be open to the public.
It should be noted that Knod.es is quite different from Aardvark, a social search engine, owned by Google, which helps you find people, not web pages that have specific information. Aardvark works better with specific questions; however it does not always provide an immediate answer. A similar site is Quora, which is a collection of questions and answers created, edited, and organized by everyone who uses it the application. You can read more about Quora's sourcing applications in this article on SourceCon. A cool feature in both Quora and Aardvark allows you to group all questions by topic.
Knod.es does not yet have this feature; however it produces timely and immediate results to quickly meet your needs. I've had a blast using this product and I feel it can be another resource for recruiters to use.
Added Williams, "You'd be amazed to find out what people in your network know. So get to know your network."