My boss is a great guy – he has given us a few days off around Christmas to celebrate with our families. But before we go, we wanted to wish each and every one of you Happy Holidays!
And… for your geek pleasure, we've put together a few fun suggestions to help those of you looking for some last-minute gifts for the sourcers and social media addicts in your life:
Tweet Wrap – want highly customized gift wrap? Try Tweet Wrap – you can customize gift wrap with tweets from your account, a friend's account, or tweets with specific keywords. Here's one we created for the #SourceCon hashtag.
Customized Christmas tree Twitter ornament – now, who doesn't want an ornament hanging on their tree that says "Follow Me!"
The Echo Smartpen – Livescribe has a pen that doubles as an audio recorder. Ever been at a conference (like, say, SourceCon??) and been taking notes, only to find later on that you can't read your own writing? Wish you had a recording to reference back to and decipher your own conference notes? This pen will take care of all that and more for you.
The video spy pen – and if audio is too 1.0 for you, go for the pen that takes still shots as well as video. Excellent for covertly capturing conference conversations!
Twitter pantyhose – ladies, give these to your girlfriends (and keep a pair for yourself) and watch the men "flock!"
Social media pllows – fun accents for any couch and a great conversation-starter!
Augmented reality holiday cards – give the gift that forces its recipient to spend even more time on the computer! Though I have to say, these things are pretty neat…
A ticket to SourceCon NYC – if you want to get the #1 sourcer in your life the ULTIMATE gift for the holidays – a gift that keeps on giving – well, then… send them to SourceCon in February!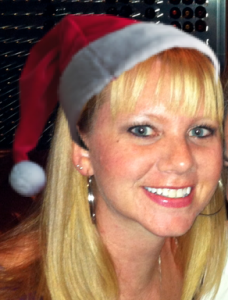 Happy Holidays everyone!