For anyone who hasn't heard of HootSuite, it is quickly becoming one of my favorite social tools for sourcing. To provide some background on what HootSuite is:
"HootSuite helps organizations use the social web to launch marketing campaigns, identify and grow audience, and distribute targeted messages across multiple channels. Using HootSuite's unique social media dashboard, teams can collaboratively schedule updates to Twitter, Facebook, Linkedin, WordPress and other social networks via web, desktop or mobile platforms plus track campaign results and industry trends to rapidly adjust tactics."
Sounds like just another social media tool to be awed and amazed by, right? Not quite! There are functions built into HootSuite that are very handy for us researchers and sourcers. This week, they released some new functionality that will be quite helpful as we continue to work on proving the ROI of our social technology use.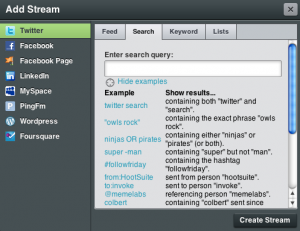 Consolidation. You can connect several social channels to HootSuite and monitor updates from a single location. Currently available are Twitter accounts, Facebook profiles and pages, LinkedIn, MySpace, PingFm, WordPress, and just added this week is Foursquare. (more on that later)
Search. HootSuite has several different methods of search and monitoring – you can search with keywords, search by hashtags, or monitor public or private Twitter lists. The keyword search supports Boolean, so for those of us who have set up Boolean searches to monitor Twitter, this is an easy way to monitor right within a Twitter platform for easy follow-up and response.
URL monitoring. HootSuite uses both ow.ly and ht.ly for standard URL shortening and sharing links. You can monitor clicks of these links through HootSuite's metrics, which can be viewed either online or through their mobile app. Recently they've also added the ability to incorporate your own shortened URL (similar to what bit.ly Pro is allowing) so if you want to use your own, like resr.ch (sorry – I own that! 🙂 ) you can set it up through HootSuite. This is a great feature for tracking interest in shared job opportunities or interesting links.
RSS. You can run RSS feeds through HootSuite to automatically share when you've published a new blog post. A great way to automatically distribute your new articles with your networks. Or if you have a feed you just like to share, you can run it through here as well.
Insights. Have you seen the new tab called Insight that appears when you click on a Twitter name? This provides you with a collection of information about that person gathered from other places on the Web. Things like job history, photos, location, and other social networks to which that person belongs. Right now, there doesn't appear to be an opt-out to hide this information, so take advantage of it while it's available!
Geolocation. There are two parts to this – one, HootSuite recently added functionality to conduct location-based searches based on your present location. So, if you're looking for potential candidates near you, you can do that. As mentioned earlier, HootSuite recently integrated with Foursquare, so you can follow the updates of those you're connected with from HootSuite. This does present a cautionary message though – be careful about who you connect with – even if you choose not to share your location, if you are connected with someone you still show up in their update stream.
Collaboration. You can invite others to collaborate on any of your social channels. I do mean any! You can create teams of people to tweet from one Twitter account, to post on a Facebook page, or to update locations on Foursquare. Think of the recruiting implications of having a team Foursquare account – if you work for a company with multiple locations, you can share job opportunities that are geo-tagged and easily findable by others near you. Pretty slick!
By the way, HootSuite is completely web-based too so you don't have to download any desktop applications. This is great also for when you can't be at your own computer – you can log into your account from any location. HootSuite's basic functions are completely free. Some of the more robust features do have a fee attached to them but they're totally worth it. As well, there is a lite (free) mobile app and a paid mobile app that's only $2.99. Currently they are available for iPhone and Android devices, and the Blackberry app is coming very soon.  If you've been struggling to find a way to show ROI for your social technology use, this is a really good place to start. Check out their blog and take it for a spin!
Do you have a favorite social collaboration tool? Share in the comments below!