I began my pursuit of solving the second SourceCon Challenge when I saw this Facebook posting on the SourceCon page on September 7:
As I had started late (the contest began on September 1), I missed out on some of the preliminary clues, including a mouse-over title for the countdown clock on the SourceCon page that said "CiteULike.org," which was where I would have found clues leading to the Diigo group ( "similar source" and "sourcecon2011_challenge2"). Thankfully, though, no one had discovered these clues, and I sent an email to the SourceCon editor to ask if it was too late to join in. I guess I was under the impression that if you had not participated in the first SourceCon Challenge on building Google Custom Searches that you were not able to get in the hunt. I was delighted to learn that it was not too late. I clicked on the link from the Facebook posting which led to a Diigo.com site where you were invited to join a group. Little did I know that this would begin a 12-day journey (evenings and weekends) of hunting and gathering information to solve this quest!
Clue #1
Clue #1: look for a person who is tied to Toyota and the clue that led you here (JACS/XML). Think similar categorical terms, keywords, and phrases.
When you find that person, you must then find someone who was at the same school, but 5 years later and only for 1 year. Once you find them, you must send ONLY that person's email address IN THE SUBJECT LINE to sourcecon2011@gmail.com.
Okay, so I started late. I did not know the first clue and information and had no idea where to start on this one. I quickly tried "toyota jacs xml" as search terms and netted 45,000 Google results. I definitely needed to narrow down this search. I needed more information, so I figured the best way would be to back in and look at the previous clues and hints that had been shared to date by SourceCon.
From the SourceCon announcement of the Challenge, Red Herrings and Hidden Gems:
Your starting clue is this: Glen Cathey has shared a lot of thoughtful search processes over the last couple of years. To begin Challenge #2, look into some of his recent lessons to find a clue for how to get going.
Helpful hint: don't bother Glen for hints or assistance – he can't help you with this Challenge. In fact, there isn't a sourcer out there who will be able to help you. You must rely on your own research skills – and you'll be using both Internet and telephone for this Challenge.
I am thinking to myself, "Great…Red Herrings…fake clues? This will be tougher than expected. Which ones might be fake?"
There was a note from SourceCon that some additional clues would be delivered in the September 8 SourceCon Weekly Newsletter. Time to wait…
The newsletter was released and the two clues were:
The company of the first person you need to find can be found using blekko. Seek out sourcecon there.
One of the educational institutions of the second person you need to find is in North Carolina.
OK, time to get moving on blekko. I searched for SourceCon and found this: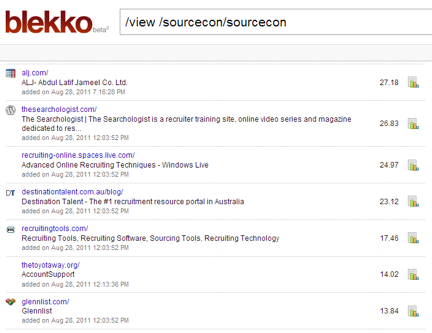 I was able to find a Toyota and ALJ – Abdul Latif Jameel. ALJ seemed like a clue, but I was not sure.
Then another clue arrived from SourceCon, which was "Saudi Arabia." I popped into Google and ran the following search.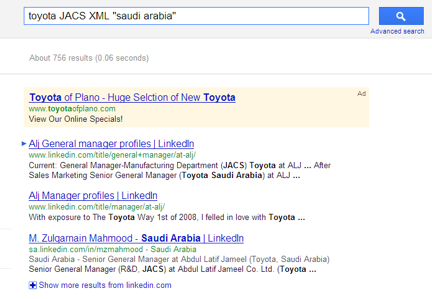 BINGO! M. Zulgarnain Mahmood at Abdul Latif Jameel. He has to be person number one. He attended Michigan State University from 90-92. Now the tough part, finding someone that was at the same school, but 5 years later and only for 1 year.
How do I do that? I did get a clue from the SourceCon Challenge that one of the educational institutions of the second person is in North Carolina. I need more information.
I really spun out on this part. I was trying to find a person who had little to no relation to a person that was at Michigan State University five to seven years later and was only at the school for one year. Plus this person also was at another school in North Carolina. I did some web searches and LinkedIn searches trying to relate Toyota, Michigan State, and any of the schools in North Carolina.
CLUE from SourceCon in the Diigo group:
For part 2, the person you are looking for did not necessarily earn his education at the school in the State of Michigan. Perhaps he was an educator.
Duh! Now it was time to zero in on the faculty.
From there I began to cross-reference lists around Michigan. I focused on the Faculty at Michigan State and people that went to or worked at a school in North Carolina. After looking at who started at Michigan State between 1997 and 1999 and worked for one year, I amassed a list and started going through profiles. This took some time and effort. After filtering through a lot of people, I ended up finding a guy named Aneil Mishra that fit the search. I scanned his online resume and he had everything. Per the SourceCon directions, I sent in his email address. He was the correct answer!
Clue #2
This took me to the new clue:
Clue #2: To get to the next level, follow COLE Grant and find the author.
Immediately I read the clue and thought, Follow…Twitter! I quickly X-rayed Twitter.com for @colegrant, I located a profile and his information was a bunch of numbers. This looked like GPS coordinates, so I dropped them into GoogleMaps.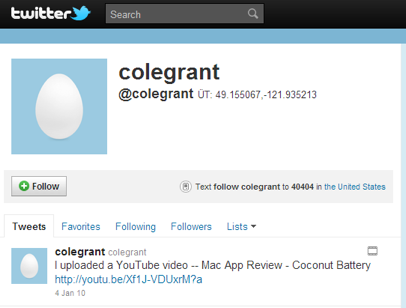 This led me to find the address near an airport in Canada. I then located the person that lived there – Michael Rouch – Chief Flight Instructor… The directions from SourceCon did not state what to do with this information when you found the author. I emailed the SourceCon editor and to my surprise, this was a wrong turn that I made.
I found a red herring. Back to the drawing board…
A new clue was sent from SourceCon to the Diigo group that stated,
This next step has everyone bogged down. Be sure to read every detail of this clue, and keep in mind that you were instructed you would need to use the things you find along the way. Perhaps there are things that can be found by looking into the profiles of those who've led you this far.
In looking at the clue very closely, I noticed that COLE was capitalized. I hadn't thought about all the options. Also, I needed to look at the profiles that led me here. First stop: Aneil Mishra's resume — BAM!! COLE was there. Aneil worked at Duke University and assisted with the "Center of Leadership and Ethics" (COLE) grant program.
I then Googled Duke, Cole, and "Center of Leadership and Ethics" and found more about the genesis of the COLE Grant.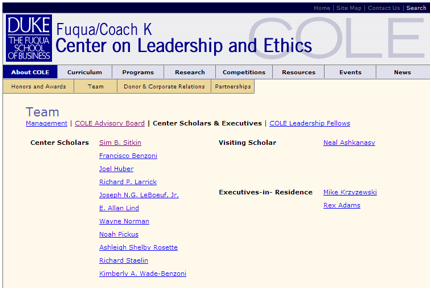 COLE was started by Coach K (Duke's legendary Basketball Coach – Mike Krzyzewski) and a Duke Professor Sim Sitkin. I totally wanted Coach K to be a part of this challenge! Unfortunately, after looking up information on his two New York Times best selling books, "Leading with the Heart" and "Beyond Basketball – Coach K's Keywords to Success," I hit a dead end. Nothing seemed right for Coach K as the author, so I looked up Sim Sitkin on Amazon and found a book that he wrote.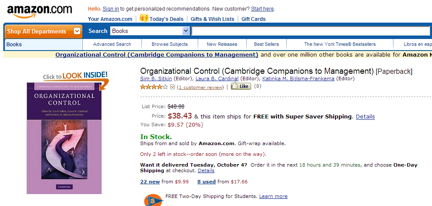 I noticed there was a Customer Review!! I checked it out.

YES!!!!! This was totally SourceCon Challenge material. A cool puzzle at the CIA-Headquarters that is written up on the SourceCon page?
It was now time to X-Ray the SourceCon website! 15 seconds later, I found a blog posting about the Kryptos – The Ultimate Challenge. I remember reading about this in Dan Brown's The Lost Symbol.
I was at the right webpage. I scrolled to the bottom and saw there was an anonymous comment:

I now started thinking that I had to solve the Kryptos, but it has not been solved in the last 20 years since it was built with the best in the world trying to decipher it. This had to be a red herring…
So I knew I was at the right spot and there was nothing here… I was so close, I just knew it! I thought for a few minutes and decided to check the HTML source code for the page to see if there were any hidden gems (text or messages). This hunch paid off!

Hidden Gem:
"email sourcecon2011@gmail.com with subject "NYPVTT" (minus quotes) and the first and last name of the author of the book that led you here in the body for your next clue."
I sent Sim Sitkins and NYPVTT to the SourceCon email address. Am I finally done? Did I win???? Along came another clue.
Clue #3

Clue #3: JimSanborn. you musT find him.
Jim Sanborn? The creator of the Kryptos ciphers at the CIA-HQ? I had already been down wrong paths, so I definitely wanted to save time on this one. I noticed a capital "T" in musT. Could that mean Twitter?
I went to Twitter and searched for JimSanborn:

The SourceCon logo was a dead giveaway. He also had recently tweeted a link. I clicked on the link… Will it be over????
The link was to the Diigo site, and the never ending online journey continued…
Clue #4
Clue #4: you have all the information you need — you just need to find the location of the after dark. Look 4 BaSic clues.
I noticed "location," the number 4, and the letters "L," "B," and "S" capitalized. My gut said find the location of the After Dark on Foursquare. First, I had to learn where the SourceCon After Dark was being held. In checking the SourceCon page, After Dark will be held at Yahoo!'s Building C / URL's Café. Quickly taking this information to Foursquare, I tried to find the location, but it was not near me, so I was unable to view the information. I quickly turned to the X-Ray tactic and by typing in "Yahoo! Building C / URL's Café site:foursquare.com" I found the location.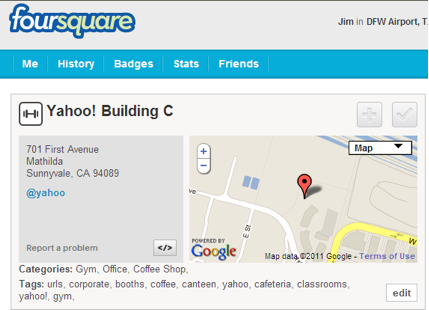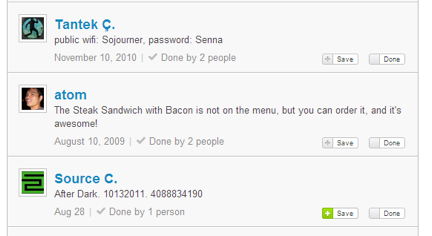 There it was!! The SourceCon logo, the date of After Dark and the thing I had been looking for from the beginning — the phone number! It was laid out in the beginning information about the Challenge that you would also need to use the phone. Finally! I will call and be done…
Not so fast — one more thing…
The voicemail said that I needed to send the name of the individual associated with Wake Forest University that I located earlier in the subject line of an email to the Challenge email address. I sent Aneil Mishra's name to the SourceCon email and that was it!!!
I sent the final e-mail at 11:37 PM on September 19. It had been twelve days of crazy times for me – and nearly three weeks from the beginning of the contest! I was searching and doing all of the SourceCon Challenge tasks in the evenings after my wife and kids went to sleep. Needless to say, it made for some long nights.
Two things that I think helped me in this Challenge were asking questions and getting feedback of my progress. I continued to check in with SourceCon to ask if I was on the right track. New clues (many based on my inquiries) were posted publicly in the Diigo groups to help me as well as all the other participants. In past Challenges, there has been little to no interactivity throughout the Challenge. But as with our daily job function, checking in and asking if I was on the right track helped immensely with completing this project. The same can be said about work – when working on a sourcing project, checking in along the way ensures that you are pursuing the right paths to ultimately find exactly what you need.
A big thank you and round of virtual applause needs to go to SourceCon for designing and executing a hell of a tough challenge. It was very well organized and the technology flowed well.
I look forward to competing with Katharine and Julia to see which of us will win the Grand Master Sourcing Challenge next week during the SourceCon After Dark – and I hope to see you there as well!
*Editor's note: Even though Jim technically won this Challenge on September 19, we decided to extend the contest to the first day of October to give the rest of the participants an opportunity to complete the Challenge. Jim was already scheduled to be a panelist for the conference, and while neither he nor any of the other presenters contributed to the development of this Challenge, we knew he would already be attending and wanted to give others a chance to come. The fact that he ended up winning the Challenge proved to us that we made a good choice in having him as a presenter!
Honorable mention goes to Lisa Offutt who completed the Challenge through Clue #2 and was hot on the trail to find Clue #3. This was a very difficult challenge and we commend each and every one of you who participated!