This post originally appeared on SocialTalent.co.
Coupons, daily deal sites, newsletters, password resets, lead nurturing emails, social media notifications, invitations to friends' parties, and maybe even a few emails from their mum – these are just a few of the hundreds of emails that flood into your candidates' inboxes every single day. That's a lot to sift through, never mind actually open.
So what makes a candidate want to take that extra step to actually open an email? Often, it's the subject line. In fact, 33% of email recipients will open an email based purely on a subject line alone, but a whopping 69% of email recipients will also report an email as spam based solely on it's subject line.
As a recruiter, you really don't want your email to be the one that the candidate chooses to ignore, delete or send to spam. Up until this point you've invested a lot of time finding this candidate, researching why this candidate is right for the job, perfecting your email copy, hyperlinking the right words, and placing the right call-to-action. What's the point of all that work if that candidate isn't even going to open your email in the first place?! 
If you can't get the candidate to open your email, you have no chance of getting them to respond and no way of moving them closer to taking the available role. Essentially, it's game over.
As a result, you've got to do your best to make sure that your email subject lines are as clickable and as enticing as they can be, in order to get your email past the first major hurdle. And to help you ensure this, we've done some research and drawn up some general tips you should be keeping in mind when writing subject lines in the future:
Keep it Short
As 40 % of emails are opened on a mobile first, where the average mobile screen can only fit 4-7 words maximum, it is advisable to keep subject lines to 30 or fewer characters.
Subject lines with 30 or less characters tend to have higher average open rates than those with 30+ characters.
Personalize
Personalized subject lines are 22.2% more likely to be opened. According to the 2014 Science of Email Marketing, emails that included the first name of the recipient in their subject line had higher click-through rates than emails that did not. When sending emails to potential clients, our Global Account Manager, Lisa, uses this tactic frequently. In the following example, Lisa used the subject line "Are you there Luke?", which contained the following email copy:
When emailing corporate clients, Lisa also likes to try and personalize her subject line, but instead of including a name, she likes to use a variation of the company's slogan. For example, when emailing Nike, Lisa used "Just Learn It" (a pun on their "Just Do It" slogan), and when emailing The Walt Disney Group, Lisa used "Be our guest, be our guest, put our service to the test" (a line from a popular Disney song that just happened to related perfectly to our recruitment training service). Both subject lines yielded a response from the client within 24 hours!
Location-specific and interest targeting also works well. LivingSocial and Groupon are old pros at this, sending emails with subject lines promoting deals in your area or based on past purchases. So, do as they do, use your knowledge of the candidate to your advantage by including personalized information in the subject line. For example, if you know a candidate is a big Game of Thrones fan, why not use a tongue in cheek subject line to pique their interest or tickle their funny bone like, "You know nothing, John Smith", playing on the popular show catchphrase "You know nothing, Jon Snow". Adding this small detail will make recipients feel like the email is that much more relevant to them, and show that you have done your homework when it comes to finding out about them and their compatibility with the role.
According to 25-year copywriting veteran Mark Johnson, "the reason [personalized subject lines work] is because targeted subject lines are about the reader; and more than any other topic, people want to read about themselves".
Try Using a "Listogram"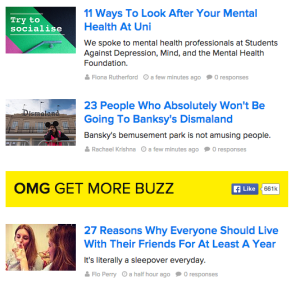 Buzzfeed.com are BIG fans of listogram blog titles! Many of the factors that make up good blog post titles, also apply to good email subject lines. Particularly when it comes to the humble listogram (a numbered list) – the blog title of choice for content supremos like Buzzfeed and Mashable.
As our brains are naturally drawn to digits, including numbers in your email subject line attracts attention. This tends to be why Top 10 lists are so successful.
Lists are easier for our brains to process and they create curiosity in addition to providing the promise of a quick read, and setting up your reader's expectations of the email content.
Set Up Readers' Expectations
Speaking of setting your reader's expectations, according to Mailchimp, "the best subject lines tell what's inside, and the worst subject lines sell what's inside". In other words, your subject line should (drum roll please) describe the subject of your email.
When people read your subject lines, it should be obvious what your message is and, most importantly, why it's relevant to them. Leaving your recipients guessing can cause frustration and lead them to ignore or delete your email.
Ask yourself, "How will the candidate benefit from my email?'" For example, if I was writing an email to promote a blog about tips for email open rates (much like this one), I would send an email with the subject "Increase your open rates by 50% today". In just 37 characters, I've told you what this email is about, how it will help you and when it can help you. Not bad for just 7 words!
Ask a Question
Question marks and unusual punctuation offer another method for standing out from the email masses. Exclamation marks can be useful, but are so over-used in subject lines these days that they don't tend to be very powerful. Questions marks on the other hand, have been proven to engage readers straight off the bat, as questions cause readers to enter an instant dialogue with your unopened email.
Why? Well, the linguistic structure of a question requires the reader to pause and respond, which in turn, entices the reader to seek the answer. In many cases, the reader already thinks they know the answer, and your headline is merely feeding their need for affirmation.
For example, our Global Account Manager, Ellen, likes to use "Why aren't [insert company/team name] Sourcing Ninjas yet??" or "[insert company/team name]: Future Ninjas?"when emailing potential clients who may be interested or benefit from our Black Belt in Internet Recruitment online training course. She finds it to be extremely successful, and even once had an interested customer respond with the subject line, "Why AREN'T we Sourcing Ninjas yet?? "
Pique Their Curiosity
You want a subject line that makes a recipient say, "That's interesting. I want to know more." Curiosity improves open rates as it motivates the reader to click through and discover the answer.
When each of our Sales team received this personalized email subject line from a company called ClearSlide:
They were all totally intrigued as to what would come next, that they couldn't resist clicking through to the full email, which read:
Ingenious, huh? 
Make it Clear Who the Email is From
No one likes talking to a robot. Think about when you call an insurance company or your mobile phone service provider, and can't get a hold of an actual person. It's frustrating, right? The same goes for email. Never use "noreply@company.com" or a similar generic email address to send your candidates emails about potential job opportunities. I repeat, NEVER use those email addresses.
Not only does it make it look less personable (therefore less likely for your recipient to open it), it also stops people from adding your email to their address book, which you definitely would like them to do!
Using your own personal email address e.g. JohnSmith@email.com or your personal work email address e.g. john.smith@company.com, is preferable.
So there you have it folks, 7 tips to improve your email subject lines and hopefully increase your click through rates and your response rates as a result.
If you have any suggestions to add to this list, please share them with us in the comments below or tweet them to us @SocialTalent.