You may have missed the announcement about the reimagined Recruiting Innovation Summit on ERE.net (ERE Media is SourceCon's parent company). This May 14-15th in San Francisco, we plan on unveiling a summit that is on the cutting edge of recruiting. We're not just focusing on corporate recruiting, either. We're going to be covering all aspects of the talent acquisition process. We need your help, though.
First, if you are doing something innovative in talent acquisition, we want to hear from you. We don't care if you're a recruiter, HR pro, sourcer, independent headhunter, consultant or vendor. If you're a HR vendor startup, I encourage you to apply to be a part of our program via the startup competition application. For any other innovative parties, send me a quick note (lance@ere.net).
Second, we want you to be there. New companies and products will be making their first major appearance there. You will see things you haven't seen before. And ultimately, our audience will decide which startup, product and process will be crowned champion.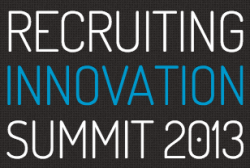 If you've been to a Recruiting Innovation Summit in the past, this will be completely different in feel. The program is broken into bite-sized pieces of innovation. 15-20 minute sessions driven by recruiting practitioners, consultants, prognosticators and companies showing what recruiting will look like in five years. We'll be repeating the startup competition and adding in awards for products and recruiting departments that are doing innovative things.
Much of what you see will be too new to be proven. Many times, there won't be case studies that show ROI, an impressive list of Fortune 100 company clients or well-funded, venture-backed startups with A-list talent coding on Aeron chairs.
You won't like some of the ideas presented. That's okay.
But you will see something that helps bring together something you've been working on. Or maybe you'll finally push yourself to implement something in your recruiting organization that you've worried about.
This is a conference for anyone who is looking to be on the front edge of innovation in talent acquisition. If you know somebody who is doing new, cool things in talent acquisition (or if that person/company is you), let me know. Otherwise, I hope to see you there.