I have an addiction to be overly curious about finding new gadgets and recruiting tools. One of my recent discoveries is MightyText, which is one of my favorite candidate engagement tools.
I am in involved in a significant amount of university relations recruiting in my current role. This generation of candidates is typically avid texters. I also recruit experienced clinicians. Successfully connecting live during daytime hours with either group can be near impossible. As a result, I found myself texting quite frequently throughout the workday.
One could imagine what I looked like at my desk; typing on the computer, talking on the phone, sourcing on the internet, and frequently texting in between all of these activities. It's a little cumbersome, however, pretty typical as a recruiter. This is when (play the sounds of trumpets in your head) MightyText came into the picture.
MightyText is a free Chrome extension and Android app that allows texting from any computer or tablet.  This tool has both free and premium options at a monthly cost. I have been fortunate with utilizing the free features and want to share the awesomeness of using MightyText.
The option to have texting streamlined on the computer screen without having to check my phone throughout the day is great. [Disclaimer: candidates that I have text conversations with are open to it and do not see it as intrusive].
Before using MightyText, while sitting at my desk, I would have to toggle between my phone and my computer. Now, while I'm at my desk I can send and receive text messages directly from my computer.  The great part of all this is that the text message will still show as being sent from my work cell phone number.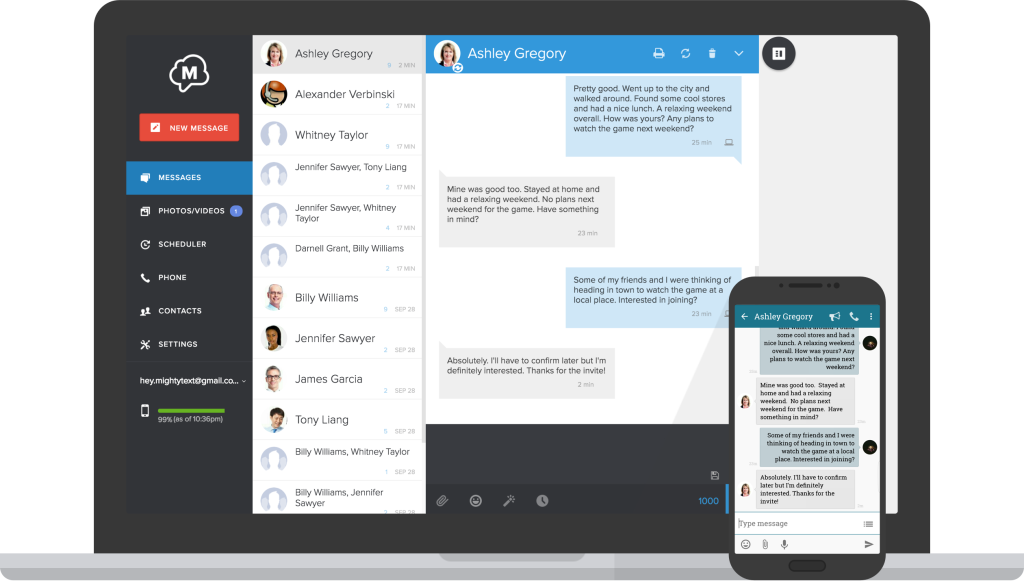 Here are a few of the free options that make this tool worth adding to your list as well.
Battery Indicator
There is a feature that will show your cell phone battery level on the computer screen.
By the end of a workday, there are no surprises. It's nice to have a heads up that my phone is needing to be charged.
There is a phone dialer
Having the phone dialing feature right on my computer screen allows me to dial phone calls directly from the computer. My cell phone is used for everything at work. By the way, yes, I am one of those people that have a work cell phone and personal cell phone. I use the work cell for all work related phone calls, emails and text messages.
Other features worth mentioning are the ring my phone option; where a signal can be sent to your phone to make it ring if you need to locate it. It will even ring if the phone is on silent.
Headed out of the office and need access to an important document? Well, that is covered too. There is a feature to send a file from your computer to your phone so that you will have access to it while on the go.
Contacts loaded and synced regularly
Contacts on your mobile device are loaded into MightyText. This allows you to click on the contacts name instead of entering the phone number when sending a text message. Also, the contacts sync regularly, which is a huge time saver because I often add new contacts throughout the day after speaking with candidates and new leads.
A little fun
If you are like me and need a little fun in your daily work life; MightyText also has options to send emojis, pictures, videos, and gifs.
For those of you that are skeptical about text messages, battery indicators, and contact alerts popping up on your work computer; you will be glad to know that there are customizable settings that allow users to select which notifications to turn on or off.
Overall, Mighty Text has a simple layout and is easy to use.