I was lucky enough to finish a SourceCon preliminary challenge that some said was one of the toughest in recent years. With that qualifying challenge, I was able to take time, make mistakes, try new things, and go at my pace without a lot of pressure. The preliminary challenge overview and the steps involved are available for you to read about, if you would like to know more.
On the Thursday night of SourceCon, located in a conference room at Yahoo's URL building, I sat at a table as the third and final qualifier for the SourceCon GrandMaster Challenge. I was sipping on a beer to keep the nerves at bay waiting for the unknown challenge. Opening every sourcing tool and website that I had available, I practiced for a few minutes with each. I also wanted to be sure all passwords and ID's were correct, plus to see if there were any changes or updates. I sat down at the table and had ALL tools ready to go so I could flip to whatever was necessary if needed finding people. I had heard that we would be getting zip drives for the challenge which hinted that we would be sitting at the computers and not going on a physical running scavenger hunt type challenge. Why I had thoughts of the scene from "Social Network" with shots of liquor and the crowd around us in a hack-fest, I will never know, but it was sort of quiet in the room. The music from the SourceCon After Dark reception was in the next room and we were all ready to have a source-off.
Amybeth Hale came around and handed out zip drives. We all inserted them into our computers at the same time. Amybeth said, "Start the challenge. You each have 45 minutes."
Suddenly everything started to go into a sort of surreal slow-motion… There were two items on the zip drive – a file with instructions and an Excel spreadsheet.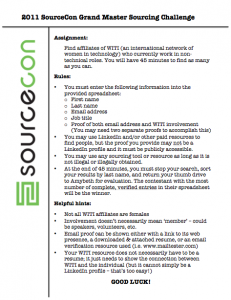 The first file
A PDF that said, "Find affiliates of WITI (an international network of women in technology) who currently work in non-technical roles". The instructions continued with a bulleted list stating that we may use any tools at our disposal and would need to supply first name, last name, title, email address, the source, resume link, or webpage URL where we found this information and the method used to verify it was a valid and legitimate email address. We were also instructed that we may not use LinkedIn as a final source because we need to provide an email address (email addresses are not typically available on LinkedIn; and also, "that's too easy!" the instructions said).
The second file
An Excel spreadsheet which basically had spaces for name, title, email address, source of information, and a column for how we validated and verified that it was correct email address.
Go Time!
After reading the instructions and panicking for about a minute (which seemed like about five minutes) the sourcing strategies started popping into my mind. Which one do I do?
Do I x-ray the WITI website to try to find hidden files and try to flip and search to pull personal profiles? Will these have email addresses?
Is there an event attendee list for a conference or member list?
Do I just go to Monster and start downloading resumes that may have WITI on there is as keyword and then back into whether or not they are technical?
SBWI – Or do I have enough time to use my favorite method of SBWI? SBWI stands for "Sourcing By Wandering Around" – a common method of sourcing that typically takes a lot more time than we were given for this Challenge. Would I be able to find large lists of emails?
I can find lists of names all day long, but the email piece really threw me off. I am a HEAVY user of LinkedIn Recruiter and have access to InMails. I typically do not have a need to really find email addresses, so this was definitely going to be a stretch assignment. Baseball analogy — Do I hit a bunch of singles to get the runs or do I step up like Sammy Sosa and swing for the fences while potentially striking out a lot?
So many ideas and additional strategies went through my mind. When you only have a total of 45 minutes to do something, you really have to be organized. With all the strategies going through my mind, the time limit, and stress of performing, I was anything but organized! I knew at a minimum I needed to get some points on the board quick. I needed email addresses.
The first thing I did was hit the search engines to check out the email patterns – @witi.org or @witi.com or @us.witi.org. This didn't help my confidence since there were basically no email addresses available and no specific pattern. When I did find an email address, it was like the pattern was made up on the fly over a few years. I also checked out witi.org and witi.com to see if there were different materials on each. At the top of one of the pages was a spot to "JOIN" WITI for $250 and get access to their member directory. I was ready to pull out my Corporate AMEX and do this, but I had no knowledge if it would yield email addresses. I figured it would not, so I steered clear of doing this. Yes, I did try to hack in for a few minutes as Admin but I struck out. I also saw in various spots on the web pages that there was the ability to sign up to get WITI's newsletter. I immediately did this and did not get a newsletter until the next week. Therefore no fruit from that tree, but I still get the email newsletter (that I need to turn off).
I went to LinkedIn and joined a couple of Groups to see if I could find some unique organizations that might get me some email addresses, but I mostly struck out there.
Brainstorm! Bam! I am involved with a not-for-profit called the Consortium for Graduate Study in Management. How would I get the email addresses of people that were associated with the organization but not actual members? It hit me. The employees of the not-for-profit organization! Okay…this could be a Sammy Sosa technique and pay off heavy. I went to Jigsaw and searched for "Company" of WITI and I got a good list of names, titles, email addresses. This technique netted some names and entered their information on the spreadsheet. I was putting points on the board!
Hitting a Few Singles
I starting thinking it was about time to "hit a few singles" and look for the individual names. I searched for a speaker at a conference and got one with an email address. I found a guy that was a speaker or member of a regional chapter with an email address. This was more difficult than expected because email addresses were not in or around the speaker's bio. In hindsight, that would have been a hell of a tactic to leverage if I had more time — find all of the men who were associated with WITI, because they were targets.
This technique was taking too long — I just knew there had to be a mega-list somewhere. I shifted to some AIRS techniques of visiting local WITI chapter webpages and peeling back the URL's. This is where you delete some of the URL text, to try to find information hidden on the page.
I took the URL of a person that I found as a speaker from a WITI event and peeled back the URL. This led me to the location that they were out of and if they were a member of a local chapter. What I found was that some of the local chapters had email addresses listed for leaders on their webpages. I added some of the men and attempted to determine if the women were non-technical. I also noticed that the webpage template was a little different from the national chapter on a few of the local chapter sites. I immediately went to work on these using the X-Ray and peeling back techniques. While looking for a file with Member Lists, I stumbled across a Listserv that somebody had not deleted.
Jackpot (Though I Didn't Know It)
Okay, now we're talking! This is an email distribution list that goes to all of their members. Someone had hidden it from view, but it was a hidden page still live on the webpage. Some nice webmaster had not deleted the ability to sign up and send an email to their listserv subscribers. I clicked on this link, subscribed and sent a test email. I added the information that was returned to me and was getting ready to dive deeper and attempt to extract more names when Amybeth walked in and said "Time's Up!"
All I could think at that moment was that I tried. I spent so much time shifting strategies and trying for the big lists, that I did not put as many names on the list as I had expected. I joked with Amybeth that I wanted a "Mulligan" and the ability to try again. I was up against two top sourcers who did this every day and probably were a lot better than me at finding email addresses. I knew I had needed to have more than what I produced to win this thing. I was crushed! You could see it on everyone else's faces in the room that this was a tough assignment. We made small talk in the room and knew that from this point until tomorrow at noon, we all had to wait. I had to now wait over twelve hours to ultimately learn the outcome. Given my performance, I was already expecting that I would not win, so I shared a few of the things I did with the group in the room, but no one else really wanted to talk either. It was so tough knowing we had to wait.
Waiting…
I met a couple people at Bennigan's to have a drink and put out the fires and drown the sorrows of a poor performance. Anyone that saw me knew I was not in a good spot and could read it on my face that I felt I had not done well. In conversations with people, I explained that this event had not played to my strengths, which are generating talent via LinkedIn and other methods, not generating email addresses. Also, I have not done any Information Tecnology type searches for about ten years. I was so bummed out that I think I described my performance to Tito Magobet from Expedia as about a 4 on a scale of 1-10 with 10 as the highest. I was glad I had the opportunity to be a part of the Challenge and I was getting ready to congratulate one of the other two participants on their victory.
Dejected and crushed at dropping the ball in a huge opportunity, I went back to the room and got online. I had to learn where I missed or figure out what I could have done better. I spent the next three hours reliving the terror, but researching what I did wrong because I couldn't get it out of my mind. I did more research, looked up more people, tried to find more email addresses – basically, trying to second-guess everything that I did. I was trying to find more and I was little bit happy and that I didn't find that thing that I have been looking for…that Holy Grail of names – the big list. It's almost like WITI had a consultant come in and sweep their whole website for any holes, emails, or website back doors. While writing this article, it makes sense that they may have had someone from their organization do a sweep / security audit given they are a technical organization.
#Winning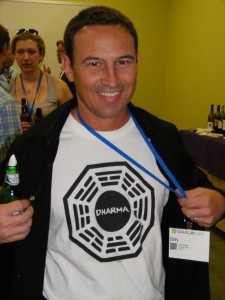 The next morning was tough. We had to wait to find out what the results were. At the end of the conference around 12:30, it came time for the announcement to be made. I was wholeheartedly ready to stand up and clap for one of the other finalists since I knew one of them was going to win. I was already set and ready for the announcement and they said the winner is "Jim Schnyder." I can't begin to tell you how freaked out I was and anyone that was in the room saw it on my face.
I do not remember a lot of what happened next since I was so stunned, but Carmen Hudson mentioned that the judges (Amybeth and Carmen verified everyone's work) were not only impressed with what I did in sheer numbers but also the techniques (some old-school stuff) that I used to find some of candidates.
In the end, I guess you sometimes have to realize that you may be doing a pretty good job even when you don't think you are. A monstrous shout out goes to Amybeth – she created all of the 2011 SourceCon preliminary Challenges as well as the very difficult SourceCon GrandMaster Challenge. Thanks to you and all of the SourceCon staff.