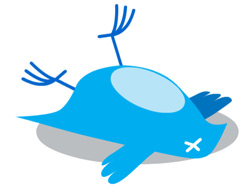 (Editor's note: we originally posted this on The Fordyce Letter but felt it was applicable to recruiting researchers and sourcers as well. Enjoy!)
Back on July 1, Amybeth Hale posted about a recruiter named Jerry Albright who'd decided he'd had enough of Twitter.
I caught up with Albright on the phone to ask him whether his decision to give up on tweeting was a good one. We also discussed:
The sky-high expectations of new Twitter users, and social media users in general
Whether Twitter is work or personal
The convergence of Twitter, Facebook, and LinkedIn
Whether you really need to quantify your social media efforts
On some old browser versions, you may have trouble playing the podcast.
Could you quit Twitter? Do you need to in order to work more efficiently or just cut back on the time you spend using it? Share your thoughts in the comments below.