Recently I took a new role with comScore, a data-driven company, and I cannot tell you how happy I really am. Before this stellar role looking for data analysts and data scientists I was tasked with sourcing for cleared candidates in the IT space. Let me explain to you the work that was tasked to me for the last 14 years. The people I was looking for do not want to be found unless they want to be considered. In other words, they were not overly social on LinkedIn, Twitter, or Facebook. Not to say that they were not using those networking websites, they just do not advertise the level of clearances they hold and believe me there a plethora of them out there.
So, let's have some fun shall we?  I need to find a Java Developer with a Full Scope Polygraph clearance located in Maryland. What are my steps? Where do I go? I will share the tips I learned from my trials and tribulations with you right here since I have little interest in returning to cleared recruiting.
LinkedIn
LinkedIn can be used effectively for cleared candidate's especially lower levels like Secret or Public Trust as most people will add this to a profile. This does not help us with a poly cleared candidate, though, and they often will not add this to a profile of any kind.
How then do you do a search?
Location
In your search string put in "Java" and the requisite tools that you are looking for into your search string. Then go to the location zip code area and enter 35 miles outside of where the NSA is located (20755) and start dialing for dollars. It is more than likely that developers in the area would have the requisite experience and clearance based on proximity. Traffic is horrible in the DC metro area.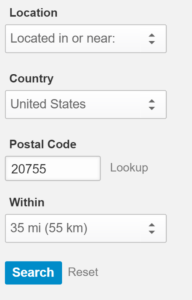 You can do an xray search in Google, or now Bing, (site:linkedin.com) with the same subset and come up with similar candidates just as well as you could you have a Recruiter License, which will make your search a little easier.
Trade shows or Conferences
Get out from behind the computer and do some old-fashioned sourcing right at the source. In the DC area specifically, you will find people wondering around to booths and going to sessions that interest them and they more than likely have some type of clearance. Especially in Cyber and IT. This is a little tricky as you can't just ask if they are cleared or skilled for that matter, so you need to have a little finesse.
Referrals
Another great go to, in my opinion, cleared people work with other cleared people usually in an environment that is large yet sequestered with others behind closed doors, which you are never going to get into, with the same clearance. Once you have found a few folks hit them up for referrals of people they may know, especially if their contract is ending and this brings me to my next trick, research.
Contracts are Ending
In the world of government contracting the actual word "contract" is in the title. The feds run everything through a contracting office to outsource the work. Contracts, however, are never open-ended and are constantly up for recompete. This is always good news for a sourcer. I suggest working with your business development team to hear and see what contracts are coming up and who is supporting them.
Boom! Yet another company to pull from as you know the company name, the contract vehicle, and the very real possibility that people on that contract are more than likely looking for a new position, because, well, they may have to. No one is guaranteed a win on a recompete.