Prior to joining Objective Paradigm (OP), a technical recruiting agency, as a Sourcing Associate I had less than 100 connections on LinkedIn. I had just graduated from college in May 2021 when the world was grappling with the uncertainty of the Covid-19 pandemic. 
After being hired by OP, completing onboarding training, and observing the top contributors it was clear how beneficial networking is in the field of talent acquisition. I saw how the people who showed the most success and got the most candidate placements did so by creating and maintaining a healthy network. These are the steps I have taken and am currently taking to build a strong network as a new talent acquisition professional.
Connect 
Upon joining OP, the first goal I set was to connect with my colleagues on LinkedIn. Given that a majority of us were (and remain) remote, the virtual connection was crucial. The pandemic had shifted many traditionally in-person activities, like SourceCon or workplace happy hours, and other networking events to a virtual format. Having attended online career fairs prior to graduating I could compare them with the in-person career events I experienced pre-pandemic. Connecting with people you meet virtually is just as important as connecting with people you meet in person. 
Embarking on a career in talent acquisition can be intimidating, especially when your network is sparse compared to others in the space. The talent acquisition industry's dynamic nature means roles and expectations can shift based on the client or sector. Venturing into uncharted territories is not unusual, especially in the consulting realm. 
Initially, I hesitated to connect with those I reached out to on LinkedIn, especially if they weren't immediately interested in the positions I was promoting. However, I soon realized the potential long-term value of these connections. They could become prospective candidates in the future.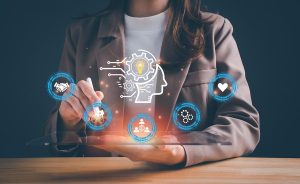 Collaborate 
Work with the people who are new to the industry as well as seasoned professionals. Learn what works for other people, keep what you like, and try adopting new techniques. Join Talent Acquisition groups on Facebook, Twitter, or read blogs. There are lots of options to meet new people and expand your network. Connect with key players in those groups as their networks can become an extension of your network. 
As a sourcer, I partner with clients who use recruitment process outsourcing (RPO). I quickly learned that building my connections with clients was beneficial for my own credibility. People who you reach out to will get interested and view your profile. They will see who you know, what you have done, and what client you are working with. I've experienced instances where hiring managers have requested me to scout potential candidates within their own LinkedIn connections. 
If you have a marketing lead at your company, work with them to create branding for you and your company. Ensure your online communication, like emails, are enriched with relevant information, important links, and clear calls to action. Always be proactive, especially when a candidate expresses interest in future correspondence. Oftentimes you will need to reach out first, don't be afraid to extend your hand first. 
Cultivate 
It's important to remember how we all have to start somewhere. For me, connecting with coworkers was my first goal. Setting the goal of 500+ connections on LinkedIn came after. The key to networking lies in cultivating meaningful relationships over time. 
One time while tasked with filling User Experience Design roles for a client, I made it a point to connect with every candidate who declined the opportunity. My objective was to cultivate a robust network of potential candidates. Engaging with UX Designers enhanced my sense of belonging within that niche field. I quickly observed how 1st and 2nd degree connections are more responsive compared to 3rd degree ones. A higher response rate equates to a stronger probability of solidifying connections, which, down the line, could culminate in successful placements. 
Networking is mutually beneficial. It helps you and your connections. Ultimately, we are here to help people with their careers. I'm still working on building out my network as a sourcer. Networking is a never ending aspect of life in talent acquisition. I hope to continue building relationships with people. For those stepping into roles as Sourcers or Recruiters remember to connect with people, be open to new ideas, grow your network, and reach out to your network when you have relevant roles.