A year or so an ago I had the chance to sit down with Tom Leung, the founder of Anthology (formerly Poachable) at the Madrona Venture Group office. Anthology is an anonymous talent matching service. They take private talent and employer information and use machine learning to match the right people with the right company anonymously. You can learn more about Anthology here.
During our conversation Leung asked me what my thoughts were about possible future products. Or, honestly, I think I may have just started talking.
I shared that I thought what was missing from the market was a recruiting product for the candidate or passive candidate. Not a job search tool, but one that would protect the job seeker or passive candidate's inbox.
This could apply to LinkedIn as well; people are overloaded by InMails and outreach in general. It looks like many have stopped responding. Recruiters who don't take time to be thoughtful in their messaging have harmed the recruiting industry.  It amazes me how much time is put into talking about how bad or how many problems people have with LinkedIn, but people keep going back to it. Given the recent news of LinkedIn's financial state, it appears something is broken and needs to be fixed.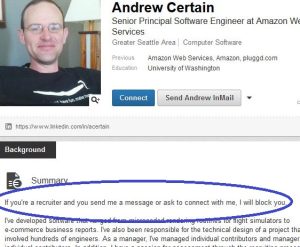 Take for instance the profile of Andrew Certain, I don't blame him for trying to protect his time and inbox and clearly stating on his LinkedIn profile that he will block any recruiter trying to message or connect with him.
What I shared with Tom was what I called an "Email Bouncer," a solution that would screen who was coming into your inbox from LinkedIn, email, etc. A tool that would filter the messages and let people review the ones appropriate for them.
Tom and Anthology have since released Anthology Shield. I appreciate Tom giving me credit on Twitter, but I appreciate it more that a tool like this is now available.
How It Works
You build personal screening criteria, which is private. Anthology Shield will then generates a custom URL that you give to recruiters. They then have to answer screening questions. If their answers fit with your criteria, you get notified and decide if you want to engage with them. It's a simple solution giving you a layer of protection, saving your time.
In the future, I see this tool being able to take all the data that has come in and grade recruiters, the companies and outreach. This will help recruiters become better at their craft and give companies insight into their recruiting.