We are pleased to add a new face to our lineup of Regular Contributors. Following his 'retirement' as Grandmaster Sourcing Champion, we approached Michael Notaro about being a regular writer on The Source. He jumped at the opportunity, and we are very much looking forward to what he brings to the table. Please help us in welcoming Michael Notaro as our newest author!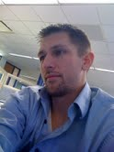 Michael Notaro is a sourcing consultant currently working for Accenture out of New York City. Prior to joining the recruiting and sourcing industry he was a fully licensed stock broker, medical supply salesman, and store manager for the electronics chain Radioshack. It was all due to a random phone call with a friend of a friend that changed everything when he decided to join the world of full life cycle recruitment in 2005.
Having spent two years between two firms in Long Island, New York, he began to look for candidates in more unusual places and found he enjoyed doing so very much. As he continued playing around and trying to expand his knowledge on the subject, his new blog happened to catch the eyes and attention of Amybeth Hale when she requested his input on her upcoming radio program. After countless discussions and numerous introductions to others in the industry he began to find a niche in the sourcing community. Finding himself perpetually more active in the sourcing world he wound up taking first place in the AIRS Extreme Sourcing challenge where he debut his Google Coop for candidate search.
It was right after all of this when everything completely shifted again due to the advent of SourceCon in 2007. Michael won the very first challenge issued for entry and went on to win the Grand Master Challenge that year.  Shortly thereafter he decided to venture outside the world of full life cycle recruiting and follow his heart toward internet research with Deloitte.  Since that time he's worked with firms such as Coach Inc, Hewitt, and presently Accenture primarily in a sourcing capacity.
In 2008 he successfully went on to defend his title of Grand Master Sourcer at SourceCon 2008.  His title was lost however this year at SourceCon 2010 and the torch was passed onto Katharine Robinson, a sourcer from the UK.  As a result of his retirement from competition and his emerging desire to be part of the bigger picture, we asked him to join the Source as a regular contributor.
Michael graduated from Rutgers University in 2004 with a degree in Sociology and Psychology.  He spends most of his free time devoted to the game of pocket billiards, working on his novels, and watching cartoons.  If he's not in a pool hall, sleeping, or working, he's usually tweeting or writing in his new blog which can be found here: http://sourcing.feedthebeagle.com.