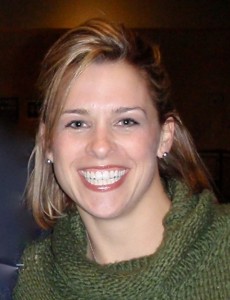 You've all heard the saying, "If it ain't broke, don't fix it!" Well, we aim to shake up that notion at SourceCon this year. Just because something "ain't broke" doesn't mean it can't be improved upon. For our opening keynote, Megan Holte, Sourcing and Pipeline Manager with ADP, will share how she and her team "broke" their model — which was functioning just fine — in order to reach a new level of excellence in sourcing.
In our pocast chat, Holte shares how, even though their team was effective, there were areas in which they could certainly improve. The changes the sourcing team has made over the last year or so has led to them nearly quadrupling their productivity, and her team has nearly doubled in size. What manager wouldn't want to see that?
With nine years combined experience in sales and recruiting, Holte has quickly gained a breadth of experience that contributed to her expertise and success in staffing leadership. Additionally, she holds leadership roles over several staffing initiatives related to global sourcing, staffing technology, and talent community management.
As a Sourcing and Pipeline Manager at ADP, Holte strategically built and developed processes to support the core function, roles and responsibilities, and output of her sourcing team. Today, her team consists of nine US-based Service, Executive, and IT-focused Sourcers and five Researchers in India.
Holte consistently challenges her team to use creative and innovative sourcing techniques to achieve greater results. Under her leadership, this sourcing team has made a significant impact in pipelining candidates for critical positions and decreased the time-to-find ratios which has resulted in the Sourcing and Pipeline team nearly quadrupling their year-over-year offers.
Over the weeks leading up to SourceCon NYC, we will be bringing you quick-hit interviews with the folks who will be presenting at the conference. This is a great way for you to get to "meet" the speakers and get a taste of what you can expect at the conference. We hope you'll join us February 8-9 in New York City!