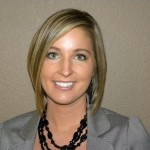 Scarlett Jazesf is part of Dell's Talent Acquisition team. She has worked there for the past seven years where she has held technical, full lifecycle recruitment roles as well as her current sourcing role on the Research and Sourcing team. Jazesf's session at SourceCon NYC will involve discussing the last couple of years at Dell and the evolution of the relationship between sourcing and recruiting. Many of you know from first-hand experience that this can potentially be a volatile relationship when both are suspicious of each other! (translation: they don't understand each others' role in the recruitment process)
Jazesf's experience includes using advanced sourcing methods to identify and build relationships with top talent for business critical positions across all disciplines at Dell. She has a strong background in primary and secondary research on global emerging markets and uses both qualitative and quantitative research techniques to examine the regional talent landscape. You are in for a special treat to hear her share some of Dell's journey to help sourcing and recruiting develop a better relationship and to respect and rely upon each other for the advancement of Dell's hiring practices.
Over the next several weeks leading up to SourceCon NYC, we will be bringing you quick-hit interviews with the folks who will be presenting at the conference. This is a great way for you to get to "meet" the speakers and get a taste of what you can expect at the conference. We hope you'll join us February 8-9 in New York City!