Training is a crucial part of evolving as a sourcer. As I mentioned in my first post, I was fortunate to get a chance to take the Social Talent Ninja Certification program. The certification program consists of 12 courses or missions as they call them. Each mission ranges from 39 minutes to 2 hours. These courses are taught by some of the best in our industry and cover subjects such as Search Basics, Linkedin, Veteran Hiring, Branding, Social Sourcing and more.
One of the first things that stood out to me was the passion that all the instructors had for what they were talking about. The instructors made the training very interesting and easy to do. You would have to be dead for their passion and excitement not to rub off on you.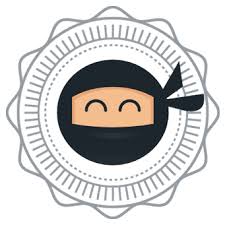 After having sourcing training sessions with my dad, I was familiar with some of the concepts that they were teaching. However, it was great to hear it from a new instructor and in a different, exciting way. For instance, I was already familiar with most of the basic Boolean commands in the Boolean Basics mission, but it was great to hear it from another instructor. The different teaching methods helped to drive the concepts home. The "Universal Search Method" they talked about was very interesting in the methodology used to teach it.
The "Universal Sourcing Method" I learned during this training is a method of taking the information from a requisition and creating a great search. As Johnny Campbell put it, "The Method is a simple process to building Boolean strings that can be applied to many databases and search engines with minimal changes."
The main idea of this method is to ensure you cover all the permutations for what you are looking for to maximize your success. I had already known to research and make sure you use all the permutations, but the process in which this method lays it out was new to me.
Basically, take each main search criteria and treat it like a separate entity. You will have all the permutations for that search criteria and then you can move on to the next. What you end up with are several grouped OR statements that can easily be joined together by an AND operator to create one all-inclusive search string.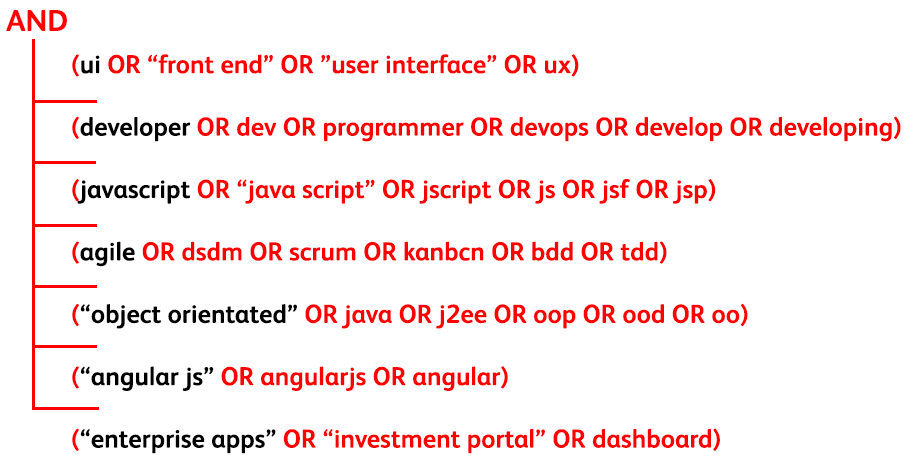 Once I gained access to their Boolean generator tool it became very obvious how the method works as the tool creates the string in this exact manner. In retrospect, this greatly helped me as it forced me to look at each search term individually and learn more about them. Once we bring all the searches together, it forced me to better see how they all go together.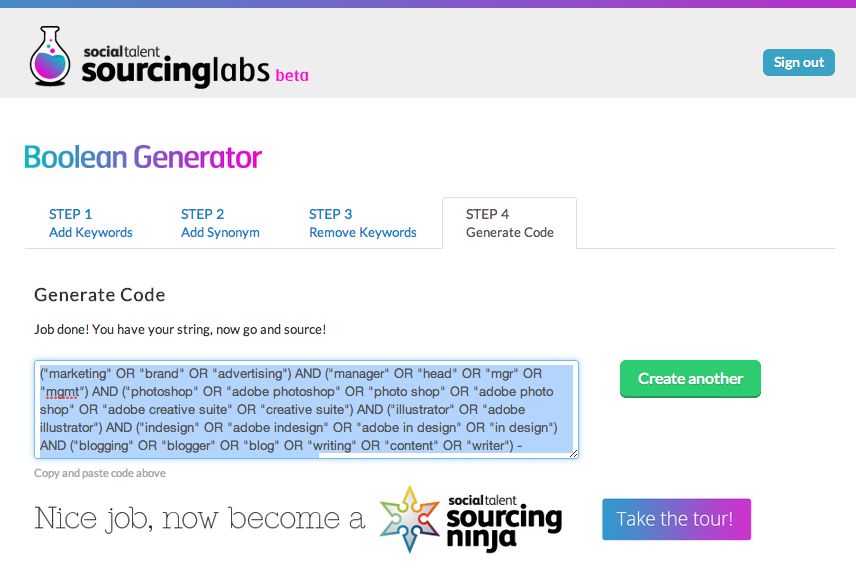 One of the more interesting aspects of the training was the amount of time spent on social media, branding, and building networks. Half of the 12 courses were on this set of related topics. While again my dad trained me in a lot of this, the sheer amount of information and ideas in these areas was mind boggling. There is little doubt in my mind that as recruiting and sourcing move forward social media and social recruiting will become more and more prevalent.
Similar to most training courses, after each mission, there was a test. Once you have finished about 9 percent of the total course you are eligible to take the certification examine.
I was also lucky in that my dad also does training. Similar to the Social Talent training, he does a lot of training on topics such as finding contact info and the use of sourcing tools. Lots and lots of tools. He showed me tools for sourcing, scraping, information retrieval and more. One of the most interesting "tools" he showed me was really a combination of two  tools. Google Sheets and Blockspring.
Google Sheets is a web-based spreadsheet like Excel. One of the advantages it has is the capability to use add-ons. These add-ons allow the sheet to do a lot more than it could otherwise do. If you use the Clearbit add-on you can enhance information on someone using only their email address. I think of Google Sheets as the "Chrome of Spreadsheets." Chrome has its extensions and Google Sheets has its add-ons.
Blockspring is another great sourcing tool. It allows you to use APIs (Application Program Interface). The way I understand it, these are like mini-programs connecting the user interface, you know the place where you put in what you want, with the backend database, the thing that gets you want you what you want. Now I know that is a very simple way of explaining it, but hey I am just learning. Normally to use APIs you need to program, but by using Blockspring you no longer need too. They have done the programming for you. To use Blockspring you either need to use Excel or Google Sheets. I have tried both, but I recommend Google Sheets, as it seems to work better.
My dad showed how you can use Blockspring and Google Sheets to find people who work for a company in a given geography, with a given title and then find their email addresses. To me, this is really really cool and easy to do. Since the results are in Google Sheets, I can download it and upload it to our CRM easily.
Prior to all this training, I was green, with regards to recruiting. I knew you needed to find candidates, connect with them and talk to them, present them, etc. I was exposed to that as a baseball player. However, that did not fully prepare me for the amount of work it took, the tools you needed and knowledge and procedures to be a true staffing professional. Prior, if I was looking for an architect I would simply put architect in a search box, but after the training from Social Talent, and my dad, I knew how to better research and how to find the permutations.
The amount of things I learned from both Social Talent as well as my dad was mind boggling. I equate it to going from a neanderthal to a certified genius. I went from not being sure where to find candidates to now being able to target a company and take every single person out of it, and get their contact information.
For me, there were several major takeaways. One of the biggest things I took away from the training was going beyond the basics, and looking for all the permutations. Another major thing I took, is to follow the bread crumbs. Meaning just because one tool did not find an actual email does not mean by clicking on one of the social links it will not take me to another site where the email is. All you need to do is follow the bread crumbs.
Finally and perhaps the most important thing is that staffing and sourcing are constantly changing and evolving. No matter how much you know, there is always more to learn, always new tools, always new tricks. To be a great sourcer means constantly learning and growing.
I was very lucky to get all of this training. I know a lot of new sourcers and recruiters do not. That is a shame as a lot more of us would be much more successful if we were properly trained. I learned in my days as a baseball player that the harder I worked, the more I trained, the better I did. The same holds true in sourcing. Despite all this training, I plan on doing more. I know there is a lot to learn and I have a long way to go to reach my goals.