This year has been a rough one for fans of RSS. LinkedIn eliminated RSS feeds for groups in March. Twitter depreciated feeds in July breaking many hearts and blog widgets. Google Reader was shut down on July 1st followed by Google Alerts as they removed the option of RSS output. Public outcry was loud, but in the end, these corporations want you to visit their website to consume information.
The good news is that RSS (Atom, XML, and similar formats) are here to stay. If anything, these near real-time feeds are in greater demand as we become accustomed to the ideas of text messaging, instant messaging, PUSH notifications, and API services. Whether you appreciate them as a timesaving technology, data analysis opportunities, or speed of implementation, I want to help you become a RSS horticulturalist.
Research your environment
Anyone can find the Sourceon feed, but I am concerned with candidate profiles, social media, and competitive intelligence. Lance Haun wrote briefly about Talkwalker in April after the demise of Google Alerts RSS, but the tool deserves more attention after some hindsight.
Talkwalker has both free and paid tiers that scour the web and provide some of the quickest updates available. Advanced Boolean logic used is impressive with Title, Site, Wildcard, and Proximity options familiar to some of us. Free accounts are limited to up to 100 alerts with each query holding up to 10 elements (keyword, a group of keywords).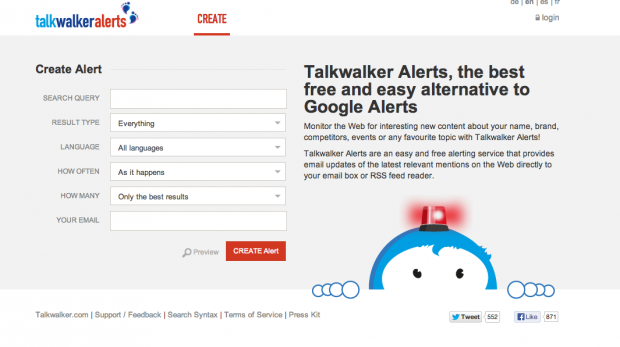 Gather your seeds
Once you create a few queries, you can click on the RSS icon for each and save the resulting URL. Talkwalker has two other nice option to export to excel, or collect one single combined feed for all saved alerts by clicking on the top RSS icon (shown below).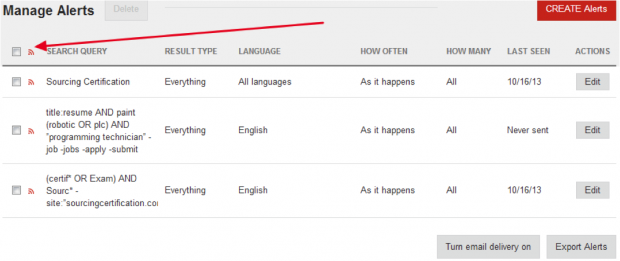 Just as any recruiter worth a cent would never rely on one source of candidates, you will want to find many other seeds for this metaphor. I have listed many great sources of RSS content in the "Water and Feed" section below.
Planting
ContentGems is a dual purpose tool that can help discover content like Talkwalker, but its real value lies in its ability to precisely filter and search across many feeds.  Easily plant your RSS feeds and connect to twitter to view your timeline as a source. Free accounts have up to 20 custom RSS sources, 1 twitter account, and 2 "interests" with up to 30 keywords each. Sources can be bundled together to keep your garden organized.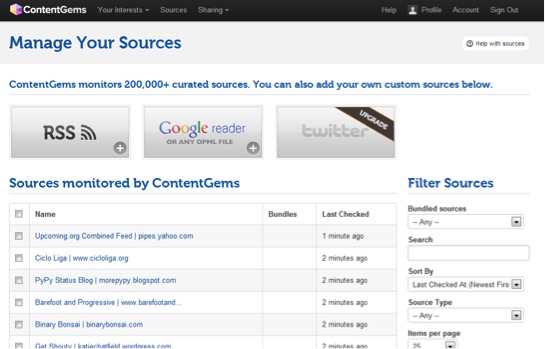 If you wanted to use CG for social media curration, they have excellent sharing options directly to your streams, a buffer-like publishing cue, Hootsuite app integration, and even an RSS output for blog publication. Green Thumb Tip:  Keep away pests by editing your account settings with proper time zone and to spray the "sharing bar" circa 2008 with DDT.
Water and Feed
All plants must be nurtured and fed so they can reach their potential. Adding quality, RSS feeds from these sources will grow your garden.
Google Search Results using API – free up to 100 searches per day / 200 if you enable billing
Blekko search engine converts any search result by adding /rss to the end of the search
Socialmention &f=rss
Craigslist resume search for B2B Sales person in Seattle, add &format=rss
Track changes on any websites using changedetection
Create feeds on webpages that don't offer RSS with Page2RSS so you know when the next big Marketing or Advertising Conference in the US is announced
Other Facebook feeds not official
Amit Agarwal is a genius and has listed many other social feeds here, but this page lists the old twitter API v1 that no longer works.  The updated method described here works to retrieve any public twitter account as a feed.
Maintenance
Gardens do require maintenance. Continually refine your feeds. Cooperate to come up with creative uses blending competitive intelligence, networking, reviews, and sentiment.  Websites can sometimes wilt or bloom without warning, so you will need to troubleshoot broken links in a standard RSS reader as well.  I use theoldreader, but many great solutions exist.
Enjoy
This smart garden method has the positive side effect of a clean inbox. Give yourself 10 minutes each week to review results and stay on the lookout for new sources.  The time you will save not visiting individual websites, you can spend in a real garden, appreciating all the lessons nature has to offer.
"If you look the right way, you can see that the whole world is a garden."  ? Frances Hodgson Burnett, The Secret Garden
Image source: http://smashmethod.deviantart.com/art/86-aka-Feed-Me-Seymour-20804021