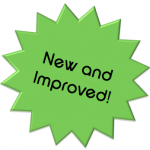 Happy Monday, SourceCon readers – yesterday afternoon, we quietly did an overhaul to the website and we proudly present to you the new SourceCon.com!
Let me walk you through some of the new and improved features on the site:
Sharing buttons – we've provided three common sharing methods from which to choose: a Tweet button, a Facebook "Like" button, and the brand-new LinkedIn Share button. Now you can easily share the great content from SourceCon with your friends and colleagues. The buttons are located at the top of the post synopses on the main SourceCon page as well as at the top of each individual post when you click through. Additionally, there are now AddThis sharing tools at the bottom of each post.
Facebook community – in addition to the new SourceCon website re-design, we've also moved our Facebook page! You can quickly see the other community members in the widget on the right. We encourage you to join the Facebook page and participate in the discussions there as well.
Social media links – we had these on the old site, but they are at the top of the page now. Please check out our Twitter, Facebook, and LinkedIn presences and connect with us there.
Subscription options – just below the social media links is a place where you can subscribe to SourceCon. If you expand on the list, you will once again see our social media links, in addition to the option of subscribing via RSS. We want to stay connected with you so we've given you plenty of options!
Site search – something that (ironically) was missing from the old site was a site search box! We've added this function; just look in the top right underneath our social media links. Now you'll be able to search through all of SourceCon's content to find relevant articles. Additionally, we've added a list of monthly archives that wasn't previously available, going back from 2008 through present day 2010.
Disqus comments – we've incorporated the Disqus commenting platform on SourceCon to make it easier to follow comment threads and build community through sharing. We encourage you to sign up for a free Disqus account – it's not required in order to leave a comment but we think it's worth having!
Article author data – we've incorporated Gravatar images of the article authors just beneath the title (for those who have Gravatar accounts). You can also click on the author names to get a listing of the articles they've written as well as a short bio.
Easy-to-navigate Categories – if you look at the light grey bar at the top of the page, you'll see a bunch of post categories. This was also available on the old site, but it's more visible here and features some of the most popular post categories. A full listing of categories is also available on the right.
We really hope that you like our new look. There are, naturally, a few surprises that we want you to discover on your own – after all, what would SourceCon be without a thin shroud of mystery? You may need to search the site in order to find them, but there are some rewards in store for those of you willing to look beyond the obvious to find them.
Let us know what you think and if there are other features you'd like to see. Leave a comment below.