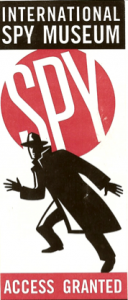 Join the Million Sourcer March on Washington in September! Well…. probably not a million, but there will be a convening of some of the brightest sourcing minds around in Washington, D.C. for SourceCon Fall 2010…will you join us?
The next SourceCon event will take place in Washington, D.C. on September 28-29. The conference will be held at the International Spy Museum. I am pretty sure you will be hard-pressed to find a cooler venue for us to learn and play. Stay tuned for some fun and exciting events taking place in the museum to help satisfy a bunch of cybersleuths.
Led by our chairperson Eric Jaquith, this year's speaker lineup includes sourcing experts such as Chris Gould & Tim O'Connor from Hewitt, Mike Notaro, Earl Mann, Maureen Sharib, Shally Steckerl, and many others. Stay tuned for updates on the agenda and speaker lineup over the next few weeks.
To register today, follow this link. Space is limited, so please register early. We hope to see you in September!
*editor's note: I highly recommend bringing some spending cash – there are some sweet spy goodies to be had at the Spy Museum!