Albert Szent-Györgyi, Hungarian biochemist and winner of the 1937 Nobel Prize for Medicine, once wrote, "Research is to see what everybody else has seen, and to think what nobody else has thought."
Being a good researcher means being able to look at many different sources from many different angles and find the data, and ultimately the value, in combining the common points from all of the sources. At SourceCon NYC, we did just that — we invited two presenters who have virtually nothing to do directly with sourcing to come and speak to us so that we could learn the value of incorporating peripheral tools and skills into our sourcing activities.
HootSuite's CEO, Ryan Holmes, joined us on Wednesday afternoon to share some of the sourcing, tracking, and monitoring capabilities of the HootSuite social media dashboard. But this tool was not created for sourcing. Rather, it began as an internal online campaign monitoring tool for Holmes' existing company, Invoke Media, which is a full-service interactive agency that specializes in social media products and services. Soon, Holmes discovered that the tool could be monetized and HootSuite was launched to the public. Many sourcers utilize HootSuite to monitor select keywords to find candidates, as well as their company's brand perception, through various social media channels, including Twitter and Facebook.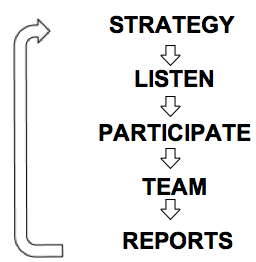 As mentioned, HootSuite's original design was for community managers and brand managers for ad agencies and social media-related companies to be able to monitor online conversation around keywords and to develop and engage communities. Holmes' approach to HootSuite's value looked like the diagram shown here. Consider applying this approach as a sourcing strategy: it works pretty well, doesn't it?
All it takes is a fresh approach and a slightly altered mindset to really see new and interesting applications of non-sourcing tools to the sourcing process. Holmes opened the minds of the attendees by showing them that a tool originally intended for brand monitoring could be successfully used as a sourcing tool.
In another twist of viewpoints, social engineer Chris Hadnagy further opened the minds of conference attendees to understand the similarities between sourcing and both ethical hacking and social engineering. Hadnagy's background is in information security — he is hired essentially to try to elicit information from people to attempt to hack companies' data and report back to them where there are information leaks, which they can then fix. When describing what he does, Hadnagy said, "You guys do pretty much the same thing I do — except I do it to hack, and you do it to hire."
Hadnagy discussed a practice he uses called "pretexting," which is essentially 'becoming' the person from whom you are trying to source information. Having arrived earlier in the morning, Hadnagy sat in the back of the room and observed attendees and speakers, watching what we did and learning the buzzwords we were using. This is part of his information-gathering strategy — and is really no different from what we would apply to 'profiling' a potential candidate by conducting search for interesting and/or pertinent information on someone before reaching out with a job opportunity with the purpose of personalizing our outreach.
Additionally, Hadnagy provided a provocative collection of "hacking" tools he uses to search and collect publicly available information on specific companies. Using tools like WhoIs, exploit-db.com, cree.py, and Maltego, he amazed those in the audience with the sheer amount of information that lots of companies and individuals tied to companies unknowingly make available for the public to find. He then showed us how, in his line of work, he follows connections learned through his searches to link people, documents, and other online data all back to a company or an individual. As sourcers, we do these things as well in order to establish a level of pre-qualification even prior to us communicating with a potential candidate. As Hadnagy observed, "We are using lots of the same tools and doing lots of the same things — we just have a different goal in mind."
Sourcing doesn't exist in a little bubble. Now and then, it is good for us to look just a little outside our world and learn from the knowledge that professionals in related circles have to share. We'll find that we really do have a lot in common with the likes of social engineers, social media professionals, marketers and PR professionals, and who knows what other types of people. It is only by stretching our minds that we can grow and improve — and no one can make that happen except for ourselves. As a community of information-hungry 'seekers,' it is up to us how and where we pursue these peripheral topics and cause ourselves to grow, change, and achieve new levels of sourcing success.
We at SourceCon are thrilled to provide you with one such information and knowledge resource. We are so pleased to have been able to bring you SourceCon NYC and hope that you'll join us for the next conference later this year. While you anxiously await our announcement with the when and the where, we invite you in the meantime to get involved in the community here — do some writing, share your feedback on articles, or perhaps provide a new perspective that maybe no one has considered yet. If you'd like to contribute on SourceCon, email our Editor, Amybeth Hale.
Many thanks go out to our speakers: Megan Holte, Katharine Robinson, "Paul," Glen Cathey, Scarlett Jazesf, Julia Stone, Michele Porfilio, Ryan Holmes, Chris Hadnagy, and Adam Lawrence. These people are all practicing what they presented on a daily basis — and we know that gaining knowledge from those who are in the trenches is one of the most valuable methods of learning. A special thank-you also goes to our conference emcee, Shally Steckerl, who brought up each presenter in a unique and highly personalized manner to prepare the audience for what they were about to learn from each one.
And of course, big thanks to our event sponsors: Arbita, Inside Connector, Auto Search, ReferYes, PCRecruiter, and SelectMinds. Our events would not be possible without the support of the companies that provide us with tools and resources. And since we couldn't bring you the live stream, here are two videos from Inside Connector and Auto Search we wanted to share with you: