At the recent Talent42 conference in June, Glen Cathey delivered the keynote presentation and blew the roof off the auditorium. He compared LinkedIn to the Pacific Ocean, and stated that while people are fishing it heavily, there are still plenty of fish in the ocean. Others are saying that LinkedIn is over-used, or over-fished. In fact, I recently participated in a call with Shally Steckerl who held this view regarding LinkedIn.
The Pacific Ocean is 63.78 million square miles. Glen Cathey's argument is that while there are a lot of people fishing in the 63.78 million square miles, it's doubtful that all areas of that expansive space have been fished.  Recruiters fish LinkedIn each day using various techniques, from LinkedIn Recruiter to using Google to X-Ray LinkedIn. Have all the candidates in LinkedIn been discovered? It's doubtful, but it is plausible that certain "fish" have been over-fished with the use of mass InMail messages, etc.  Some of the bigger fish also may have become bait adverse, the argument that will roll out for that is change your bait (contact method, templates, etc)… bait is bait, it is meant to attract a fish If a fish has seen multiple lures in the water, it doesn't matter what you dangle in front of them.  Certainly there are some lures (corporate brands, hot roles, etc) that will pull in the big fish, but overall, the fish will be swimming away from the lures. I would conclude that you still want to fish the Pacific Ocean, but are there other bodies of water that we should fish as well? Have we become too accustomed to fishing in the Pacific Ocean?
Why Source from Facebook
Facebook claims to have 1.1 billion monthly active users per month, and overall 1.11 billion users, LinkedIn has 225 million users.  That is a difference of 224,999,998.89 users which is in and unto itself a large body of water.  If you factor in that that 225 million have been fished, etc and that Facebook is a relatively un-fished body of water that should excite you. You can argue that the "fish" on LinkedIn can also be found on Facebook, I think that is a viable argument but consider, with 1.11 billion users, verses 225 million users, how much unique data there is on Facebook.
Taking a Closer Look
There is a humorous blog that shows the power of Facebook in terms of pulling back results even if they are bizarre, or as I like to think of them, specific. Ok, these searches are more outlandish than practical but it opens our minds to how to approach a search on Facebook for example, one of the ones that amazed me was "Spouses of married people who like [cheat-on-your-partner dating site] Ashley Madison". Wow, what a crazy search, but I got to thinking what I could run and what results would I get. So I created this query Software Engineers that like Match.com,  Systems Engineers that like Bacon,  Software Engineers from United States that like Cross-dressing… ok maybe that was a bit much. Let's do some more job focused searches – Software Engineers that like Distributed Computing, Software Engineers that like Java Developers Conference (JDC), Software Engineers that like Hadoop Distributed File System, Microsoft employees that like Apple Inc., Microsoft employees that like iOS     Apple employees that like Kindle Fire.  Those last couple were not job related but….
Let's do a test on content:
I want to show similar searches on both LinkedIn and the results.
If we do the same search on LinkedIn as Facebook let's look at the results. This is unscientific but may provide some insight what is to be found in both. I will be looking for a Software Engineer at Amazon in Seattle, WA. I will be using LinkedIn Recruiter to start. Some things to consider, Facebook uses Natural Language Search  verses LinkedIn which offers a Basic, Advanced and Boolean searches.
Facebook Search
Software Engineers at Amazon.com in Seattle, Washington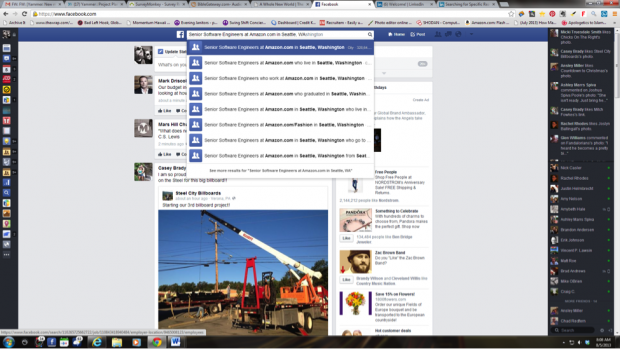 Results:
Our search brought back more than 100 Facebook results.  We can narrow this down by using Facebook's Refine This Search box to the right of the page. This is what I will be teaching on at SourceCon in October. But let's continue…
I'm using the advanced search on LinkedIn Recruiter, let's see what the results are. In the advanced search I put in the "Title" Software Engineer and the "Company" as Amazon and I also narrowed it down to Seattle, WA for the "Location". With LinkedIn I have to choose the distance from Seattle as well.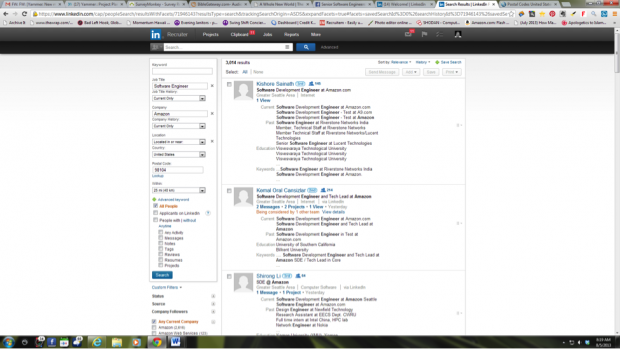 On Facebook my first result is Cuong Vu, Software Engineer at Amazon.com and on LinkedIn it is Kishore Sainath, Software Development Engineer at Amazon.com
If I go back into LinkedIn and search for Cuong Vu with the same search terms I get no results. Let's back it out and take out Seattle, WA, no Cuong Vu , let's take out the "Title" and search just for Cuong Vu at Amazon, nothing, no results.
So, I have a candidate on Facebook that isn't on LinkedIn.  I have over 100 results on Facebook and on LinkedIn I have over 3, 000 results which will need to be narrowed down by more search terms. What I'm trying to say is that I get to quality results on Facebook with a quicker and easier search, and an easier way to narrow it down. Also, I didn't have to pay for a LinkedIn Recruiter account or take the time to X-ray LinkedIn on Google, etc. If I do want to reach out to Cuong Vu it is $1. On LinkedIn, if you are using an upgraded account, it's $74.95 per month, and that will give you 25 InMails.
You can fish in both "oceans." However, I would say one is simply easier to fish in, and can yield some good results.
Come to SourceCon 2013 in Seattle and attend my Facebook session and I will share more on sourcing from Facebook.