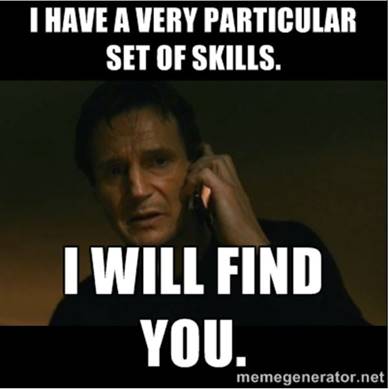 Editor's note: SourceCon Challenge Winners represent the best of the sourcing community. If you run a stroller theft ring, you should avoid this elite group of individuals. 
I've come to the point in my life where I have no problem admitting that I'm a stroller guy. I have two beautiful daughters and along with their arrival came two strollers and a billion accessories. We take one of these kid carrying companions with us just about everywhere we go. So it came as a shock when, one day, I went out to the garage and couldn't find our favorite stroller.
At first, I assumed I must have misplaced it. Not that these things can easily hide, but I never would have assumed it would be gone…That is, until my wife found our stroller, not one that simply looked like it, but our stroller, for sale on Craigslist.
Was this for real? How could this have happened? Furious, I called the police. We showed them our evidence, our photos, our millions of matching accessories. This should be a slam dunk, I thought. It's clearly ours, it was stolen out of our garage, and there it is on Craigslist. Not so fast – the police were quick to caution us that, even with all of that, they rarely recover items in these types of cases. However, they suggested we reach out to the seller in hopes of finding out who they are. Light bulb! I can do that. Duh, I'm a sourcer, finding people is what I do best.
Off I set on the road to (stroller) recovery. I scoured the Craigslist post for clues. No contact information, only an anonymous craigslist email. Bummer. I checked the photos for exif data but came up empty. Double bummer. So we emailed the seller and to our surprise they responded back: It's still available – our first break! …but they're still using the anonymous email so the email headers were no help. We exchanged a few more emails before we finally got somewhere.
The seller set up a time/place to meet and she gave us her first name and cell phone number for when we arrived. The sting was on! I had visions of my wife and I acting as junior detectives on a stakeout. We would be wearing disguises, casing the joint for the right time to do the takedown.
Wisely, the cops thought better of that idea. It's too risky, they said, outside of a phone number we know nothing about this woman and more concerning they know where I live. My dream of riding shotgun on the stakeout would have to wait for a few more days so the police could formulate a better plan.
As the time passed, I was growing impatient. It felt as though our window of opportunity could be closing. Even though I had very little to go on – only a first name, general location, and a cell phone number – I was determined to find the person on the other end. After more than a few dead ends and wrong turnsm, I found myself searching on TrueCaller, previously an online reverse cell phone number search engine now a slick mobile app. They have a database of over 1 billion cell phone numbers, maybe I would get lucky? I typed in the number and whammy! There was the woman's full name. I felt a rush of adrenaline. I had picked up the scent and I was closing in.
Excited about my find, I called the detective and left a voicemail. I'm sure it went something like: "I've tracked down the suspect and I know who she is. Call me back ASAP." Then, I waited. And waited…I've cracked the case, I thought. What if this is the key to solving a global stroller theft ring…Why isn't he calling me back right away? In hindsight, detectives probably get a lot of voicemails from people who are convinced they know who did it. So, while I waited for the phone to ring, I continued my investigation.
Now that I had her full name, I used Zabasearch and Whitepages to uncover her home address. While she didn't have a LinkedIn profile (seriously, who doesn't have a LI profile these days?) my wife found a corporationwiki profile that listed her job and employer. It wasn't long before I was hunting for clues on her Facebook page and sifting through her prior court cases. Armed with a mountain of data, I called the detective again. As I started to tell him about how I knew who she was, where she lived, who she worked for, what she ate for breakfast, I'm sure he assumed I was more than a little crazy. But by the end of the call, he wanted to know what other info I could find on her. 🙂
Long story short, there would be no sting operation or swat takedown. But, as a result of our detective work, the authorities were able to crack this case and we got our happy ending.
Let this be a lesson to others: Don't mess with me, I'm a sourcer and I will find you. ;-).