One essential skill that distinguishes top sourcers is the ability to conduct precise and effective talent searches. Power search, rooted in advanced Boolean modifiers, operators, and field search commands, stands as a game-changer in sourcing top-tier candidates. In this article, I will provide a formula for the power search technique and provide practical examples to help you become a talent-sourcing maestro.
To begin, let's break down the essential components of a power search:
Key Search String Elements
Boolean Modifiers and Operators: These are fundamental tools in crafting a precise search. Boolean modifiers such as "AND," "OR," and "NOT" allow you to combine or exclude terms, while operators like quotation marks (" ") help you find exact phrases.
Candidate Keywords: These are the words and phrases that describe the ideal candidate for the role you are looking to fill. They can include skills, experience, job titles, and other relevant attributes.
Document Keywords: These are the terms found within the documents that can lead you to potential candidates. They might be words associated with biographical information or lists of names.

Narrowing Down Results
To refine your search, utilize field search commands like 'intitle:' and 'inurl:', and 'intext:' among others:
intitle: This command restricts your search to web pages with the specified term in the title. For example, "intitle:resume" will help you find pages with the word "resume" in their title.
inurl: This command limits your search to pages with the specified term in the URL. For instance, "inurl:cv" will return pages containing the term "cv" in their web address.
intext: This command will search for a specific word or phrase in the text.
Types of Power Searches
Power searches can be tailored for various purposes, including finding resumes or identifying professionals within organizations.
Resume-Like Information
To discover resumes and biographical details, consider using search strings like:
(intitle:resume OR inurl:resume) "Visual Designer" (Adobe "Creative Suite" design skills) -job -jobs -apply -submit -career -template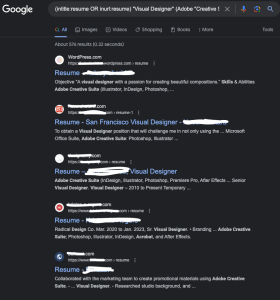 This search string is tailored to find Visual Designers with experience in Adobe Creative Suite, while excluding job listings and resume templates.
Names of Professionals
When you want to identify professionals, terms like "our staff," and "meet our team," can be quite valuable. Then add additional keywords to customize your results.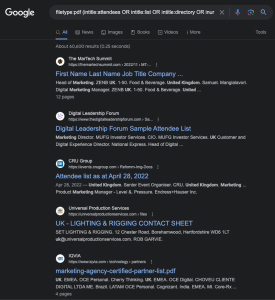 In this search string:
intext:"Meet Our Team" OR intext:"Our Staff" looks for web pages that contain either of these phrases in their content.
-job -jobs -apply -submit -career -template is used to exclude common non-professional pages such as job postings and resume templates.
This search string will help you find web pages that likely contain names of professionals on "Meet Our Team" or "Our Staff" pages. You can modify the search string further by adding specific company names or other keywords to narrow down the search results to your specific needs.
Document Keyword Examples
Here are some examples of document keywords to target biographical information and lists of names, such as companies, colleges, and associations.
Biographical Information (Singular and Plural)

Singular: bio, portfolio, about me, profile, resume, cv, or vitae
Plural: bios, about us, profiles, resumes, or vitaes

Lists of Names (Companies, Colleges, Associations)

Companies: team, staff, people, employees, leadership, associates
Colleges: alumni, graduates, grads, alum, former student, faculty, professors, team, postgraduates, adjunct
Associations: members, speakers, attendees, officers, presenters, participants, profiles, committees, chairperson
One tip for refining a search for an attendees list of names, would be to use the filetype command.
filetype:pdf (intitle:attendees OR intitle:list OR intitle:directory OR inurl:attendees OR inurl:list OR inurl:directory) (marketing OR "public relations") (uk OR "united kingdom")

This is a Boolean Search with Filetype Command. To find attendee lists in PDF format for a specific position, you can use a search like: filetype:pdf (intitle:"attendee list" OR intitle:"directory") "job title".
Here's another example:
filetype:pdf (intitle:"attendee list" OR intitle:"directory") "registered nurse"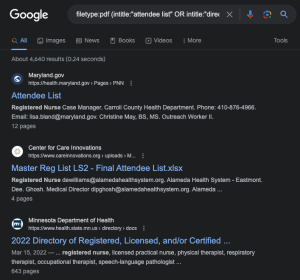 Best Practices for Power Searching
Choose Keywords Wisely: The better the keywords, the better the results. Take time to brainstorm and refine your search terms. Avoid any keywords that have multiple meanings.
Visualize the Ideal Resume: To create an effective search, envision the qualifications and experiences you want in a candidate. This will help you choose the right keywords.
Pay Attention to URL Addresses: URLs often provide clues about the content of a page. Use this to your advantage.
Stay Curious: Be a detective; investigate linked pages, social media profiles, and any associated documents.
Use Multiple Search Engines: Google and Bing are not the only options. Consider specialized search engines for specific industries or niches.
Bookmark Basic Templates: Save your power search templates for future use, so you don't have to recreate them each time.
Proficiency in power search techniques allows sourcers to skillfully fine-tune their strategies, locating talent in unconventional corners of the digital world. It often involves finding the needle in the haystack, using innovative approaches to go where talent is. With these techniques, sourcers can efficiently pinpoint the most qualified candidates, saving invaluable time and resources.
Keep the talent hunt going with the Power Search groove – where every search feels like you've got the Power (search)!