This week, the pay differences between females and males is getting a lot of press, thanks to the new CEO of Microsoft. At the Grace Hopper Conference in Phoenix, Microsoft CEO, Satya Nadella, was asked how women should address asking for a pay raise. His response wasn't what the audience of female technologists wanted to hear:
"It's not really about asking for the raise, but knowing and having faith that the system will actually give you the right raises as you go along." 
Nadella then added,
"And that I think might be one of the additional superpowers that, quite frankly, women who don't ask for a raise have. Because that's good karma. It'll come back, because somebody is going to know that is the kind of person that I want to trust," 
Needless to say, conference attendees weren't very eager to leave the salary differences between males and females to karma. Nadella tweeted the following apology on Thursday afternoon:
Was inarticulate re how women should ask for raise. Our industry must close gender pay gap so a raise is not needed because of a bias #GHC14

— Satya Nadella (@satyanadella) October 9, 2014
How does this look for sourcing and recruiting professionals?
This conversation leads us to a very important question. Is there a gender pay gap for recruiting and sourcing professionals? Based on a survey conducted by SourceCon in late August, the answer is yes. The chart below shows the difference in pay for male and female survey respondents who work as sourcers and recruiters. Respondents included in this analysis are individual contributors who self identify as either a sourcer or recruiter.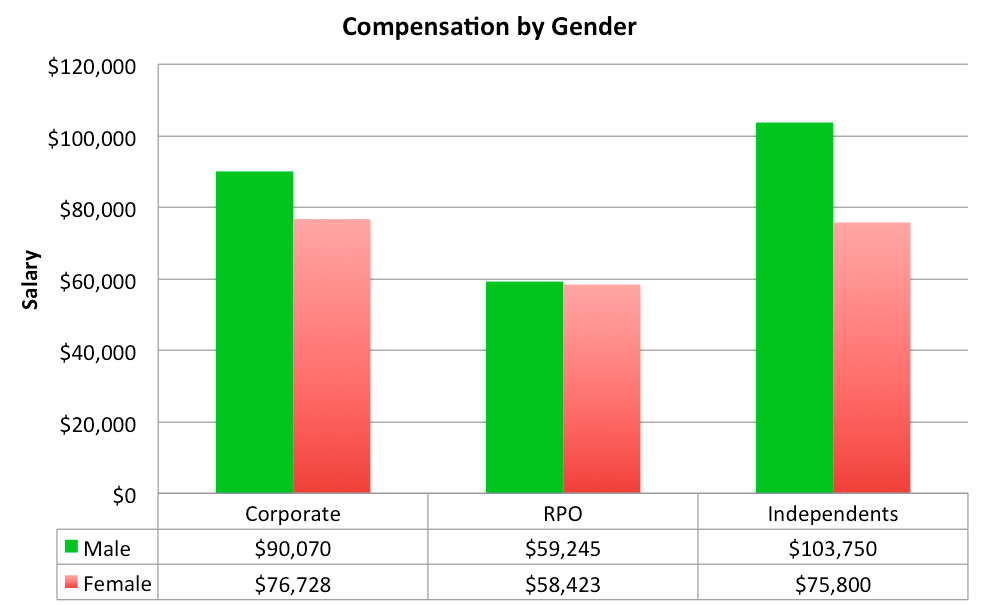 The chart illustrates that females in large corporate recruiting departments earn approximately 85% of what their male colleagues earn. Females who work as independent contractors (those who bill an hourly rate without benefits) earn 73% of what their male colleagues earn. The gender gap for employees of recruitment process outsourcing firms isn't as significant.
What are your thoughts on the issue? Should women wait for karma to solve the problem or ask for a raise?
image credit: bigstock