I get it; typically someone in sourcing gets called in when ad response just isn't getting the job done. As most sourcers do when they get a new req, we evaluate the situation; find out what's been done, what has worked, and what has failed. However, so many times when you look at the advertisements, it's pretty clear to see that a "lack of proactive sourcing" is not the only problem. I've literally seen sales ads get run on multiple paid job boards without the word "sales" in it. You might as well make your ads invisible.
And while there is usually a lot of talk on best practices for advanced search string theory, it is refreshing when that same analytical approach is applied to producing competitively written job advertisements. Because ideally, for every one candidate that applies on their own, that saves a company both time and money in proactive outreach.
When it comes to advertising jobs more effectively, there are two primary steps that I go through:
Keyword Selection (How do you select the "best" keyword terms to use in your ad?)
Keyword Density (How do you measure your keyword use in each ad?)
Below are some tips and tools of the trade for writing strategic SEO job descriptions.
1. Keyword Selection Tools – Use Real-World Statistics For Keyword Selection
Enter some primary job requirements in the upper-left "Find keywords" box. Hit Search, and AdWords will supply keyword and phrasal suggestions, along with a whole batch of analysis tools.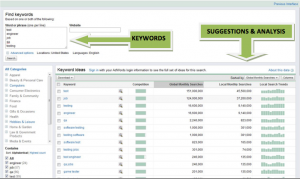 Adwords offers several ways to Sort the results and to determine the weight of a keyword. The example below is sorted by Competition, and the phrase "testing gui" highlighted below has both Low Competition AND a moderate searching volume. This means that the phrase "testing gui" is not heavily saturated by advertisers, yet there are still 14,000 searches Monthly for this phrase. While AdWords isn't geared specifically towards "job" searches, this may be a good term to select, and will actually start to give your job descriptions a Long Tail.

2. Text Analysis Tools – Measure your Ads

SEO best practices suggest that your Keyword Density should be between 3-7 % for major keywords, and around 1-2 % for minor ones.
There are a few tools that can help measure the keyword strength of your job description. My favorite is Topicalizer but it can be glitchy sometimes and have found Textalyser to be a more reliable processor. They both can analyze Copy & Pasted text or a full URL. Below is a screenshot displaying keyword density diagnostics.
a. First, provide the source info: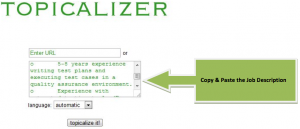 b. Then review: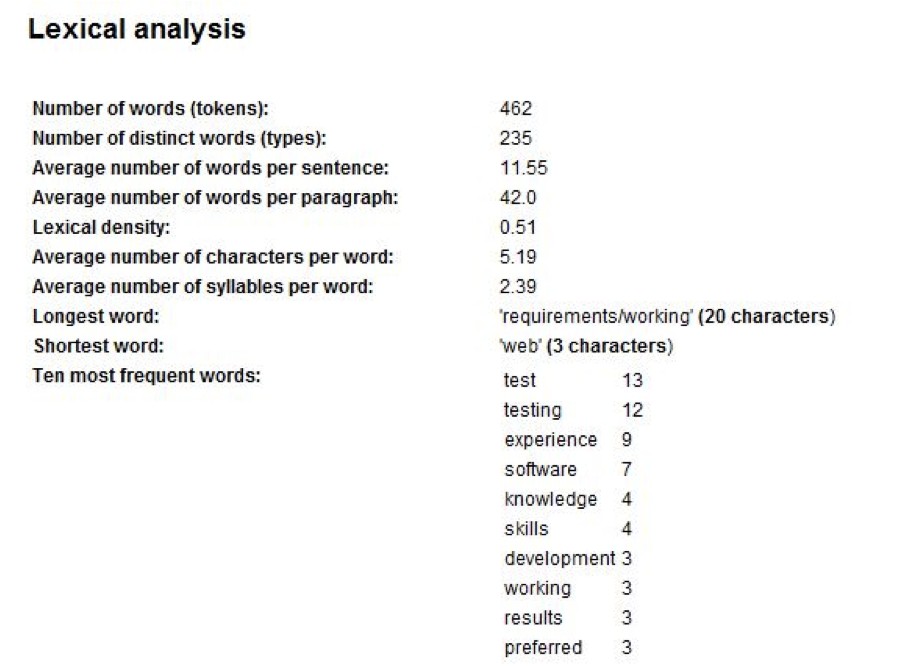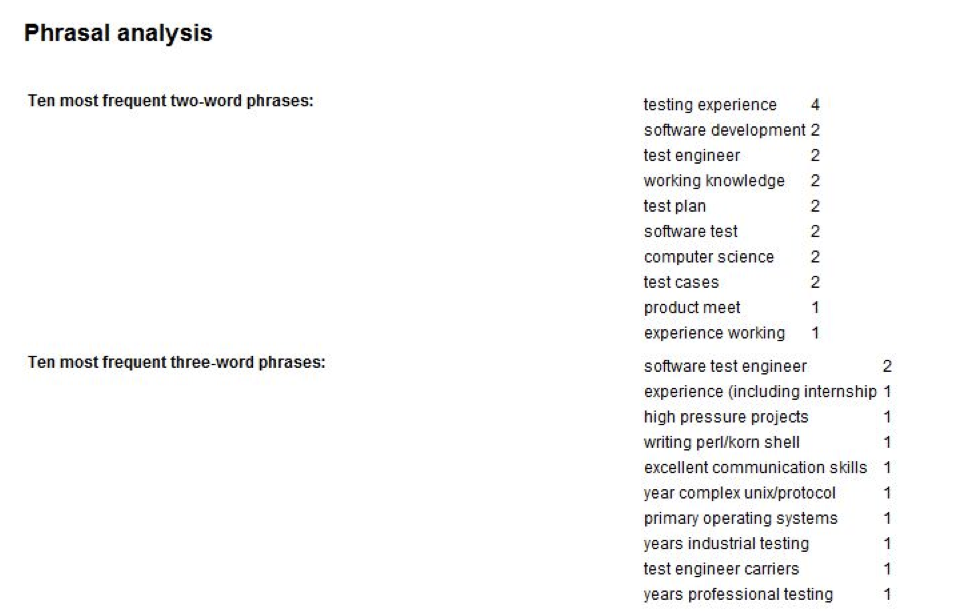 c. Breakdown:
As you continue to scroll through the results, you can usually start to quickly identify problem areas. i.e. In the example above, I can see that "test" and "testing" are highly relevant to this particular job description. I can also see in the example above that the phrases "qa" and "quality analysis" do not appear in the in any of the "Top 10" lists. So if "qa" and "quality analysis" are highly relevant to this job, I may want to increase their relevancy by sprinkling these words into the job description a few more times. If I optimize this job, now candidates searching for both "test" AND "quality analysis" will be able to find my job.
d. Further Analysis:
As stated above, an effective Keyword Density for a primary term should be between 3-7%. There is actually a formula that I can use to calculate my Keyword Density:
Wikipedia states; to calculate the density, keyword density formula would be:
(Nkr/Tkn)*100 where,
Nkr = the number of times a particular keyword is repeated
Tkn = the total text being analyzed.
To calculate the same in terms of a phrase, the formula would be:
(Nkr*Nwp/Tkn)*100 where,
Nwp = the number of words in the phrase.
In the screenshot example above, the word "test" occurs 13 times and there are 462 words in the total Job Description. Therefore, my Keyword Density for the word "test" would be (13 / 462) * 100 = 2.81%
These SEO tools and processes will ensure that precious job advertising budget doesn't get spent without a best effort to maximize ROI. It may even result in an increased candidate flow and hiring numbers from job board advertising. In closing, here are a few other tips that may help return better, more qualified candidates:
Further Research: Each search engine is different and ranks results in a different way. To account for this, some boards may be willing to provide internal statistics and resources on how their ranking systems work. If asked, some job boards may be willing to provide statistics on the keywords & job titles that candidates use the most.
Competitor Profiling: Now that your job ads have been optimized, find the same job at your #1 competitor. Do the same keyword analysis on the competitor job and make sure your jobs perform better. If not, rewrite them.