Video outreach has a 3X higher reply rate compared to regular email. However, sending a video to every prospect or candidate takes a lot of time. The increase in volume is often offset by a decrease in volume…
Luckily, there is a solution (hallelujah!). In this second part of a 2 part series on video outreach, I will show you how you can send out personalized videos at scale and start to close roles fast and efficiently 🚀.
How to send personalized videos at scale 🚀
In this section, I will show you how you can send videos at scale using one email template and one video!
You will need the following tools:
Lemlist— email follow up tool (paid)
LinkedIn— social network (paid/unpaid)
Phantombuster— automation tool (paid/unpaid)
SalesQL— email finding tool (paid/unpaid)
Bouncer— email deliverability tool (paid/unpaid)
Loom— video recording (paid/unpaid)
The template and the video
In July I was invited to speak at a conference on video outreach. A week before the actual event I sent all sixty speakers the same email and the same video. Completely automated and super personalized.
Below the email template, I used for all of the speakers. In this case to sourcing guru Irina Shamaeva.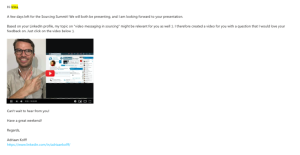 The email template
And the image enlarged with a screenshot of Irina's LinkedIn profile :).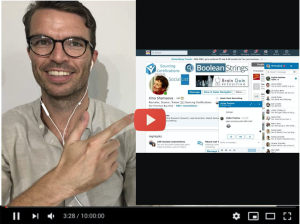 A photo of me with a screenshot of Irina
And once a prospect clicks on the image it will go to a landing page similar to this:

If you look closely you see that the landing page was completely personalized even with a headshot of the person I reached out to (again Irina in this example).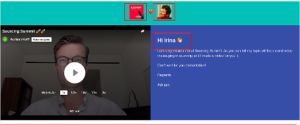 In red all the personalized items
Over half of the people, I reached out to replied and all of them complimented me on my video and approach :). Keep in mind these are all Sr. Leaders in the sourcing and recruitment industry and with the majority, I had never been in touch before.
The process
In this section, I will explain the steps you need to take to send out personalized videos at scale.
The steps:
Find your prospects and their URL's on LinkedIn
Find the right email address from your prospects using SalesQL
Scrape your prospects LinkedIn profile's including a screenshot of their LinkedIn profile using Phantombuster
Check on deliverability using Bouncer
Create a video using Loom recording software — to create a video
Send out "personalized" emails and videos at scale using Lemlist
In order to successfully set up this automation, you need to start to collect the LinkedIn URLs of your prospects in a Google Spreadsheet.
You can collect your prospect's LinkedIn URLs manually or use tools like SalesQL or Phantombuster to scrape your search on LinkedIn and get these links in bulk for you.
Make sure that the LinkedIn URL's are actually the right people you want to send out a video too and that the message is relevant for them. You will otherwise end up with a lot of false positives and low conversions.
Once you have collected your Linkedin Url's it is time to put Phantombuster to work.
Phantombuster is a software tool that allows you to automate many steps on LinkedIn and also scrape different kinds of information from LinkedIn (next to other social media platforms).
In this particular case, we want Phantombuster to scrape all publicly available information of your prospect's LinkedIn profile. We want this for three reasons.
Phantombuster offers the opportunity to automatically take a screenshot of someone's LinkedIn profile and save this as a hyperlink (we want this!)
Phantombuster saves your prospects LinkedIn profile picture as a hyperlink
The resulting spreadsheet with all publicly available data allows you to filter out false positives based on job title, company, years in the company etc.
Phantombuster is free for the first 14 days and this should give you plenty of time to scrape your first list of prospects for this automation :). If you need more time you are either restricted to 10 minutes of "Phantom time" per day or switch to a paid account ($30 per month).
Phantombuster step by step
In this section, I will explain how to use Phantombuster and scrape your prospects LinkedIn profile
After you have created your Phantombuster account and downloaded their Chrome plugin you need to use the Phantom "LinkedIn profile scraper" for this automation. Click on "Use this Phantom".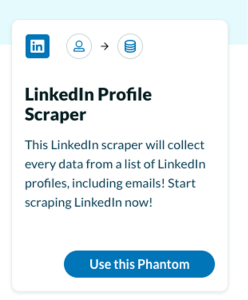 Once you have clicked on "Use this Phantom" you will go to the screen below. You need to click on "connect to LinkedIn" to give Phantombuster access to your LinkedIn account.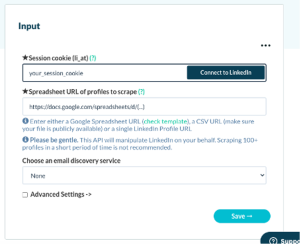 Click on "connect to LinkedIn"
The second step is to make sure that all your prospect's LinkedIn URL's are in a Google Drive sheet and that you make this Google Drive spreadsheet 'editable' for everyone.
Make sure your GD sheet is on "Editor" mode
Copy-paste the URL of your spreadsheet into the field of "Spreadsheet URL".
Your next step is to click on 'advanced settings'. This will open up a dropdown menu that looks like the image below.
You can scrape a maximum number of 100 profiles per time. On average it takes Phantombuster around 10 minutes to scrape 30 profiles including their partial screenshot. If you are on the free version keep it therefore under 30 profiles per time.
Make sure that in your advanced setting the "Take a partial size screenshot of the profile" is checked.
Give your resulting CSV file a name click "save".
After you click "save" you will go to a follow-up screen in which you can select whether you want to run this phantom 'manually' or repeatedly. If you have a larger data set, you want Phantombuster to run in the background and you can select repeatedly. Since Phantombuster runs in the cloud you can even go to sleep and Phantombuster does the work for you :). How about that for automation… 🦾
Click on safe and keep notifications in the next screen on any preference you like. I always keep it at none.
Just click on "Launch"
You are all set to start scraping all publicly available information from your prospect's LinkedIn profile. Just click launch and let Phantombuster do the work for you.
You can find your results under the 'download all' button and by clicking the CSV file you will be able to extract your results.

Under "Files" on the right, you can find your download
After you unpacked your CSV file your results will look like this and you need to look for the column "imgURL" (this is the profile picture) and the column with the title "partial screenshot" (this is the partial screenshot of your prospects LinkedIn account).
The CSV file unpacked in Google Drive
Create a new CSV file with all the relevant data (name, email, URL to profile picture, and URL to screenshot LinkedIn) and upload this data to Lemlist.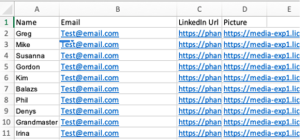 You can name your columns any name
Lemlist is an email automation tool that offers great personalization options to send out personalized emails at scale. You can try Lemlist for free for the first 14 days but in order to send videos, you need to switch to their most premium package of $99 per month 💸. Despite the costs, I highly recommend using Lemlist because of its powerful personalization options.
Lemlist makes it possible to send an email with a link to a special landing page, created in Lemlist, where your video plays. You can have the link directly in your email or create a thumbnail in your email that your prospect clicks on to go to your landing page. In my email template is a picture of myself pointing to my prospect's LinkedIn page.
The 'raw' email template out of the example looks like this.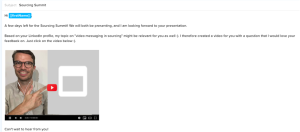 The email template in Lemlist
In grey, the area where a screenshot of someone's LinkedIn profile will be copied. Instead of a LinkedIn profile, you can also copy-paste a prospect's website, his/her LinkedIn profile picture, a company logo, or someone's first name written on for example a coffee cup.
Lemlist's video landing page (once you click on my image it looks like this):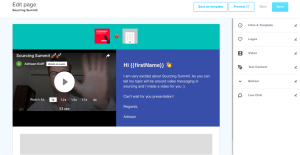 The landing page template in Lemlist
At the top of the page, you can add your logo and your prospect's logo or even his/her LinkedIn profile picture (the small rectangle in grey). You can change the colors of the templates and copy-paste the link of your video directly into this template. At the bottom, you can insert any landing page of your liking. For example, your own website, Calendly link to schedule an appointment directly with you or the vacancy that you are recruiting for. All of these items can be personalized specifically for your prospect.
Very powerful, highly personalized, and… scalable!
The data
If you want to be successful using this method, it is important to keep in mind that your message still needs to be relevant for your recipient. You can have all these 'personalized' templates and images in your emails but if the video isn't relevant for your recipient you still won't get a reply. Even worse the recipient will understand that you automated your message and might think less of your service/company.
So, what does the data tell me? This is the data from Lemlist on my video to all the Sourcing Summit speakers.

On average we see a 30% — 50% reply rate and the majority make a positive comment about the video. Again this is a 30%-50% reply rate using one email template and one video!
Conclusion
Video offers a lot of opportunities to stand out, personalize at scale, and improve your conversions on your lead generation activities. However, the first step is always the hardest so don't be afraid to get in front of your camera and just do it!
"If you think you can or you can't, you are right" — Henry Ford
Ps. you can help me by giving this article some claps and share it via social media and email!
Ps2. This article has been written with the help of Marcel van der Meer, who knew about sending out videos at scale way before I did :). I highly recommend you to join his Facebook group: "Badass Recruiters & Sourcers".