LinkedIn is still a major player when it comes to finding and sourcing potential employees. But among those 150 million users, who is highly represented on LinkedIn and who still lags behind?
The question is an important one as you look at where you should spend time as a sourcer or recruiter. 150 million members is a lot of people but it's not close to everyone. If you know you'll have a better chance finding a particular person in an industry, you might focus more or less time on that particular source.
So who exactly is on LinkedIn?
Which industries are tops on LinkedIn?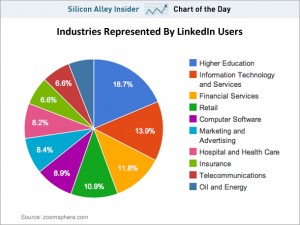 Business Insider released a chart based on data from Zoomsphere that showed that ranked the percentage of industries represented by LinkedIn users. And you may be a little surprised that the top industry on LinkedIn is higher education, followed by IT, financial services and retail. At the bottom of the list of represented industries are oil and energy, telecommunications and insurance.
As Business Insider notes, the high proportion of higher education users is probably due to college students. Even that revelation is an interesting one because if there are that many college students are on LinkedIn to skew the number that far, there could be more opportunities to recruit college students through this channel (though you don't know their target industries on this chart).
A LinkedIn spokeswoman declined to comment on the accuracy of the numbers other than to say that it shows the diversity of industries covered by LinkedIn.
Tech companies tops in followers, US, India top countries
Besides industry specific data, Zoomsphere has some interesting data that illuminates which companies LinkedIn users are most interested in. Of the top ten most followed companies on LinkedIn, eight are tech companies (IBM, HP and Microsoft are tops) and the other two are global consulting giants Accenture and Deloitte.
While the top country represented by LinkedIn users won't surprise you (the US), nor should the second place country surprise you (India), other's in the top ten might be a bit more surprising:
United States
India
United Kingdom
Brazil
Canada
France
Netherlands
Italy
Australia
Spain
Does this change sourcing emphasis?
Maybe the more important question is whether this changes what networks you're targeting on your searches? Based on a single, unconfirmed set of numbers, perhaps not.
Small or large budget, targeted sourcing is important. How you spend resources, whether you have a five figure search budget or three figure budget, is an important consideration. And while LinkedIn has been a holy grail for certain industries, everyone should be aware of how the population of any social media source shifts and changes over time.
What's your take? Would these numbers make you shift your resources or does it merely reflect what you already know?