Those of you who attended SourceCon two weeks ago may have noticed a couple of new technologies we used during the conference. Since we are geared more toward the "nerdy" side of recruiting, we wanted to try out some new things in an attempt to make your conference experience a little richer.
As a little present for those of you who weren't there in person and a supplement to those of you who were, today I am giving you a quick snapshot of the tools we incorporated into the conference experience: Holler, Vizibility, and Hashcaster.
Holler.com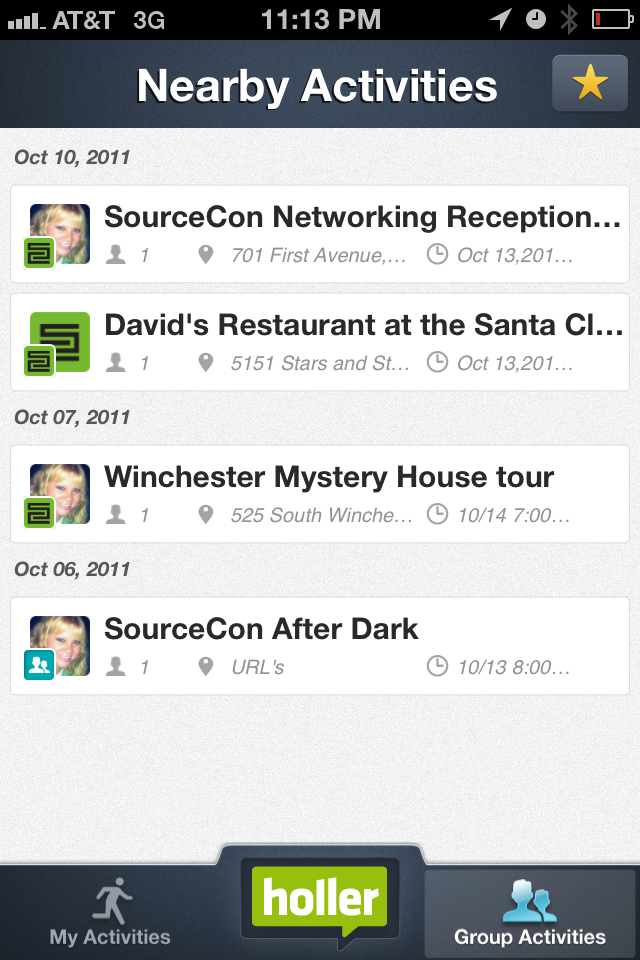 Holler.com is a mobile app that allows you to connect with others near you and join groups of interest. It recently launched around TechCrunch Disrupt in September. At SourceCon, we used it to help connect conference attendees with each other and provide some information on activities around the conference, including the networking reception and the After Dark. We also made suggestions for places to eat near the conference venue and hotel.
Those who joined the SourceCon Holler group were able to meet one another because of proximity — the unique thing about Holler is that you can join a group that contains people from all over the world, but you are only presented with "hollers" that are within a specific location. So, a group like SourceCon's Holler group can exist worldwide but you'll only have to see the activities listed near you. It's a great way to meet likeminded individuals and people who share similar interests.
I encourage you to continue using the Holler app and join the SourceCon Holler group. If you have an iPhone, simply download the app. If you have another smartphone, browse to holler.com/sourcecon and join the group. You might end up meeting some folks you never knew who live near you!
Vizibility

The attendee badges had QR codes on them that could be scanned to connect with one another. Vizibility offers a one-stop social connection landing site for conference attendees or any place where using a QR code is applicable. By scanning the code on your mobile device, you are sent to that individual's Vizibility site which tells you the date you "met," the location, and all of the social links connected to that user. You can also send yourself a vCard for that person, see mutual LinkedIn connections, and conduct a Google search on that person.

The search function was of particular interest to me (hey — I'm a sourcer at heart!) so check out what the top results are in the screenshot. This link can be translated to your website or profile right from Vizibility, and you have the option of downloading your custom QR code or even having business cards made up with it.
This was a great tool at the conference to help people get instantly connected to one another through a number of social networks. It could virtually eliminate the need for business cards in the future!
Hashcaster
This was an all-inclusive social dashboard that was made available not just to conference attendees but to everyone following the #SourceCon hashtag throughout the event, and the site is still visible at sourcecon.hashcaster.com.
From the attendee and virtual observer's standpoint, this tool offered one location to view tweets from the conference, links and photos being shared by attendees, and information about the event sponsors and official news from the @SourceCon Twitter account. Viewers could also keep track of top contributors to the Twitter stream.
From our standpoint, this was a great way to capture the interaction going on during the conference! For example, we learned that:
We averaged over 200 tweets about SourceCon per day during the conference
Our total impact (aggregate followers) was 208,734
Our most active Twitter author was @Jaxx_Magee (Kay Kelison — you go, girl!)
We also learned that the average viewer of this site stayed around for 46 minutes and that we had 231 unique visitors checking the site out.
And lastly, from a sourcer's standpoint, Hashcaster CEO Geoff Clendenning told me that most event groups leave their sites up after an event, so Hashcaster sites become data mining destinations for sourcers, much like an Eventbrite or Meetup.com attendee list. You can see the top influencers as well as related articles and images to a particular event and follow people directly from the Hashcaster site.
We hope that many of you were able to take advantage of these tools while enjoying the conference!
What other tools would be cool to incorporate into the next SourceCon (happening in Atlanta February 9-10, 2012) or any other event? Share your suggestions in the comments below!