LinkedIn recently integrated its new offering, Signal (Beta Labs), last week. It is preparing a firm base for itself in the market prior going public this year. In the coming days, LinkedIn will be heavily investing and promoting its R&D wing to strengthen its business case to attract investors.
Within the last two weeks, LinkedIn released a Beta version of a new section called Skills & Expertise. This section essentially adds a new field in user profiles, just like Monster. This way your profile can be tagged with the skills you possess. LinkedIn then goes on to use those tags in a variety of different places on its site like Jobs, Companies, Groups etc. It also creates a correlation between related skills like Java –> JavaScript. This will help users to search and view results related to a unique field called "Skills." 
How does it work?
In your LinkedIn menu bar, select More and then Skills.
Search your skills in the expertise box. LinkedIn has already captured thousands of skills in their database; hence try to match those skills to increase visibility. Start typing and it will automatically suggest a few skills.
Once you select your skill, it will display a Skill-Board connecting all the dots within LinkedIn. It will basically map your skills with Jobs, profiles, locations, companies, relative skills, and even show you a Wikipedia entry.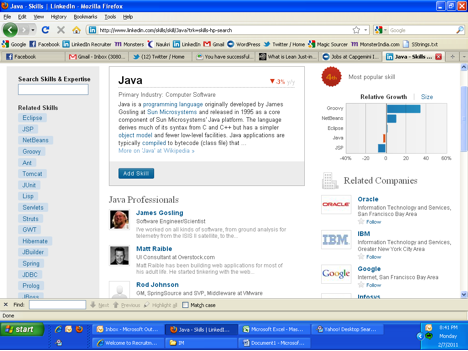 If this is your skill, go ahead and click on "Add Skill" button.
You will then be asked for your "level of expertise" and number of years of experience, just like Monster.
You can add multiple skills and also view related skills as well which you can add to your profile.
Interesting, but how does this help in sourcing?
Adding these skills make a profile looks like a "Resume." People typically may not mention all of their skills on their LinkedIn profile; however now LinkedIn provides a special field to list your skills. One ends up listing more than 2 – 3 skills (primary and secondary) that might not be present in the form of keywords previously in their profile.
Related skills provide suggestions with inter-connected skills (or even alternative) to the specific skill. This helps you in gathering related keywords in your search string. In this case you know a typical Java professional comes with other skills like JSP, Struts, Spring, etc.
This page also lists various companies that are prominent in these technologies. Target companies, anyone?
You can also have a look at which other companies are hiring for the same skills. It also shows various jobs (Recruiting Solutions) for the same skill. Bit of Market Intelligence, perhaps?
Apart from this you can view related groups and statistics on main locations for these professionals. More than handy information to go with.
In addition, you can also view profiles having those skills in their bio; does not necessarily search in the Skills section. However I'm not fully convinced whether these results are driven by relevant ratings. You get very different results if you run an independent search in "Advance Search." I am not very sure about the algorithm for these search results. You can do better by running an independent normal searches – do not rely on this feature.
Being in Beta release, it has taken the liberty of showing Bar Diagrams, year-to-year comparison, etc. but without much of explanation.
For time being though this is a very interesting new feature from LinkedIn Labs. Going forward "Skills" will play as a unique field in LinkedIn database which will connect various dots within LinkedIn like jobs, candidates, companies, searching, etc. With such a huge database at its disposal, creating these relationships between various aspects provides a good dimension to their offering.
LinkedIn has smartly created a huge database with a pure intention of networking in the past. Now they have now realized the enormous potential and value of this data for recruitment, which has become a driving factor for their growth recently.
As for now – get "Skilled" with LinkedIn!!!!