As Amazon prepares to open two, massive warehouse facilities in the next six months or so, the company took the unprecedented step of announcing a new employee benefit on its homepage.
In a letter addressed to "customers," CEO Jeff Bezos said Amazon would now pay up to $8,000 toward tuition and expenses for full-time hourly workers who want to learn a new trade. "For people who've been with us as little as three years, we're offering to pre-pay 95% of the cost of courses such as aircraft mechanics, computer-aided design, machine tool technologies, medical lab technologies, nursing, and many other fields," says Bezos.
What's particularly unusual about the Amazon program is that only education leading to a well-paying, high-demand job will be funded. It doesn't matter, says Bezos, if the training is relevant to a career with Amazon.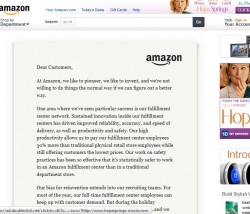 Amazon's Career Choice Program pays in advance for books and associated fees, as well as tuition at accredited schools up to a yearly max of $2,000. Courses, says an information page, must "lead to technical and vocational certifications or associate's degrees in eligible in-demand fields, such as Engineering, Information Technology, Mechanical and Electrical Trades, Healthcare, Construction, Transportation, and Accounting."
Why would a company offer this kind of benefit? Noting that some warehouse workers will choose to make a career at Amazon while for others the job is a steppingstone, Bezos writes:
We want to make it easier for employees to make that choice and pursue their aspirations. It can be difficult in this economy to have the flexibility and financial resources to teach yourself new skills.
Amazon did not return a call asking about the program. However, an obvious advantage for the company is that the program will help attract and especially retain workers. In California, where two new warehouses each approaching a million square feet will open, the company soon will have to find thousands of workers to staff them.
Last year, in a showdown with California's governor and Legislature, Amazon committed to hiring 10,000 full-time workers and up to 25,000 seasonal employees in exchange for a delay in collecting sales tax on Internet purchases made in the state. The first of the warehouses is due to open in the fall in San Bernardino. (The city council there recently voted to declare bankruptcy.)
Even though Bezos says Amazon pays a 30 percent premium over other retailers, hiring enough workers to staff the facility and keep them on the job can be challenging. Reuters quoted Scott Tilghman, an analyst at Caris & Company, explaining that Amazon's acquisition of Kiva Systems will further complicate hiring and retention. Kiva supplies the robots that automate some of the work in Amazon's fulfillment centers.
"They acquired Kiva. Kiva replaces people," said Tilghman. "How are you going to hire people if they think they will be replaced over time?"
The two California warehouses are likely only the first of several, both in the state and elsewhere. In an investor note in May, RW Baird Senior Analyst Colin Sebastian, wrote, "We expect Amazon to open 5 to 10 facilities in California over the next three years," adding, "We note that ongoing 30%+ revenue growth requires Amazon to invest continuously in fulfillment efficiencies and additional capacity."