LinkedIn didn't so much beat Wall Street's financial expectations, it shattered them.
The company earned 35 cents per share on revenue of $303.6 million. That was $24 million more than the average of analysts' estimates and more than $11 million above the most optimistic projection. The average of their earnings estimates was 19 cents a share.
The numbers released this afternoon show LinkedIn brought in more total revenue for the year than did Monster and its fourth-quarter recruitment revenue alone was 90% above the same quarter in 2011.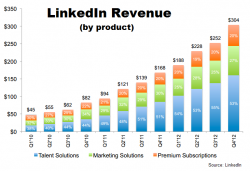 LinkedIn said it expected to see between $305 million and $310 million in revenue for the current quarter and between $1.41 and $1.44 billion for the year.
Recruitment is the biggest share of the company's overall revenue, accounting for 54% last year. That share may rise this year; beginning in the second quarter, the company will raise rates for its recruitment customers in the U.S. and some other areas. The increase will be in the "mid single-digits," CFO Steve Sordello said during a conference call with investment analysts.
Employers will see the increase when their contracts renew, which, Sordello said, mostly occur in the last quarter of the year. He said it will be the first increase in recruitment rates since the company went public almost two years ago.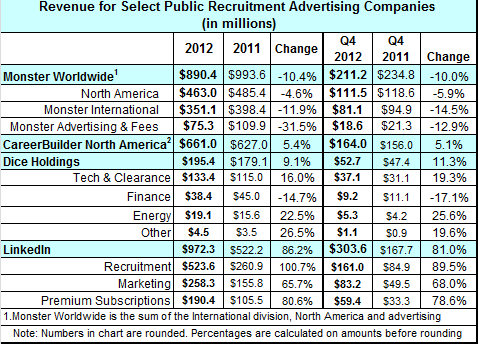 Since then, both the number of users and their engagement with the site has grown exponentially. Sordello and CEO Jeff Weiner credited the introduction of new offerings and enhancements during the year for improving the time users spend on the site and their interaction with it.
LinkedIn grew to more than 200 million members at the end of last year, adding users at a rate of about two new members per second; 64% of members now come from international markets. In the fourth quarter, after launching the new profile designs, the number of users updating their profiles doubled over the same period in 2011. The LinkedIn Today traffic, augmented by the new Influencers feature, lead to an eight-fold increase in traffic there, the company said.
Weiner said no one product is responsible for improving user engagement, instead it's a "compounding effect," where each enhancement leads to ever greater use of the site. In addition, both he and Sordello said more and more users are accessing the site on mobile devices. Right now, LinkedIn is testing a new mobile platform that will launch later in the near future.