Monster is adding some new features to its BeKnown social network, enabling companies to post jobs and creating some 3,500 college pages.
Built on the Facebook platform, BeKnown is a jobs-oriented network that allows users to build career profiles and connections separate from those on Facebook itself. By adding jobs to corporate sites and including colleges, Monster is encouraging users to conduct their job hunting within BeKnown.
For employers and schools that already have a Facebook career presence — and thousands do — the BeKnown sites are largely duplicative. But for those brand sites where jobs aren't the main focus, a BeKnown site can become the gathering place for career discussions.
That's the point Tom Chevalier, Monster's BeKnown product manager, was making during a recent demo call. A BeKnown site is a "secondary or duplicate offering," he said, if a company or campus career center already has a recruitment presence on Facebook.
For everyone else (and that would include all those companies who simply stream their openings onto their Facebook site) a BeKnown site is where employees, alumni, students, job seekers, and potential candidates can engage in career conversations. Chevalier observed that a company isn't very social if it's not carrying on active discussions with its fans and visitors.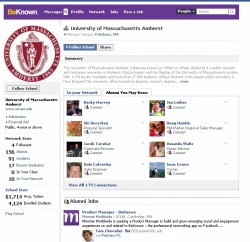 In that regard, colleges will have it easier than employers. Alumni are vocal supporters of their school, and they are the very ones to talk about how their degree and their college years have paid off. And to post jobs.
Employers, whether direct or agency, need to invest time to make social media work. This isn't unique to BeKnown or any other social site. Simply streaming jobs onto your site is not a social media strategy.
Engaging with candidates requires real interaction. Chevalier says BeKnown facilitates that because of its orientation. The way the site is designed, a BeKnown user can quickly see who they may know. If the employer adds the job feature — free and easily added — current listings appear on the main page. Right now, only jobs posted to Monster automatically show up. Soon, Chevalier said, XML and RSS feeds will be added to automate the process.
Colleges have it even easier. Monster has created pages for some 3,500 colleges in the U.S., populating them with content that includes a bit of history, costs, financial aid, and alums registered with BeKnown. A school need but claim its page.
While Monster was announcing its latest enhancements, Facebook was already the center of attention over its rumored plans for a $10 billion IPO next year. In a story repeated in hundreds of posts, the Wall Street Journal said the company was expected to file papers for its initial public offering possibly even before the end of the year. Based on the shares already outstanding, a $10 billion offering would value Facebook at $100 billion, ranking it among the most valuable companies in the world.