As recruiters and sourcers, we've sat in front of our computers, eating our snacks, answering client phone calls and more importantly, searching for and developing new techniques and strategies to keep up with the always changing and elusive LinkedIn. As a recruiter, I have spent many hours trying to come up with innovative ways to find leads on LinkedIn to keep my hiring managers happy, all while eating my favorite pretzel M&M's. (I like to think that multi-tasking is one of recruiters' strengths.) Each time I feel as though I've found the LinkedIn promise land, I am abruptly reminded that this is only a small oasis. For example, tools such as Sell Hack and Lippl were widely used, but within a few months, our helpful resources were dried up and gone.
To lend a hand on the LinkedIn recruiting journey, I want to share a few tips about using LinkedIn Groups Site Search that will help…until the next wave of changes wash over us!
For this topic, I turned to Glen Cathey's article, "Using Google to Search for People in Specific LinkedIn Groups." In this article, he discusses the topic of using Google site searches to "search for people in specific LinkedIn groups." He provided a couple of sample searches which I will be sharing with you.
One of the examples that Glen offered was:
site:linkedin.com "front end developers logo" (C# |.Net) "location * Greater Boston Area"
I decided to try it for myself using both Google and Bing, and came up with a search for one of my current requisitions, Senior Kronos Business Analyst.  In my example, I chose a specific group name, Kronos Alumni.
site:linkedin.com "kronos alumni logo" (kronos) "location * Greater Milwaukee Area"
Google retrieved 3 results.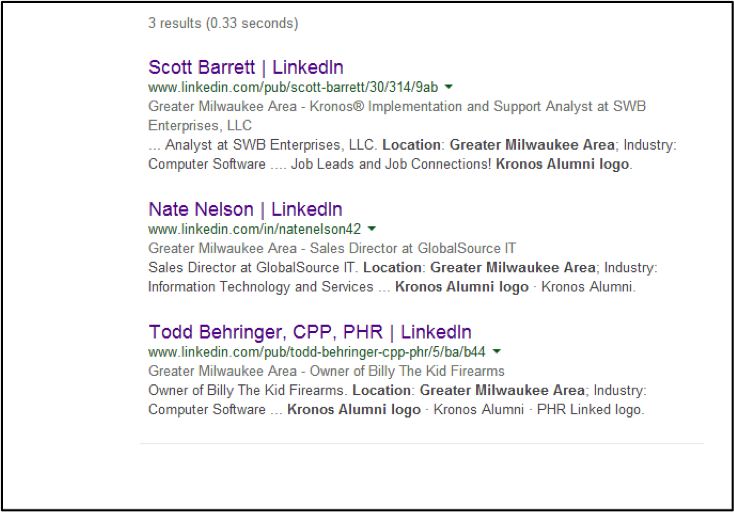 I already had an understanding that Kronos was a difficult technology skill to find in Milwaukee, so I wasn't expecting a flood of names. The good news is that the search did yield some quality results.
With the same string, I then used the search engine Bing.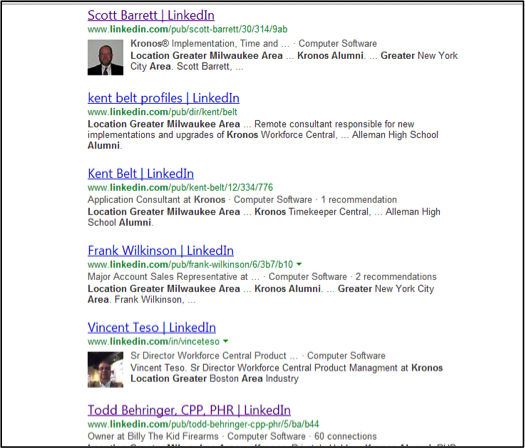 Bing retrieved 4,670 results, but the search brought up non-profiles. How is it that this string can be utilized with one search engine and not the other? At this point I reviewed the source code using one cached profile.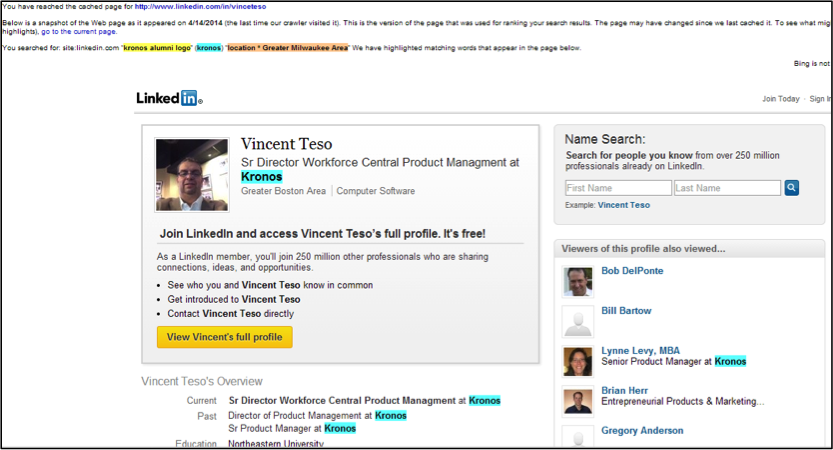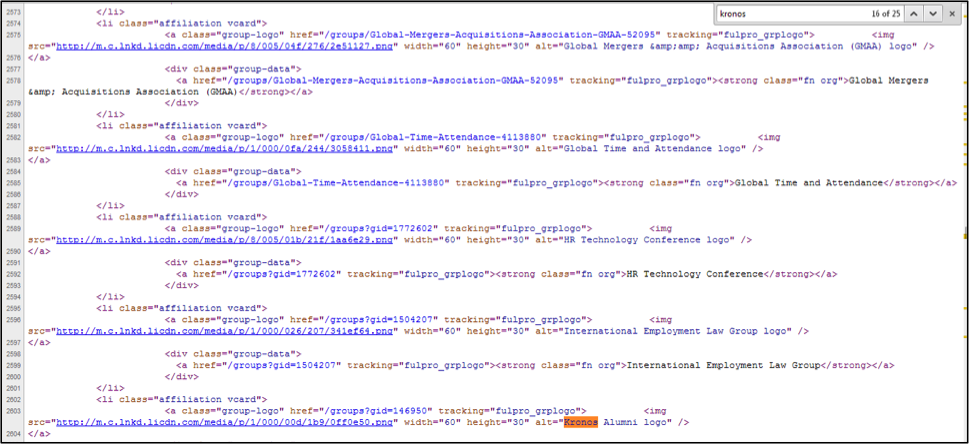 "Kronos alumni logo" was in the source code but for some reason was not working in Bing, so I tested this format further using the following string:
site:linkedin.com "RPO (Recruitment Process Outsourcing) Recruiters, and Providers Job Openings (Staffing and Recruiting) logo" "location * greater milwaukee area"
Google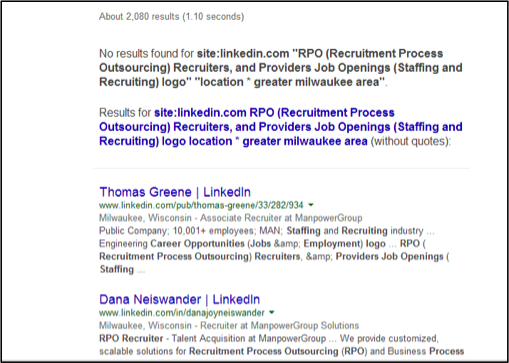 Bing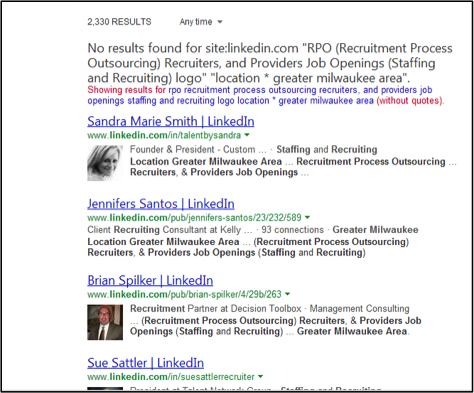 With both Google and Bing, I found that using "logo" in the string did not yield any results. The tricky thing with this search is that I have noticed some discrepancies in the source code when using this site search function. The results show that the word "logo" is sometimes found in the code and other times not. This was consistent in both Google and Bing and according to Glen, "it would be odd for two search engines to change their algorithm of how they index pages from LinkedIn." The search "Kronos alumni logo" no longer works in Bing, though it is in the source code.
After speaking to Glen, he suggested that LinkedIn could be blocking the word "logo" from search engines that index their results. LinkedIn is constantly making changes to their services recently, including sending InMail to group members in hopes of getting more people to use their products. The elusive LinkedIn has slipped through my fingers once again.
But fear not…Glen provided another search site example without the use of "logo":
site:linkedin.com "boolean strings – the Internet Sourcing Community" "location * greater atlanta" "people you know"
I tested this search using the following string in both search engines:
site:linkedin.com "kronos alumni" "location * greater milwaukee" "people you know"
Google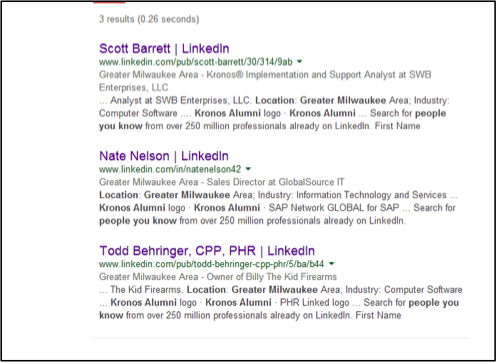 Bing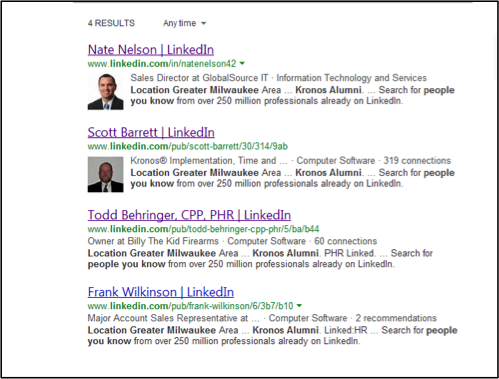 Both Google and Bing retrieved positive results that only included profiles, although the numbers were few.
For my final test I followed Glen's advice to "be curious", and put my own spin on the search formats,. I included the specific skill I was targeting in the LinkedIn profiles and used this search format:
site:linkedin.com "kronos alumni" (kronos) "location * greater milwaukee area"
Google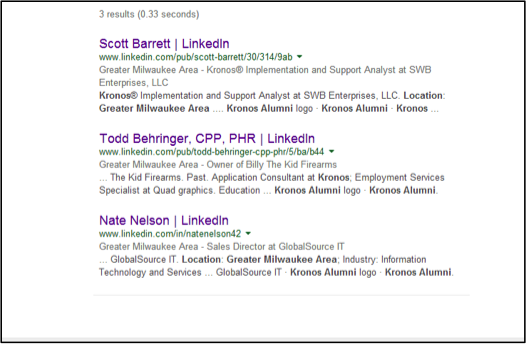 Bing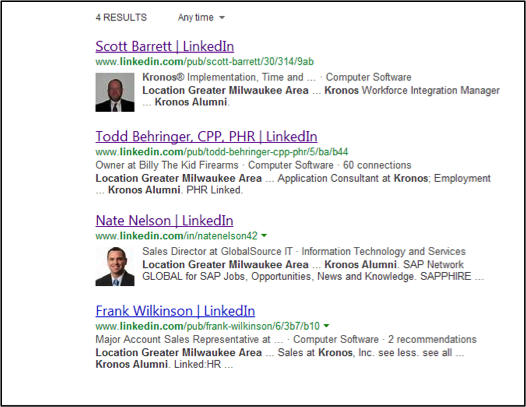 Although it came up with the same results as the previous example, it confirms that both of these search functions still work and provide positive results. This is also a valuable search for recruiters like me who have reached the dreaded LinkedIn"50 max group membership rule" because you can search through the members without being part of the LinkedIn Group.
In this field, or any field related to technology, there is a constant need for change, improvement and creativity. This is part of the journey. It is our curiosity and desire to learn that helps us become successful and excel at what we do.
As you can see here, there is more than one way to gather the information you need. Feel free to create and test your own Boolean Strings and searches. The elusive LinkedIn won't stop us…