IT career site Dice.com is unveiling a new talent aggregation search tool it calls Open Web.
Similar to TalentBin, Dice's new service pulls together bits and bytes of information about candidates,  summarizing the individual's experience, skills, and interests in an easily scanned profile. Open Web searches the accessible parts of some 50 social and professional networks — including such tech hangouts as GitHub and Stack Overflow — and the open Web, indexing a candidate's contributions and postings to build the profile. A series of icons tells searchers where the information was found; a mouse click takes you to the source.
The goal of Open Web, explained Chairman, President, and CEO Scot Melland, is to give Dice recruiters "as complete as possible a picture of the candidate in the geography they are searching."
Provided for now to Dice recruiting customers at no charge, Open Web is searchable in multiple ways. Besides a typical Google-type search, you can put together a profile by name. That's particularly useful if you have a candidate in mind who may not have an updated resume.
Melland will officially announce Open Web Wednesday morning, during the quarterly financial call with investors and analysts. Dice Holdings, Inc., which owns Dice.com, eFinancialCareers, is expected by analyst consensus to report earning 14 cents a share on revenue of $51.4 million for the fourth quarter of 2012.
Previewing Open Web for me earlier this week, Melland walked through a typical search. Compiling a list of developers with Java and other skills, he pointed out that the search results page itself tells a quick story about each person there. Those with numerous icons signal an individual involved in multiple networks. That may be a sign of a passionate techie — as in the case of a developer who turned up on the results page who contributes regularly to Stack Overflow and is highly regarded by his developer peers.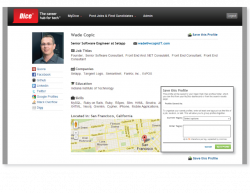 By reviewing the links Open Web provides, we discovered that individual not only had all the skills a recruiter might want, but collaborated with others, and had gotten kudos for his technical expertise. We also had contact information for him.
"I can now have an interesting conversation with him," Melland observed. Knowing more about a person than what you get from a resume can turn a cold call into a warm opportunity. That's a plus for a Dice recruiter who can search the 1 million resumes on Dice.com, then use Open Web to build an updated profile before contacting their best prospects. Because the search includes the web as well as the open parts of social and business networks, recruiters can find current employers, public resume listings, and updated contact information. If it's publicly accessible, Open Web, like Google, will find it, compile it, and present it.
Open Web's closest competitor, TalentBin was also limited to the software and tech industry when it first  launched a few years ago. Today, though, recruiters are using it to source and profile candidates in other engineering and scientific fields including biotech, pharmaceuticals, life sciences, defense, even design and more.
That happened after TalentBin began including such public databases as the U.S. Patent Office, PubMed and Behance.