As sourcing and recruiting professionals, we spend our days on the hunt for candidate information. Identifying a candidate profile is only one step of the process. Until we have a phone number, email address, or some other means to contact a candidate, we can't do the most important step – approach the potential candidate about a new employment opportunity. It's always nice when social networks do some of the work for us by encouraging users to add details about their employment history and contact information.
According to a recent post in readwrite, Facebook is trying to help us out. The post demonstrates how Facebook users are now able to request that their friends add their contact details to their profiles.
I visited a friend's profile to try it out for myself.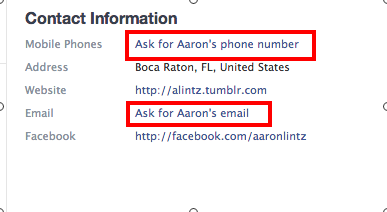 Once I click on the link to request Aaron's number, I am prompted to provide a reason.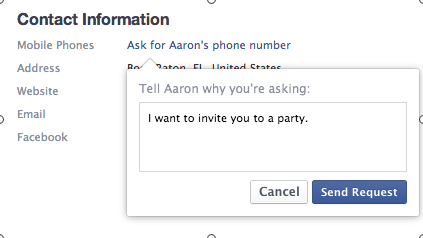 Surely Aaron will share his number with me. Who doesn't want to be invited to a party? Now, Aaron's number is available for everyone with permission to see his profile.
The author of the readwrite article thinks this is something Facebook should tell users about.
This feature may help cut down on messages bugging you for contact information. It might even help users who didn't realize they could efficiently share their phone number or email address with their Facebook friends.

But Facebook should notify users that it's coming, and create a setting that lets people opt out. That's better than turning our profiles into one long list of fill-in-the-blanks.
What are your thoughts? Is this a sneaky move by Facebook?