The competition for professional networking sites just took an attention-grabbing twist, as Identified launched in public beta Monday. This new site is actually aimed at aiding recruiters in producing better search results for candidates and predicting which candidates companies would be must interested in. Dubbed as a professional job search engine, Identified ranks people on a scale of 0-100 from three key areas: professional career, education background, and social network.
Built on a combination of your Facebook data and entered information, Identified takes the approach of ranking the top candidates in various skill sets. For example, if you are looking for a Software Engineer, Identified will accumulate a list of the top software engineers on the site.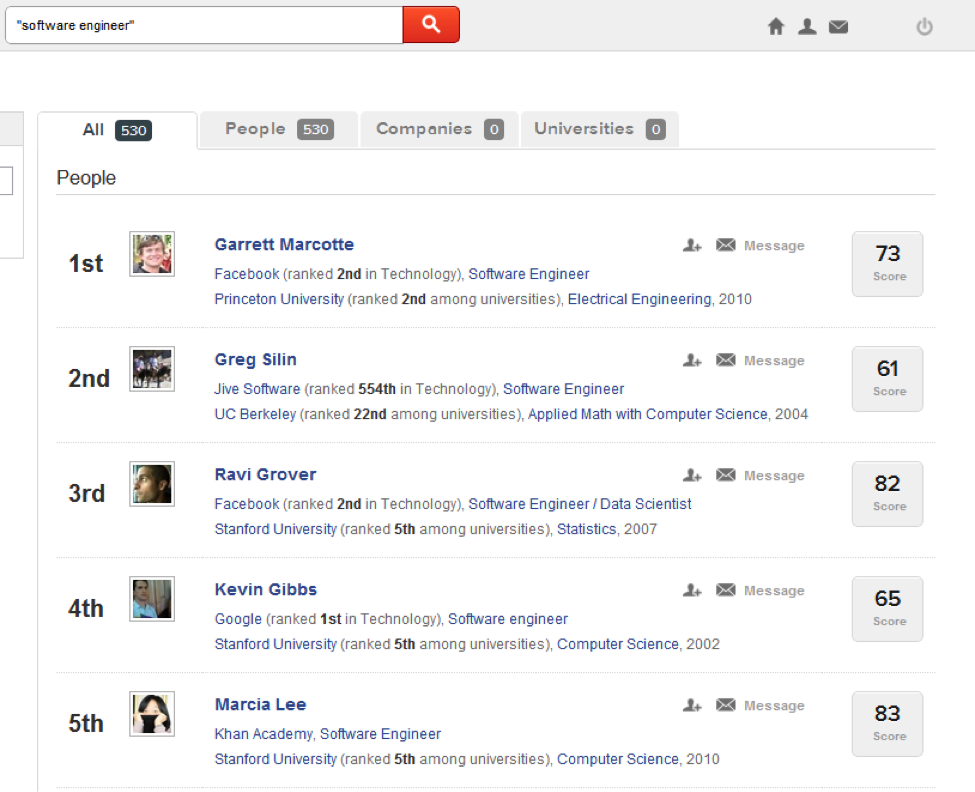 By using a complex algorithm, Identified provides users on what companies are ideally looking for. In fact, it was that concept that intrigued the minds of Identified's co-founders Brendan Wallace and Adeyemi Ajao. The two were students at Stanford University when they pondered the question, "What will make us more desirable to employers?"
The two built the site and when it was launched on campus, they had more users in eleven days than Stanford's career center had resumes. After expanding to nine other colleges (Harvard, Brown, UVA, Georgetown, etc.), Identified raised $5.5M from Google CEO Eric Schmidt, Draper Fisher Jurvetson's Tim Draper, Bill Draper and others.
"When I first saw Identified exploding on Stanford's campus, it reminded me of the early stories of Facebook's growth at Harvard back in 2004," Bill Draper said. "Like Facebook did for social networking, I think Identified will become the standard of professional networking for the Facebook generation and beyond."
Identified works closely with Facebook's API to pull data that helps accumulate your ranking. Historically Facebook has been a college phenomenon. In fact, it was only open to university scholars until 2006. This being the case, there is far more accurate data on Facebook than other professional networking sites such as LinkedIn. According to Identified, 47% of Facebook users enter their professional information in their Facebook profiles.
Currently there are near 80 million Facebook users in the United States between the ages of 18-34, as opposed to slightly over three million users on LinkedIn. If 47% of those Facebook users have entered their professional information, Facebook is a much larger resume database than we realized.
According to Wallace, "the problem with LinkedIn is that it outputs a lot of data. Identified is a professional search engine that delivers professional information in a professional way. You get the best results at the top."
Rankings
The biggest debate with Identified has been over its rankings, but let's takes a closer look. Looking back at the photo of the query I ran earlier, Garrett Marcotte is the top ranked Software Engineer, yet does not have the highest score. In theory, Identified is telling us that Marcotte is the most desirable Software Engineer to companies in their database. After a closer look into his professional and collegiate history, you can see why: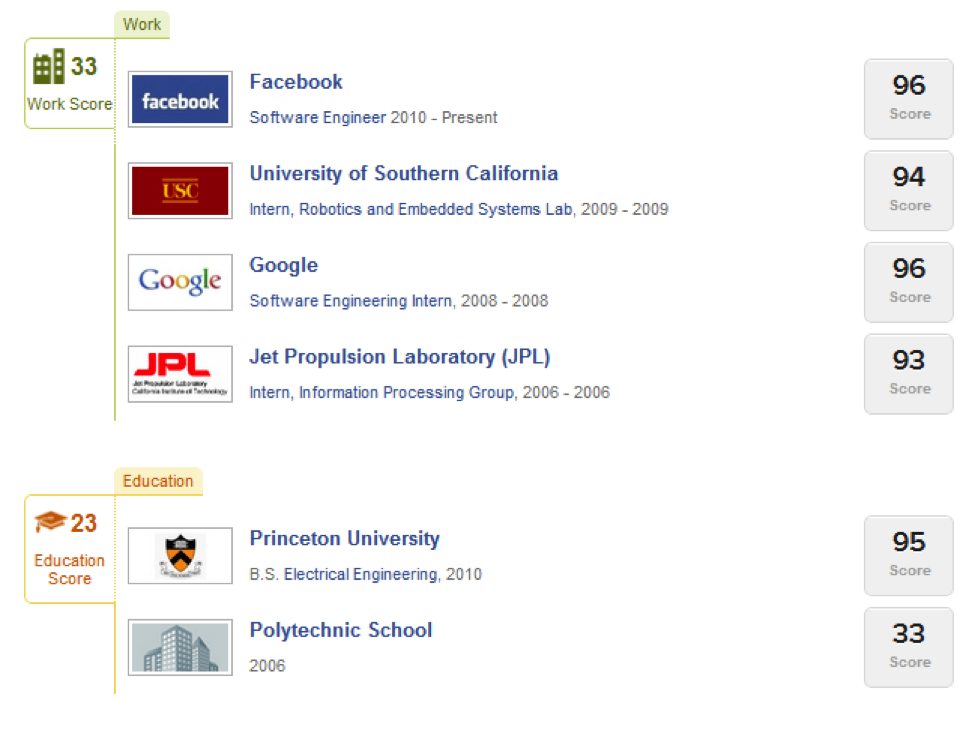 What you can't see is who Marcotte is connected too. Remember, Identified also ranks your relevancy on your social network. Since I ran a query for Software Engineers and Marcotte is the most relevant candidate, his social network probably contains a vast array of other Software Engineers.
It's the same theory that you're only as good as the people you surround yourself with. If you are a good recruiter, your network probably contains a lot of high level recruiting connections. Likewise, if you are a junior recruiter or not the best sourcer, you probably don't have the largest recruiting network, and you probably are not reading this article.
In a similar search for "Robotics," Marcotte's relevancy is ranked lower. This is most likely because he is currently not performing that role and his social network probably contains less "Robotics" professionals.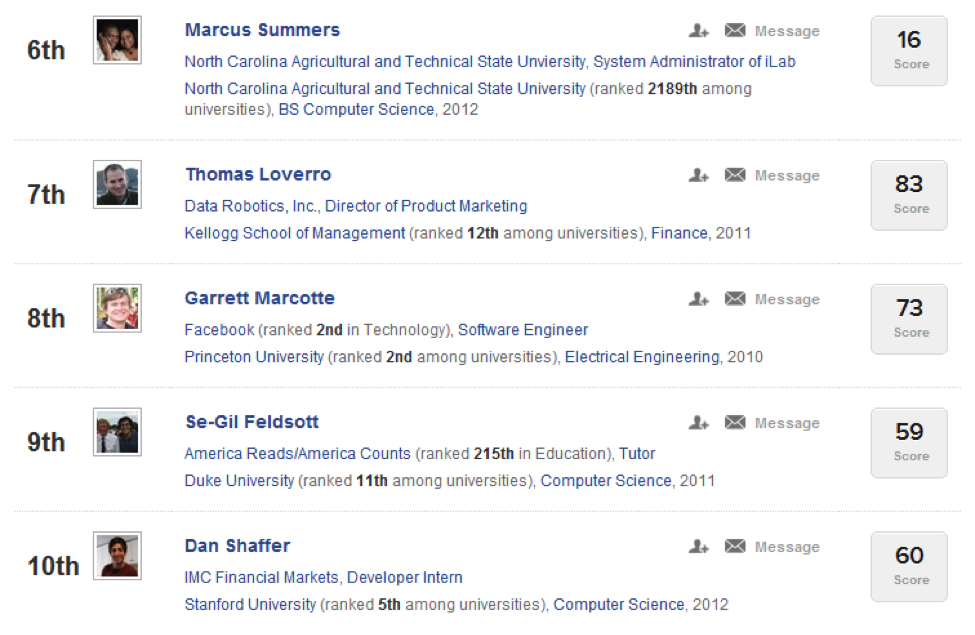 To date, Identified has scored and indexed over 40 million professionals, 60,000 companies and over 8,000 universities. 40 million profiles is a lot, and Wallace adds that they are growing at a rate of 2 million profiles a day. However, not everyone has signed up just yet. Identified pulls in its users' connections' information straight from Facebook and creates scores even for people not registered. This is public information that Identified is providing recruiters without a direct connection on Facebook to these candidates. Currently, users are not able to search on score, but a paid feature will soon be in place for recruiters to utilize.
It is important to note that your score is not an indicator of success or status as a better candidate. Your score should be viewed as an indicator as to how companies may potentially view you. Likewise, your rank does not necessarily make you the best candidate for the job, but the higher your rank, the more desirable you will potentially look to companies. Identified has features, and is working on more, that will help you increase your score. By adding your grade point average, SAT scores, job title, and description of past work done, your score can increase. In theory, if you rocked a 4.0 at the University of Wisconsin, you can have a similar score to a user that attended a more prestigious university.
Analytics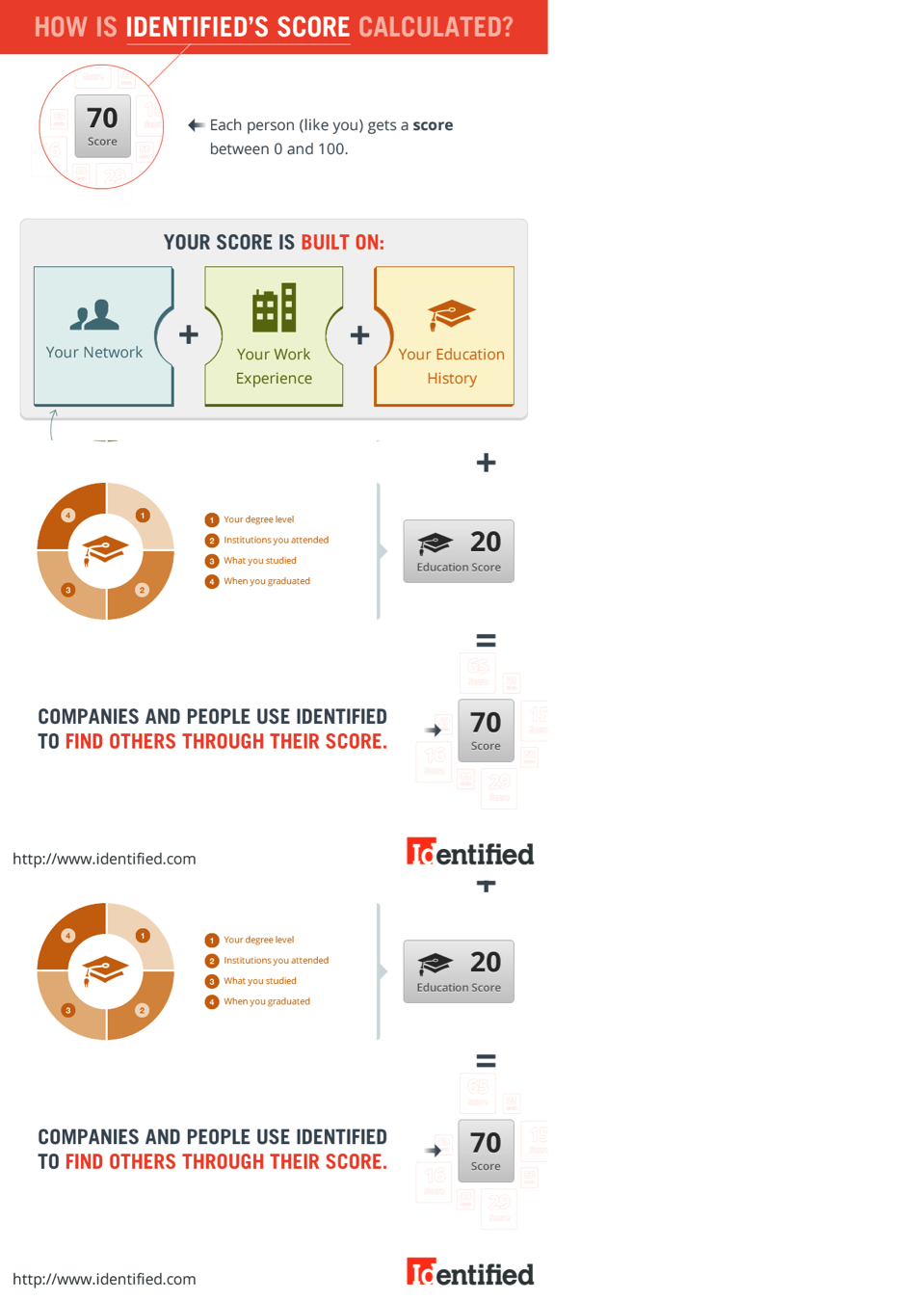 One cool feature of this site is the analytics it provides for each search. Check out my search for a Software Engineer. Identified lists the most common schools and majors for each Software Engineer on the site. This is a great analytics feature that can be for pipelining and sourcing future candidates.

On your personal page, the analytics go even further. Identified lists the most common job titles, most common companies, most common universities and even most common majors in your own network. Great information to know.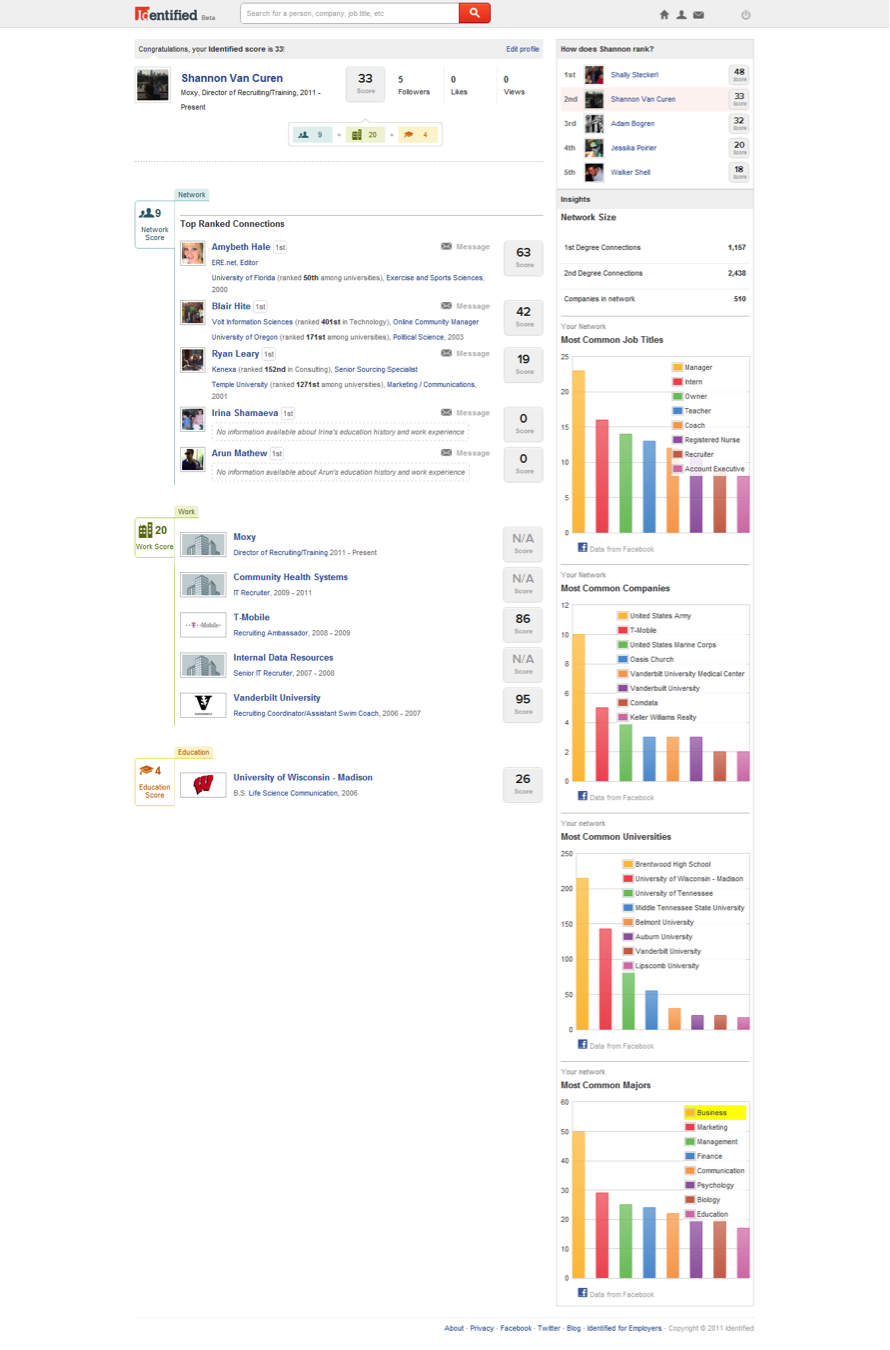 According to Wallace, "Identified is trying to give transparency to users when companies are searching for you in Facebook and how that information is in a score." He adds, "LinkedIn is a database, and Identified is a search engine that gives relevance to who is going to be on top of the list."
This might just be the most relevant professional search engine that we have seen yet. The only candidates that we will not be able to see are the ones not on Facebook. But with near 800 million Facebook users, I think we have found our next recruiting playground.
So how relevant are you?