Note: This is a part of the Free Tool Friday series with Dean DaCosta. In this series, Dean provides a short description of one of his favorite browser addons, apps, or extensions.
Google+ is a treasure trove of untapped talent that can sometimes be hard to find. Search Extension for Google Plus simplifies the process. This great addon allows you to search Google Plus and narrow each search down based on if you want to view posts, profiles, Buzz or Google reader results. 
As you can see below, it sits on the browser ribbon. When you click on the button, you see the window above to begin your search.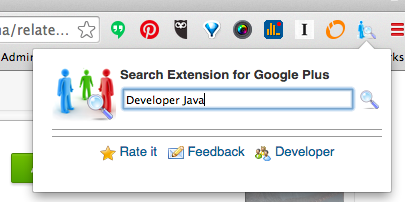 Below is a screen shot of the results page. On this page, you can narrow your search to, posts, profiles, Buzz or Google reader. The search above was simply developers and java. This addon is a simple, quick, and easy way to search Google Plus.
Until next week, enjoy the tool!