Ever imagined what unfolds when over 200 sourcers and recruiters, from various seniority levels across four continents, gather with a mission? It's the dazzling, challenging, and outrageously exciting SourceCon Hackathon! Now, picture this: akin to Barbie assembling her worldwide crew for a fabulous fashion showdown, participants come prepped in full force. But instead of catwalks and couture, they're strutting their Boolean strings, LinkedIn prowess, and trusty Google skills. Ready to play, in true Barbie style?
Cracking the Code: How I Clinched the Victory
Never Yield to Frustration: It's tempting to throw in the towel when you hit a roadblock. I faced my fair share of tricky questions, and persistence was key. Remember, even if you're stuck, there's still a chance to come out on top.
Simplicity is the Ultimate Sophistication: The challenges are designed to be complex, and we often make them even more convoluted. Always approach questions at face value, seeking the most efficient solution.
The Lone Wolf Strategy: I consciously chose to sit solo. Distractions can be a major pitfall in such contests. And oh, a tip for the fellow competitors – tuning out the onsite Virtual Emcee (this time it was, Mike Chuidian) and Hackathon hosts (Ben Solomon, Susanna Frazier and Erin Mathew) might also be beneficial!
Diversify Your Arsenal: While Google is great and LinkedIn is a goldmine, they're not the only tools in the shed. Exploring alternative search engines and social platforms can uncover gems you'd otherwise miss.
Creativity is Your Best Friend: Lastly, remember to enjoy the process. The Hackathon, despite its competitive nature, is an avenue to learn, innovate, and have a blast. Regardless of the final standings, the experience itself is invaluable.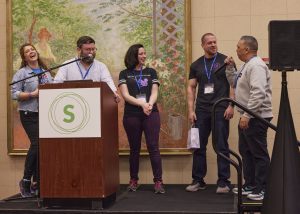 Looking Ahead: The Next SourceCon Challenge
For those who've caught the competitive bug or are simply curious to test their mettle, get ready because another SourceCon Hackathon is just around the corner. It's your chance to dive deep into the world of sourcing, challenge your preconceived notions, and emerge with a deeper understanding of the ever-evolving recruitment landscape.
Whether you're a seasoned pro, a curious newbie, or someone who relishes a good challenge, the SourceCon Hackathon promises an experience like no other.
Remember, the Hackathon is not just a competition; it's a celebration of our collective passion for sourcing excellence. Get ready to make connections, break barriers, and embark on an adventure that will transform your skills and perspective. Are you ready to embrace the SourceCon magic and witness your sourcing dreams come true? On September 7th at 12pm ET, I will co-host a SourceCon Walkthrough webinar. This virtual event is one you don't want to miss, as we will go through some of the most recent questions from the latest Hackathon, and how I went about solving them. By attending, you'll get a chance to win a free SourceCon digital ticket for fall. Whether you're a beginner or more advanced with your sourcing skills, you don't want to miss it.
Then join us in person at the SourceCon Hackathon in Minneapolis, or online from the comforts of your home and may the best Sourcer win!