As a sourcer, your time is valuable — in fact, if you're on commission, your time literally is money. As such, it goes without saying that maximizing your day-to-day efficiency is of the utmost importance. So why not start in the most obvious place for our digitally connected world? Your email, of course!
If you use Gmail in some manner when you're sourcing, there are several tools that can aid you in your search efforts. Aside from enabling every Labs feature known to man, take note of these valuable external tools that link easily to Gmail.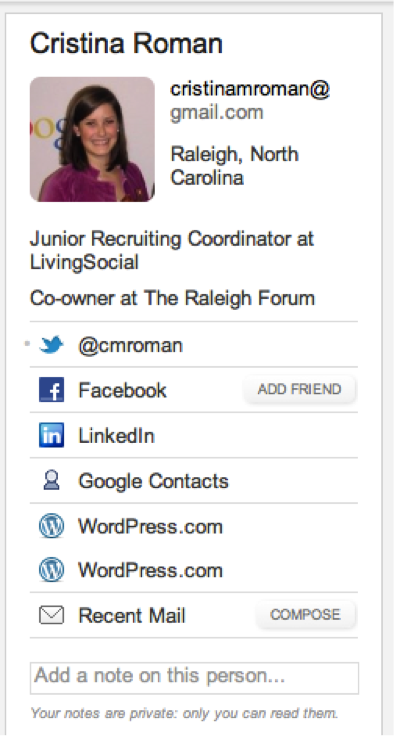 1. Rapportive: Why waste your time searching for each and every candidate's social media profiles when you can have them all pulled up in a flash through this app? You can easily see their Twitter account, their LinkedIn profile, and their WordPress blog, among others — all conveniently located on a sidebar in Gmail. Best of all, you can save private notes on them for future reference (like for the times that pushy potential candidate rears his head for the tenth time).
Maximize the utility of Rapportive by adding Raplets, which are additional plug-ins similar to MailChimp or a number of CRM options. As a side benefit, when you see Rapportive information pop up on a potential candidate, you know that the email address you're attempting to use is valid.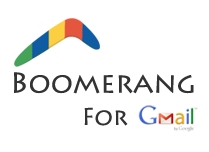 2. Boomerang: This app serves two purposes. First, are you afraid you'll forget about that dream candidate if you don't hear from them within four days? Email them, click the "Boomerang" button, and, if they've seemingly disappeared into space (or heavens forbid, been snatched up by a competitor), you'll get an alert from Boomerang in 4 days (or 1 hour!) reminding you that your email has not received a response yet.

Second, Boomerang allows for scheduling of emails; nobody wants to receive a dreaded rejection letter on Saturday night, even if that's when you're putting in some extra hours. And good news — there's now a mobile app, so you can schedule important phone screens on the go.

3. MeetWith.Me: This handy website allows you to sign up with your Gmail account, and it also synchronizes with your Google calendar (or iCal, if that's your calendar of choice). So what does it do? It allows you an easy way to book meetings or phone screens by publishing your availability and allowing your contacts to register for an appointment slot; they can choose up to five options. Be sure to claim your MeetWith.Me page, which can consist of an easy-to-remember URL, like meetwith.me/yourname. SourceCon's Editor, Amybeth Hale, and I even used this clever tool to set up our first phone chat!

* * *
While these apps are beneficial in the professional world, they also serve double-duty for personal use. With Rapportive, you can easily peek into someone's online life…maybe that guy you're meeting for drinks on Friday night? According to Boomerang's website, the myriad uses include scheduling birthday notes ahead of time, remembering to pay bills, and "Boomeranging" travel confirmation emails back on the day of your trip. MeetWith.Me can be used for scheduling lunch with your coworkers or your girls without the usual back-and-forth calendar shuffle. You can even create a group to gather everyone's availability in one fell swoop.
All three of these apps can be used for free, although Boomerang has a cap on the number of messages you can schedule for free each month (pay-for services start at $10/month).
P.S. If you're looking for a fun way to clear out your inbox, be sure to check out TheEmailGame from Baydin, the makers of Boomerang!
What other tools do you link to your email in order to maximize your efficiency as a recruiter?