There's all sorts of tools for sourcing candidates. Much beloved are the resume search tools that leverage the search engines and scour pay and free sites to find resumes matching whatever criteria you select.
But when it comes to working the other direction — that is, sourcing placements and req –, the choices are pretty limited.
Now along comes BrightMove with a tool that turns resume sourcing on its head. Instead of searching for candidates to match a req, BrightMatch goes out and looks for job postings to match candidates you have in house.
How an agency might use BrightMatch is as obvious as it seems.
Say you have a particularly great candidate with unique skills, but no current req in house. With BrightMatch you can search thousands of corporate websites — more than 20,000, says BrightMove COO Mike Brandt — to see if there's a match.
Find one, pitch the candidate, close the deal.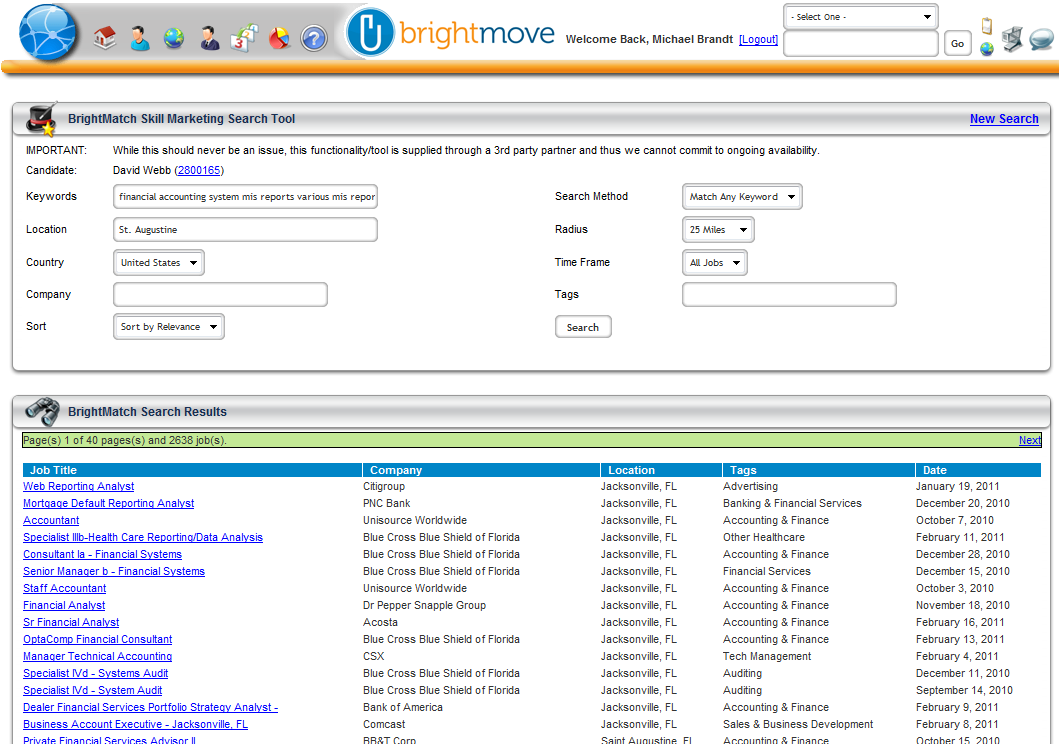 BrightMatch does the heavy lifting. It will parse the resume, extracting the keywords, then search all the sites or only some — you can set the parameters as narrowly or broadly as necessary.
Staffing agencies can use BrightMatch for a little biz dev well before a contract ends. Take a group of programmers nearing the end of a project. Instead of parsing a single resume, enter the skills they have in common to quickly discover what possibilities are out there. With luck, you might just be able to keep the team intact. Or at least keep some of your programmers working.
The results BrightMatch brings back are ranked and can be filtered automatically or manually. Says Brandt: "We use the concept engine normally for finding resumes to reverse-engineer the skills and related terms in an applicant's resume. We then use those skills to return a result set by relevance, including geography, automatically."
It's a cool tool, especially given this economy where hustling is the minimum necessary to stay in business and the more efficiently you use staff … well, to finish the sentence would be to state the obvious.
BrightMatch is part of the company's core products, and not available as a stand alone. But, Brandt says he's thinking about making it available to corporate HR so they could offer it as a consolation prize to their unsuccessful applicants.
Job seekers can do something similar by searching Indeed or SimplyHired or even Google, though without a good Boolean string, Google results could be overwhelming. Which is why I asked Brandt if BrightMove might turn this into an app and sell it to job seekers.
"I don't see us selling it to seekers. We might give it to them but I/we wouldn't feel right charging a candidate," he says.
BrightMove has a more ambitious goal than a single app or tool.
"Our goal long term," says Brandt, "is to create a full lifecycle for agencies and firms that allows them to find potential jobs, get contacts, and then skill market to those contacts through one interface."
It's a worthy goal, particularly if that single search interface includes, as he says, internal databases and external sources, including social networks. Adds Brandt, "Our next versions will have integrations to over 30 social networks, email services, calendar services, and contact sites like Plaxo so that a recruiter can work from one place and still leverage it all."