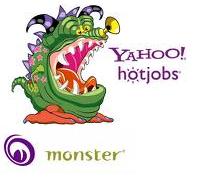 HotJobs officially became part of Monster on Tuesday, completing the $225 million purchase announced last February.
The acquisition — and arguably its most important part — makes Monster the exclusive provider of jobs and career services on Yahoo North America for the next three years, with a prime position in the portal's navigation bar.
According to Monster, the traffic deal combined with its existing worldwide traffic gives it access to some 43 million unique visitors, "88 percent more than the next largest competitor." That would be CareerBuilder.
Monster will pay Yahoo separately for traffic the portal sends it. The cost of that traffic arrangement wasn't disclosed, though it may be part of a future filing with the Securities and Exchange. In a filing with the SEC today, Monster said it would be submitting financial statements in the near future.
Globally, however, Monster will have to negotiate traffic deals for Europe, Asia, and Latin America. The traffic arrangement gives it an exclusive right to negotiate with Yahoo for a portal presence outside North America "subject to certain (undisclosed) limitations."
In the U.S., Monster gets a network of about 600 daily and weekly newspapers, which focus mostly on local and regional recruitment advertising. Put together several years ago, the newspaper network joins the 400 papers already aligned with Monster.
The company also says it "gains additional job posting strength in three important sectors: healthcare, finance/insurance, and retail…" Employers in these sectors tend to recruit locally, which is where newspapers are strongest.
Monster's announcement says that it expects that with the addition of HotJobs customers it now will be doing business with 97 percent of the Fortune 1000.
Many of the largest employers were doing business with both Monster and HotJobs, so they'll see some savings. Monster says that it will continue to operate HotJobs separately until at least the first quarter of 2011, when it expects to launch an integrated site.
It's not clear what that means. A FAQ accompanying the announcement says, "We're selecting the best products from both organizations to deliver effective solutions…" That suggests something more than just migrating customers to Monster may be in the works, though it's hard to imagine what that might be. Yahoo hasn't invested much in HotJobs in the last few years, so chances are the "best products" are probably job delivery and distribution tools.
reposted with permission from ERE.net