It's time to break-up with your talent network. It's not me, it's your network and the lifeless pile of resumes that once held such great ambition. The agony of another email blast chock full of irrelevant jobs; it leaves your applicants with no hope, no intrigue just a cold click…unsubscribe.
Candidate experience is quickly becoming an advantage in competitive sectors and top companies like Hubspot are buying in to attract top candidates. It's no surprise a blue ocean leader, inventor of all things inbound recently launched CareerHub; a new way for applicants to network with hiring managers on a public Slack channel.
If you're not familiar with Slack, it's a team communication tool that allows you to hold both public and private group conversations akin to a forum or news stream."
"HubSpot was curious to see if Slack could help us provide value to applicants and pre-applicants where we think there are traditionally gaps in the application process," explains Hannah Fleishman, Recruitment Marketing Manager at HubSpot.
Like many tech companies, experimenting with social recruiting and employee engagement came naturally after having previously launched a careers blog and dedicated twitter accounts. Hubspot is pushing into Slack to have an open dialogue with anyone who is interested in learning more about careers and culture at HubSpot. "CareerHub has attracted more interest than we had originally anticipated. We've had over 500 sign ups since we launched the channel at the end of March," said Fleishman.
The emerging workforce and uber talented demand less recruiting and more transparent hiring processes attuned to modern communications and Slack delivers the perfect channel. Any member of the CareerHub channel can engage with "30 HubSpotters … from our Director of Recruiting to product managers at HubSpot, to marketers and engineers," Fleishman said.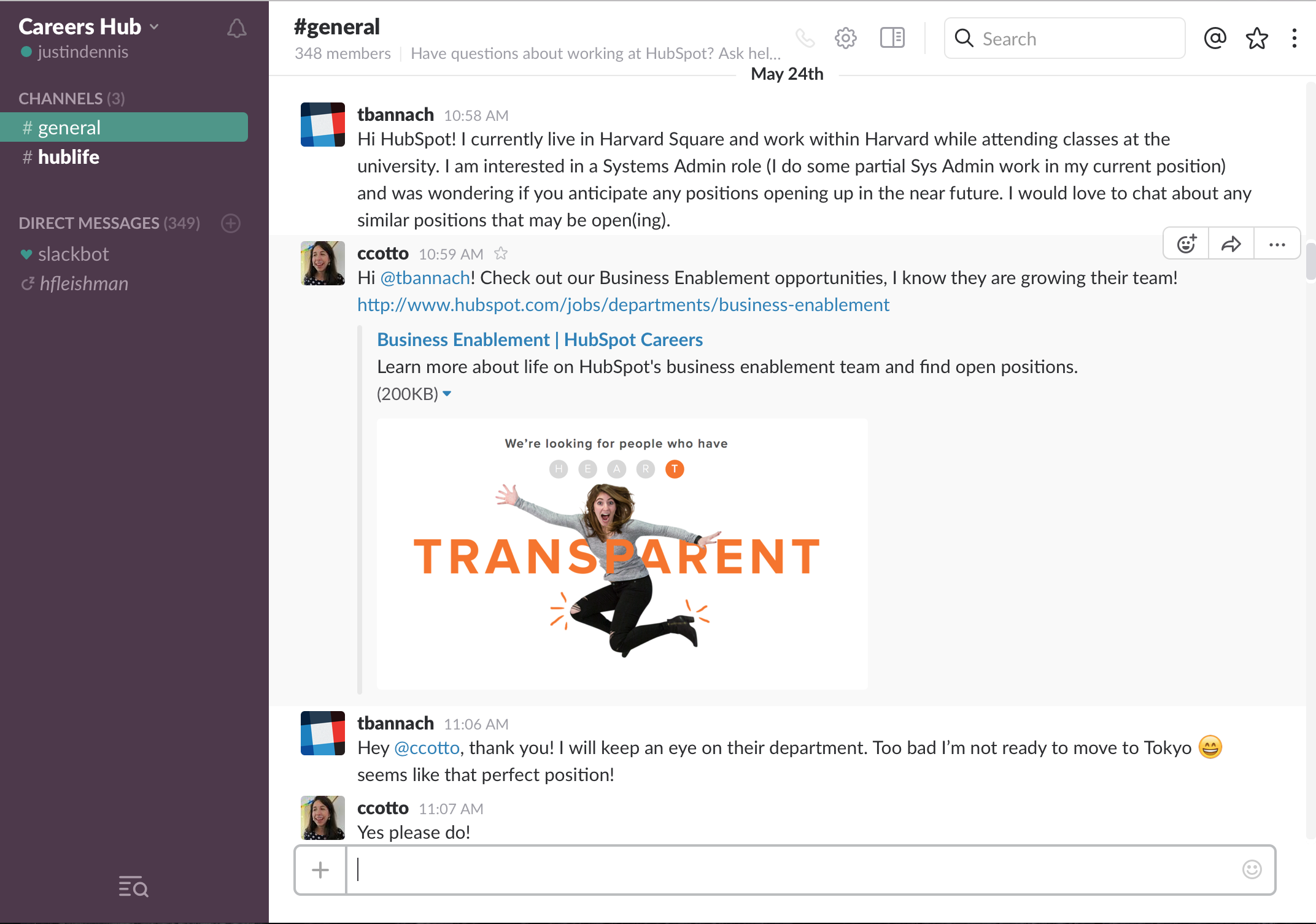 Transparency, empathy, and intrigue are simple social concepts often discarded by companies. However, candidates searching for jobs demand more from employers today than ever before. The employer brand and culture is one of the largest determining factors when applying for a new job.
How can you learn from Hubspot to build a community?
Building communities involve four basic processes according to CMX; a sense of identity, trust, participation, and reward. The key element when establishing a talent community is participation. Members who stay engaged and active within the community will be more responsive to updates and open positions. So Hannah, how do you doin?
We'd say pretty well considering the vast talent network that Hubspot created.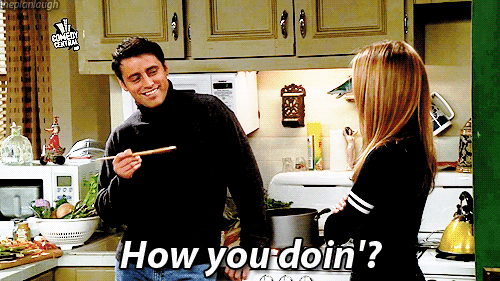 Define a Community Identity
The identity of CareerHub starts with employees and seamlessly includes new members around #general and #hublife channels. According to Fleishman, "we encourage everyone at HubSpot to engage with applicants and candidates through Slack. Whether you're a VP or an intern at HubSpot, you have valuable and unique perspectives to add. The reason job seekers love Glassdoor is because they can hear what it's like to work at a company from real people."
From the candidate perspective, it's incredibly intriguing not only to see who else is considering Hubspot, but who else is already on the Hubspot team. Slack publishes member profiles with each conversation, allowing anyone to identify Hubspotters from applicants. This goes well beyond an inanimate five-star review.
Building Trust
Although CareerHub is a public channel, you have to register for access and join the open conversation.
"I think applicants are tired of company jargon and being sold to, they want transparency when making a big career decision. We're lucky because transparency is something HubSpotters hold near and dear," Fleishman said.
When you join the channel, it feels intimate. You can see conversations between members and Hubspotters. Immediately you see there are no dumb questions or find answers and you're not tweeting off into #jobs #spam land for your boss.
For passive candidates, lurking is also welcome. There is no need to dredge through the application if you only want to understand the company's culture or recruiting process.
Encouraging Participation
While Slack is a forum for candidates to get answers to questions, it allows recruiters to create conversation not a typically featured in traditional talent networks. To foster participation, Hubspot first experimented with open Q&A. "We've tried 'Office Hours with HubSpot Recruiting' where a recruiter will take questions one after another for a set hour," said Fleishman. Future plans include specific chats around company departments like marketing jobs or internship programs allowing members to have direct access to the right Hubspotters.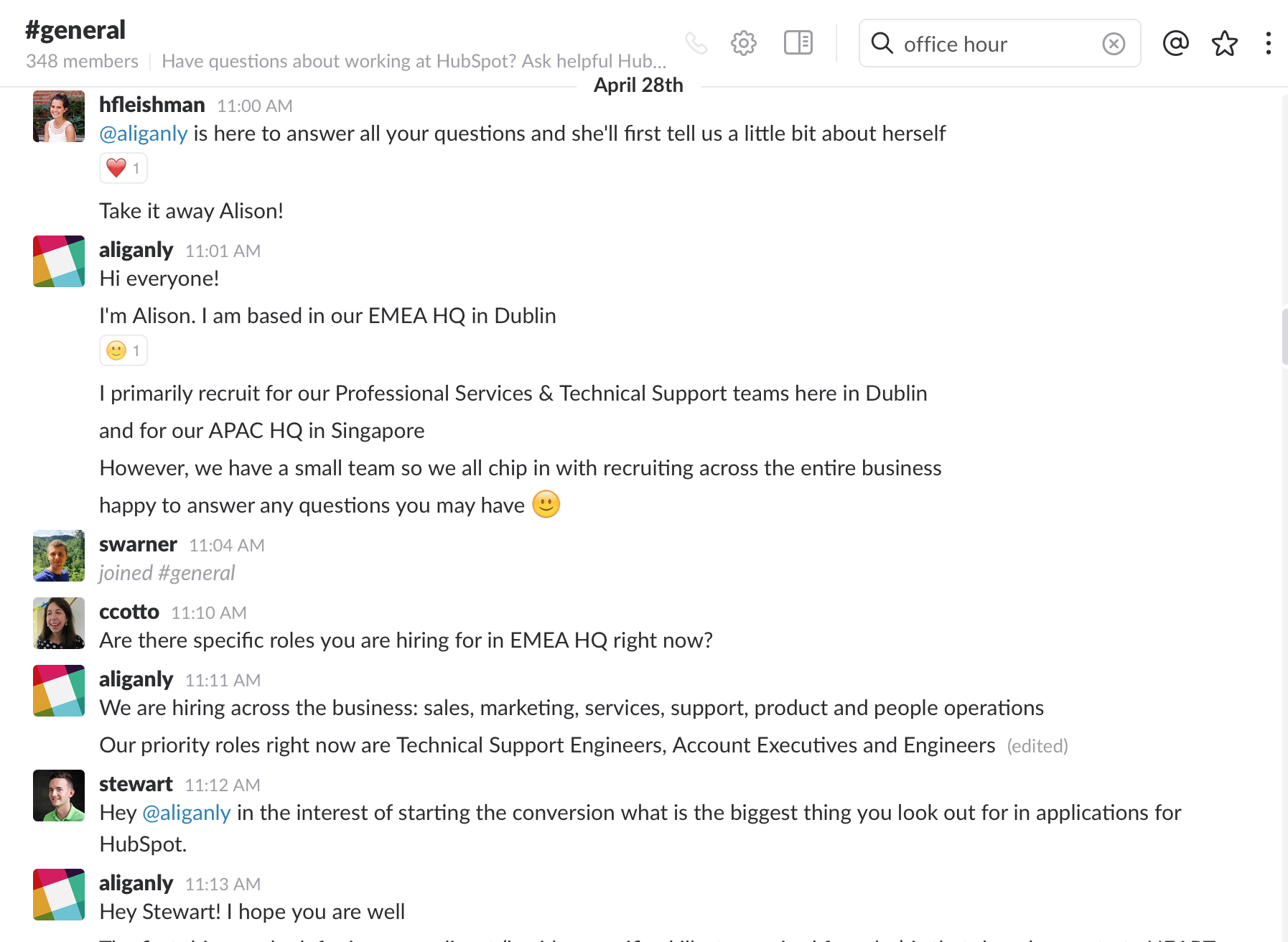 Reward
The ultimate reward for any member of this community is to get on that #Hublife. For the Hubspot recruiting team, it's their chance to casually promote opportunities and manage candidate inquiries at scale.
Unfortunately, not everyone is a fit. To continue in the culture of transparency, recruiters answer inquiries directly with the members, regardless of the outcome.

Thinking about developing a community?
Companies that develop a digital culture to express work-life balance, describe the attributes of an ideal applicant/employee, provide insight into the process and communicate across consumer preferred channels like Slack, Snapchat and SMS have the opportunity to lower the cost per applicant, time to hire and increase candidate quality.
Create a channel around a specific topic, so it's easier to develop conversations tailored to audiences or communities.
"Put the Candidate First"
"My advice to recruiting teams and companies who are considering any sort of live chat platform to connect with candidates would be to put the candidate first…It's pretty special when someone considers growing their career with you, so how can companies make applicants feel special, too?" – Fleishman
Building a Community takes time most recruiters do not have.
Just like any local meetup or networking event, building communities takes time and are best developed around an identity or purpose. For any recruiters with more immediate needs, building a community may take too long to produce results. Instead, joining existing Slack channels may be your best option.
"Public Slack channels are existing communities of people who share common interests, similar to LinkedIn groups but with typically more interactive discuss and great ability to start conversations with prospective candidates," says Angela Bortolussi, CSMR, a Los Angeles-based Recruiting Manager for recruiting agency Recruiting Social. Bortolussi is leading a session on Sourcing with Slack during the upcoming Fall SourceCon Conference and has a few tips for any recruiter using Slack to build new relationships.
Have a purpose for slack – why are you joining a channel?
Slack channels are a conversation around a shared interest. "Understanding why you are joining the channel and how you can add value is the first step," says Bortolussi. Slack channels are widely available and can be found in directories like SlackList and Sitepoint's list. Need a Java developer with mobile chops? Join the Android Developers community and get started.
Pick a place to invest your time
Slack channels require less hunting and are easy to join but don't spread yourself too thin. "Pick 1-3 channels (with the most relevant members) to focus your efforts. Typically a channel can have anywhere from 200-2000 users starting daily conversations." says Bortolussi, "Sourcing on Slack is a new method of engagement, it's not always about placing a job but developing a conversation around interests with a candidate. And it's much easier than going to a meetup or conference to develop one to one relationships."
Don't act like a recruiter – you are entering the turf of a community
Slack, like other social media, has it's own culture and communication style. Before popping of that job description link, recruiters should understand the channel's rules and how to add value to the channel. "Slack is not as noisy as Twitter, it's a continuation of your personal brand. It is a way to expand conversation onto a new channel," says Bortolussi, "having a presence is an extension of your brand across a new channel."
Don't post jobs to irrelevant channels – most communities have jobs channels
"Reach out to the Admin in the directory. They are the manager of the channel and will often have terms or rules for new members. Asking [the manager] if it's ok to post jobs to the #job channel can go a long way." adds Bortolussi.
Use the directory – has people profiles and emails
If you are new to Slack, there are a few essential features for any recruiter to note. Bortolussi suggests using "the member directory to find out who is in the channel, get contact info like email and to start sending direct messages." Every channel displays all of the members in the channel and the personal info they have shared which can include name, job title, social accounts, location, and email.
Contact – direct message, link to the job info
If you see someone of interest, Slack also offers the ability to start a direct conversation with personal messages. "I will have a few template messages I use for each channel or position," says Bortolussi.
Slack is a growing professional network
In May 2016, Slack announced passing three million daily active users, tripling their user base in less than a year. Similar to LinkedIn, the medium is quickly being adopted as a professional network 31 percent of the Slack users are paid seats by companies as reported by VentureBeat.
As Slack continues to drive growth as a business productivity tool for companies, the opportunity for recruiters to connect in a "professional environment" should also continue to expand.
For more insight, attend this year's SourceCon to learn from our session dedicated How to Source from Slack.